Crockpot Steak Fajitas Recipe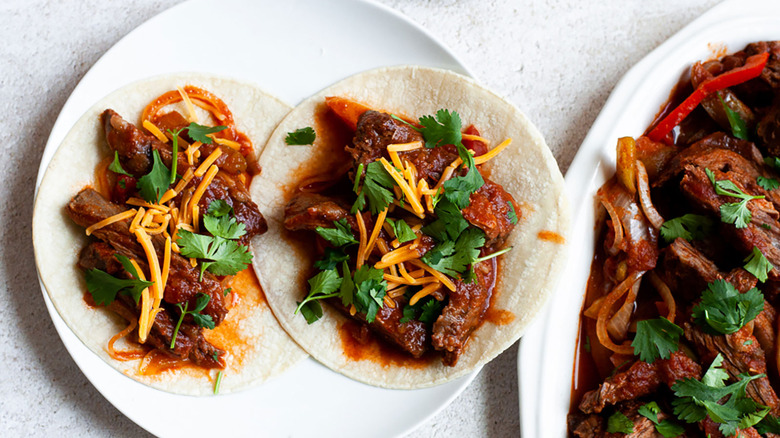 Christina Musgrave/Mashed
Fun fact about fajitas -– technically, there's no such thing as a chicken fajita, shrimp fajita, or veggie fajita. What could we possibly mean by that? Surely these things must exist. They're on restaurant menus, after all! Well, yes, that may be true, but as What's Cooking America explains, the term fajita originally referred not to any old bunch of random Mexican-spiced items wrapped in a tortilla but to a specific type of meat: skirt steak. The Spanish word faja, from which fajita derives, means "belt" or "girdle," and was used to refer to this long, flat cut of steak that does, in fact, resemble a belt.
Even though recipe developer Christina Musgrave used flank steak instead of the not always easy-to-find skirt steak for her Crockpot steak fajitas recipe, she's in the right ballpark, meat-wise. After all, technically a chicken fajita makes no more sense than, say, pork boeuf bourguignon or beef coq au vin. In addition to improved authenticity, these steak fajitas have also got simplicity going for them, since using the slow cooker makes this dish fairly effortless to cook. A little bit of prep time is involved, but once that's done you can sit back and let the slow cooker do all the work!
Collect the ingredients needed to make these fajitas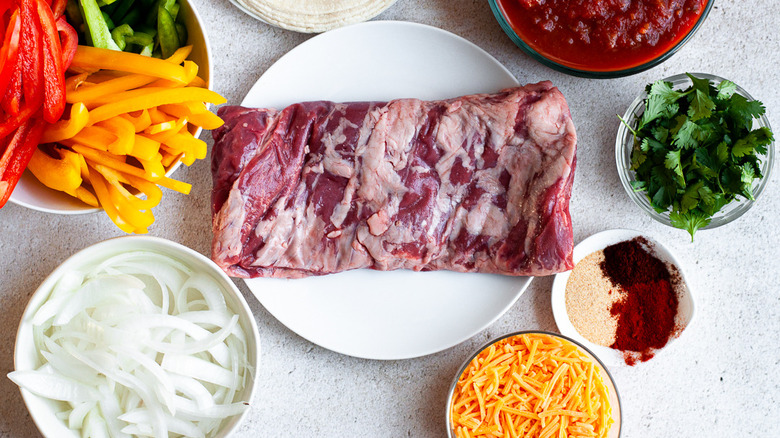 Christina Musgrave/Mashed
These fajitas, start, of course, with a nice big flank steak, although if you find reasonably-priced skirt steak, feel free to use that instead for truly authentic fajitas. You're also going to need a white onion as well as some bell peppers: red, green, and yellow. The reason for using all three types of pepper is to make the fajitas look pretty, although of course, you can go with a monochromatic approach if you get a better deal on peppers that way.
To spice the fajitas you'll be using garlic powder, chili powder, and paprika, and for a sauce, you'll need any tomato-based salsa. As this recipe calls for quite a bit of this sauce (24 ounces in all), you may need to buy two jars if you're going with the store-bought kind. To finish off the fajitas, post-Crockpot, you may want some flour or corn tortillas as well as any toppings or condiments you choose to use. Musgrave tells us that "These [fajitas are] not spicy at all, but you could make [them] spicy by adding jalapeños or using spicy salsa." She also suggests "You could add in spicy peppers, tomatoes, or mushrooms for extra veggies [in] the dish."
Prepare the vegetables for the fajitas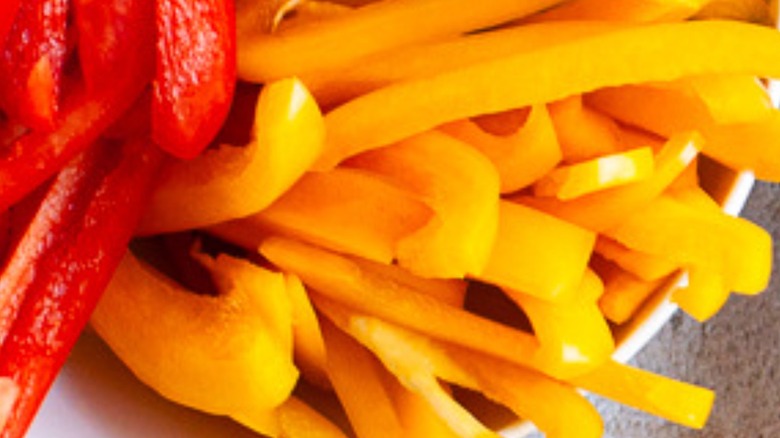 Christina Musgrave/Mashed
As with any dish that has a significant vegetable component, a certain amount of prep work is going to be involved. For starters, there's everyone's least-favorite kitchen chore, chopping an onion. (Why doesn't this ordeal get any easier with practice?) Less painful, but nevertheless at least a little bit time-consuming, is the need to de-stem, de-seed, and slice up all three of the peppers. Once all the vegetable chopping is done, though, the hardest part of making these fajitas is behind you.
Let the slow cooker do its thing for a few hours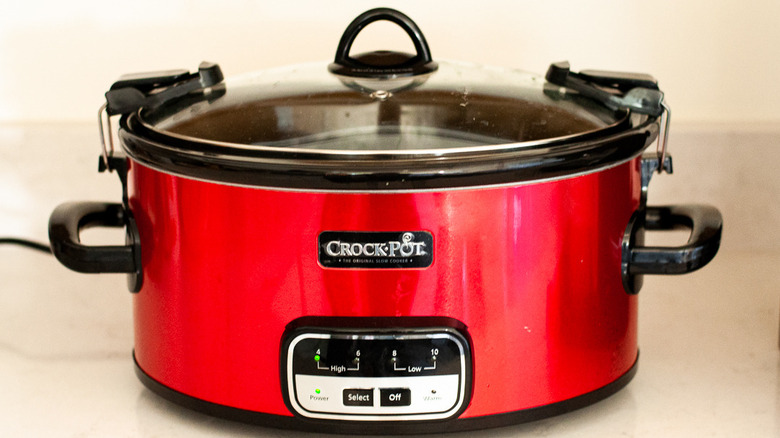 Christina Musgrave/Mashed
Scoop the veggies into the Crockpot, add the beef –- yes, the whole hunk of it, if it'll fit. If not, chop it in half. Add the spices and the salsa, seasoning with salt to taste. Lower the lid of the Crockpot and set it to cook on high for four hours or on low for eight hours.
Once the cooking time has elapsed, fish the steak out of the liquid and plop it down on a cutting board. Slice it into strips, or shred it if you prefer. Add the meat back into the pot and give everything a good stir. That's it, you're done cooking! If you're not quite ready to eat, you can always just leave your slow cooker on its warm setting for a little while longer.
Serve the fajitas with your favorite toppings and sides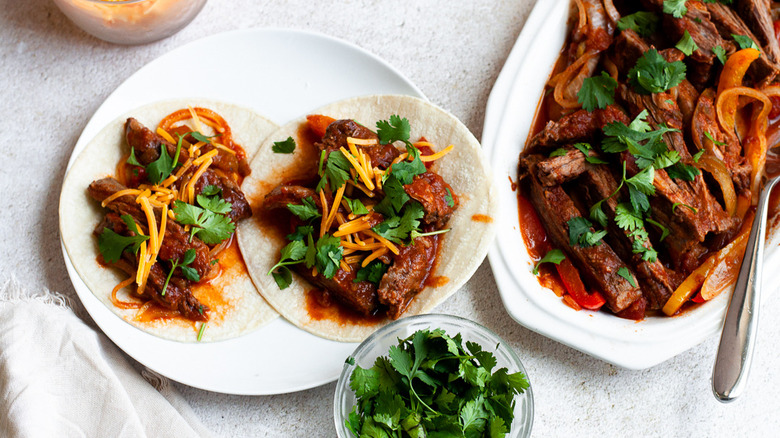 Christina Musgrave/Mashed
If you want to serve your fajitas as you'd see them in a restaurant, you'll likely wrap them in a flour tortilla, but Musgrave says she used corn tortillas herself. She also says: "You can eat [the fajitas] without tortillas with rice or put it on a salad." You may also wish to top them off with a sprinkle of shredded cheese (cheddar, pepper jack, or cotija would all work well) and maybe add some chopped cilantro. Other fajita toppings you might like could include chopped green onions, sliced jalapenos, sour cream, and/or additional salsa.
These fajitas could be considered a more-or-less complete meal if you use the tortillas since in that case, they'll have carbs, meat, and vegetables. Still, it's always nice to have a little something on the side. In keeping with the Mexican theme, elote would make for an excellent accompaniment, and for a beverage pairing, you couldn't do much better than a cool glass of horchata.
Crockpot Steak Fajitas Recipe
Looking for an easy weeknight meal that's super customizable? Look no further than these slow cooker fajitas that are full of robust Tex-Mex flavor.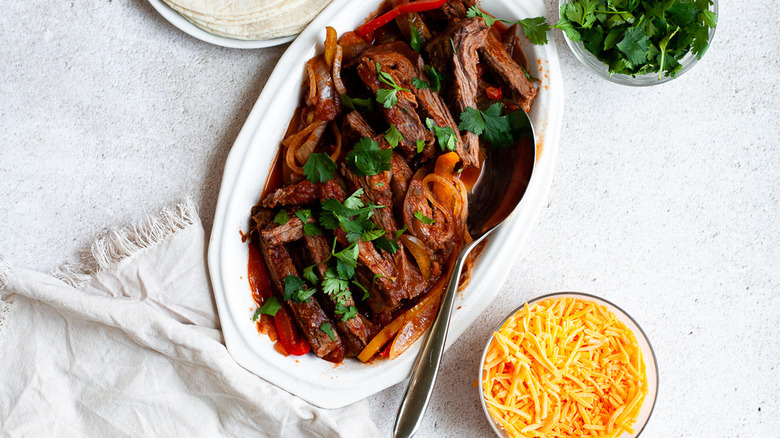 Ingredients
2 pounds flank steak
1 white onion, sliced
1 red pepper, sliced
1 green pepper, sliced
1 yellow pepper, sliced
1 tablespoon garlic powder
1 tablespoon chili powder
1 tablespoon paprika
3 cups tomato-based salsa
Optional Ingredients
corn or flour tortillas
shredded cheese
chopped cilantro
Directions
Combine all ingredients except for tortillas and the optional cheese and cilantro in the slow cooker and mix well.
Cover the crockpot and cook the fajita ingredients on high for 4 hours or on low for 8 hours.
Remove the beef and slice or shred it, then return it to the slow cooker and stir it into the other ingredients.
Serve the beef and veggies wrapped in flour tortillas. Top with shredded cheddar cheese, chopped cilantro, sour cream, additional salsa, or other fajita toppings as desired.
Nutrition
| | |
| --- | --- |
| Calories per Serving | 326 |
| Total Fat | 13.3 g |
| Saturated Fat | 5.3 g |
| Trans Fat | 0.0 g |
| Cholesterol | 102.8 mg |
| | |
| --- | --- |
| Total Carbohydrates | 17.2 g |
| Dietary Fiber | 4.7 g |
| Total Sugars | 7.6 g |
| Sodium | 1,040.9 mg |
| Protein | 35.6 g |