Instagram Is Loving Duff Goldman's Unconventional Cheesecake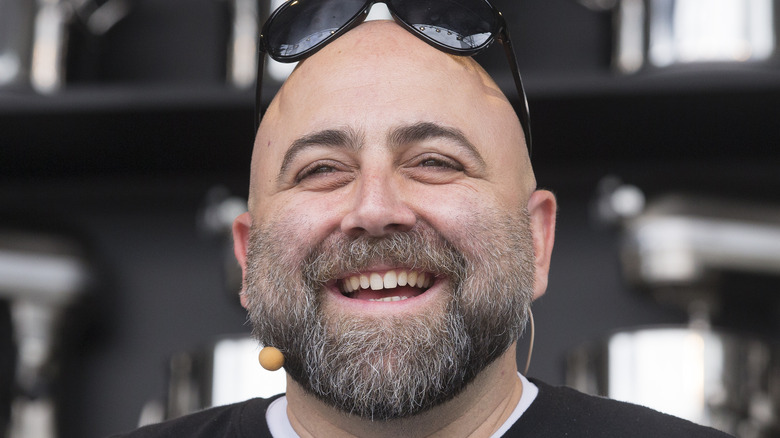 Sterling Munksgard/Shutterstock
Celebrity baker Duff Goldman never ceases to amaze us. The creations from Goldman and his team at Charm City Cakes are so innovative, imaginative, and incredible that you might even find your mouth watering over a Monopoly board (via Instagram). Although you know Goldman's cakes will be delicious and decadent, they tend to look so spectacular you hardly want to cut into them.
This cake master's charisma, infectious smile, and creative flair paired with his unmatched talent made for the perfect Food Network show. "Ace of Cakes" debuted in 2006, and went on to be one of the most watched reality shows on TV (via Vancouver Sun). Since the "Ace of Cakes," the celebrity baker has never been far from the spotlight, as he is often found on other Food Network shows including "Cake Masters," "Holiday Baking Championship," and "Buddy vs Duff." 
Goldman's social media also keeps him trending and serves as an advertising goldmine, with his Instagram alone being followed by 705,000 fans. His social media momentum shows no signs of stopping, as Duff's recent cake of the week has his Instagram followers wowed once again.
Another clever cake creation by Duff Goldman
A recent Instagram post from Duff Goldman seems to depicts a whole wheel of Parmigiano-Reggiano cheese. Those words are seemingly stamped on the sides along with a date, and the logo "Jerrys Parmigiano" looks as if it's carved into the center. This wheel of cheese is actually a cheesecake, and it is adorned with a scrumptious slice.
Goldman's cheesy cake of the week, which was posted two days ago and has since gained almost 3,000 likes, has fans giddy with delight. Some people couldn't wait to add their witty comments, which included "That looks gouda" and "WOW....amazing cake but I have to ask who cut the cheese (laughing emoji)." Other cake lovers approved by dropping clapping and heart eye emojis. 
Some may think the cake is a bit too cheesy, but we see it as another unique and clever cake out of the brilliant mind of Chef Goldman, and we bet it tastes even better than it looks.