Maneet Chauhan Reveals How She Won Tournament Of Champions - Exclusive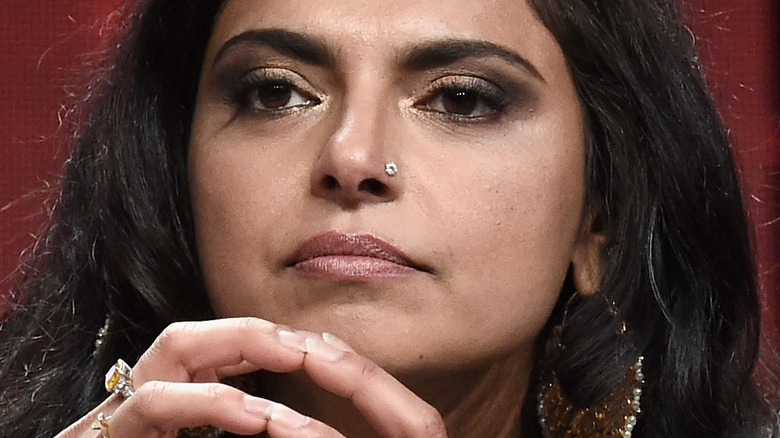 Amanda Edwards/Getty Images
We may receive a commission on purchases made from links.
Food Network chef Maneet Chauhan is undoubtedly known as the spice queen among her fellow "Chopped" judges and other co-stars across the Food Network. The Indian-born chef has built a culinary reputation for creating bold flavors and unique creations, and often out cooking everyone who goes up against her in the kitchen. She proved that most recently just a few months ago when she clinched the championship belt on the second season of Guy Fieri's "Tournament of Champions," per Discovery. Chauhan dominated 15 other chefs to come out on top on arguably one of the most difficult culinary competitions Food Network has ever hosted.
Chauhan spoke with Mashed about her experience competing on such a tough stage. "Tournament of Champions is probably one of the most intense competitions out there ... This is not one of those tests that you cram overnight and you'll pass the next day. It's not going to happen. You have to be very consistent about your career and your craft for your entire life," she said.
This most recent win is a redemption after Chauhan was eliminated in the semifinals during the previous season of "Tournament of Champions." So Mashed wanted to know exactly what the chef did differently this time around to lock in the win. And in an exclusive interview, Chauhan revealed her strategy to clinch first place.
Maneet Chauhan says her secret to success is keeping it simple
Part of what makes "Tournament of Champions" such an intense competition is that it operates like a bracket-style tournament, so the chefs don't know who they are going to face off against as they move through each round. On top of that, Guy Fieri is known for being outlandish, and over-the-top, so you know any competition that he's in charge of is going to be wild. And Maneet Chauhan would agree. "​​I think that with the rest of the competitions [on Food Network], there is a method to the madness, right? Tournament of Champions, there is no method to the madness."
But Chauhan did have a method to winning the whole tournament. And it didn't take any intense kitchen tricks or surprise ingredients for the chef to make it all the way to the end. If you ask Chauhan herself, she'd say doing just the opposite was her strategy for success. "At times, we as chefs, I think we tend to over-complicate things, where you're like, 'Oh, I have five minutes left. Maybe I can add another ingredient, or another component.' And then it all falls down," she explained.
Chauhan also said in order to win, she had to stop worrying about the competition altogether. "At times when you're in a competition you gauge who your competitor is, and then you play to their weaknesses, as opposed to your strengths. And that's not a smart game play at all," says the chef. "I played to my strengths." Now, all Chauhan has to do is hang on to her title. "I'm already stressed out about next year's, because I'll have to defend my belt. So it's going to be fun."
​​Don't miss Maneet Chauhan in "Chocolate Meltdown: Hershey's After Dark," premiering September 27 on Food Network, and be sure and pick up her new book "Chaat: Recipes from the Kitchens, Markets, and Railways of India."