The Worst Sandwich At Panera Bread, According To 30% Of People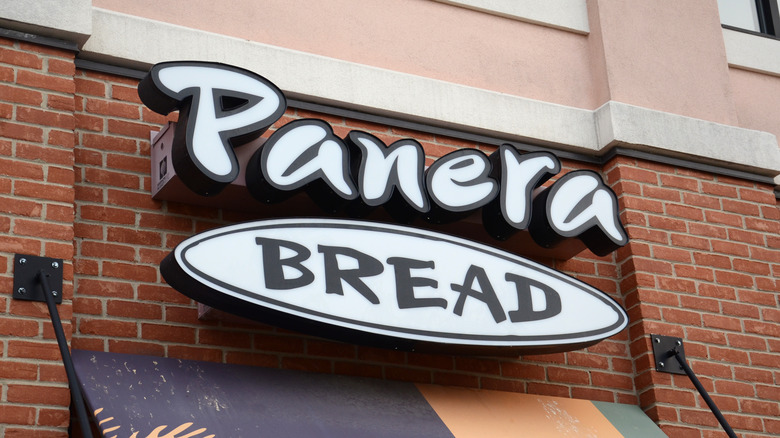 Susan Montgomery/Shutterstock
Panera Bread has plenty of sandwich options for those who need a quick bite to keep themselves going during the day. As per the company's website, Panera aims to give customers "the food they crave, when they want it, how they want it, where they want it. We have never stopped innovating to do just that."
When it comes to some of the most popular sandwiches at Panera Bread, Delish had high praise for the Toasted Frontega Chicken and the Chipotle Bacon Melt. If Insider is to be believed, you probably won't be disappointed if you order the toasted Steak and White Cheddar Panini or the Classic Grilled Cheese sandwich if you prefer to keep things simple.
Although some options sound good enough to make a person swoon, not all sandwiches on the menu will manage to impress everyone. A Mashed survey that included 599 respondents in the U.S. shed some light on what Panera sandwiches people aren't fans of.
Many respondents would probably avoid the Mediterranean Veggie Sandwich
In the Mashed survey, a sizeable chunk of people put Panera Bread's Mediterranean Veggie Sandwich at the bottom of their list. For 30.55% of the participants, this sandwich was the worst that the chain has to offer. The Tuna Sandwich came close behind with 27.38% of the respondents calling it the worst. Other contenders for this unflattering title lagged much farther behind, such as the Napa Almond Chicken Salad Sandwich (14.69%) and the Turkey & Avocado BLT (10.68%). The least disliked options were the Classic Grilled Cheese (9.35%) and the Turkey Sandwich (7.35%).
According to an Insider article, the Mediterranean Veggie Sandwich is okay at best and doesn't have too many redeeming qualities. The ingredients might seem fairly promising at first, boasting hummus, feta cheese, a combination of veggies, and spices. But for the reviewer, it basically felt like a salad that you can eat without a fork. If that also sounds like something you would avoid ordering, thankfully Panera has plenty of other sandwiches you can test out.