How Maneet Chauhan Felt The First Time She Saw The Chocolate Meltdown Set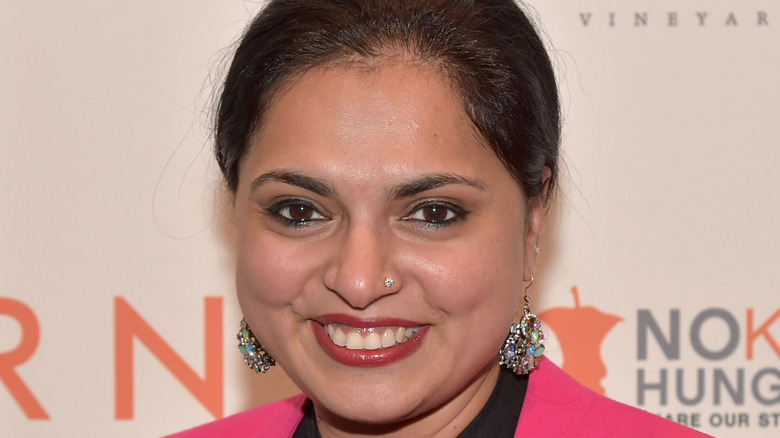 Theo Wargo/Getty Images
Celebrity chef and "Chopped" judge Maneet Chauhan is spending some of her time away from the chopping block for her role as a judge on the new Food Network competition show "Chocolate Meltdown: Hershey's After Dark," which is held, you guessed it, overnight at Hersheypark. Throughout the show, competitors mold, sculpt, and transform chocolate from Hersheypark's candy store into creative, elaborate, and intricate works of chocolate perfection, all to be evaluated and ranked by Chauhan and fellow judge Ralph Attanasia. And the winner gets a seriously sugary prize: a year's worth of Hershey's chocolate, a trip to Hersheypark, and a cash reward (via the Food Network website).
Chauhan described the show as a sort of fairytale, comparing it to what sounds like the plot of "The Elves and the Shoemaker," in which a cobbler wakes up in the morning to find beautiful and detailed shoes made by elves (via American Literature). "It was similar for these chefs who would step into these kitchens and then created these incredible, inspiring masterpieces," she said (via FoodSided).
A candyland of chocolatey bliss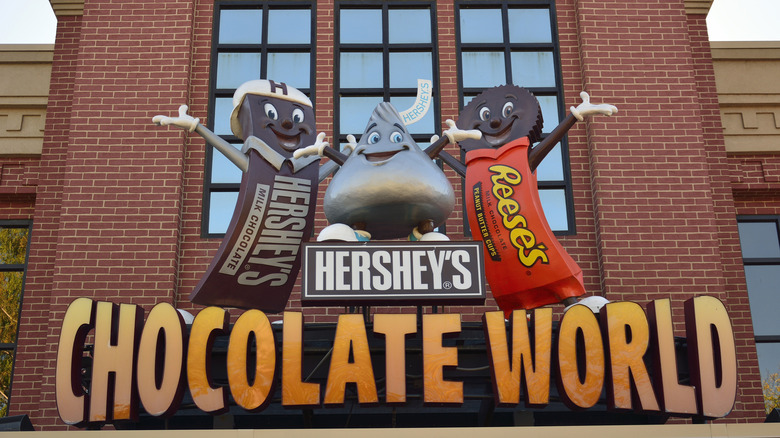 Alizada Studios/Shutterstock
Maneet Chauhan recounted the first time she saw the "Chocolate Meltdown" set, equating the experience to being a "kid in a candy store" (via FoodSided). During filming, Chauhan, Attanasia, and host Sunny Anderson toured the theme park together. Chauhan said one of the best Hersheyland adventures was when she was able to unleash her inner child during a ride on the Ferris Wheel while indulging in a mug of hot chocolate.
Perhaps Chauhan was so enchanted by the Hersheyland set because she had little access to American chocolate as a child in India. However, she was able to revel in Hershey's bars. As Chauhan recalled in an interview with Sayfty, she was raised in a town called Ranchi that was filled with Indians from throughout the country. Chauhan was fascinated from an early age with her friends' and neighbors' different cooking styles. 
When she grew older and started making food for her sister's college friends, Chauhan realized her calling. "Everybody would look forward to my food and I thought, 'this is amazing,' because food can impart so much happiness and I realized this is what I love," she said. Maneet Chauhan will be able to use her love of Hershey's as a benchmark for judging the amazing chocolate creations on "Chocolate Meltdown: Hershey's After Dark." Sounds like a pretty sweet gig.