Chopped Judge Maneet Chauhan Describes A Typical Day On Set - Exclusive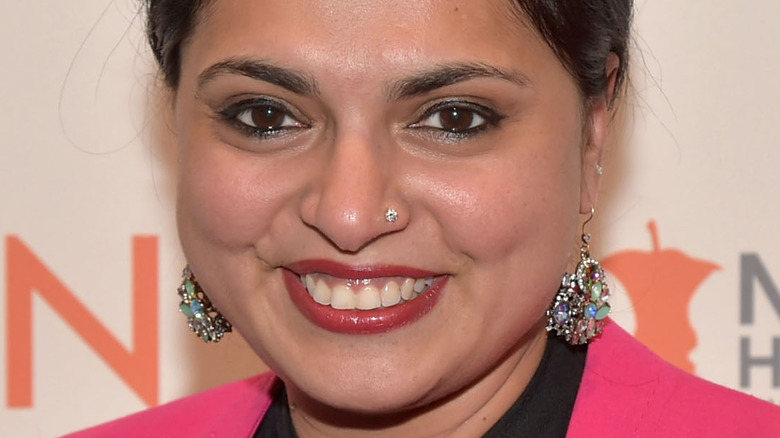 Theo Wargo/Getty Images
We may receive a commission on purchases made from links.
Being a "Chopped" judge has got to be an arguably sweet deal. You basically get paid to eat all kinds of creative, delicious foods. But if you ask chef and judge Maneet Chauhan, that's not even the best part. "I can't tell you how much I love being on the set," Chauhan told Mashed. "There is so much laughter," said the chef, who's been with the show for the last decade (via IMDb). "And now especially where all of us have moved away from New York, or are in different places, when we reconnect it is just catching up."
As a "Chopped" veteran, Chauhan knows all the ins and outs of the Food Network hit, and she shared some inside details with us. In an exclusive interview with Mashed, Chauhan described what a day on the set looks like, and what goes into filming each episode. She also shared insight on how the judging process works, and what happens when the cameras aren't rolling.
Maneet Chauhan says days on the Chopped set start early
A day of filming "Chopped" means getting on set bright and early, at least for Maneet Chauhan. "My day starts around 5:30-6 [a.m.]. That's the time that I get to the set, only because I require the most amount of hair and makeup, which I love, no questions about it, because the transformation is fantastic." After everyone is camera-ready, Chauhan said the filming schedule operates like a well-oiled machine. "We start filming by 8:00 ... it's down to a science. We've been doing it for 12 years now," she said. "There's a lunch break," Chauhan added, and filming wraps up "by around 5:00 [p.m.] ish or so. So it's a fairly decent day."
And while the day is long, the cooking rounds are short, just as they appear on the show. Chauhan said, "Each and every round is timed. It is 20 minutes. It's 30 minutes. It's 30 minutes. There is no grace time which is given, because that's how you get the drama around it." According to Chauhan, "what takes time is between [rounds]. Like getting the dishes in front of us, or clearing the dishes, or repositioning the cameras, et cetera."
Despite the long days, Chauhan said the hours and the effort are worth it because her coworkers make it so much fun. "I always walk away from the set feeling very happy. It's like meeting a completely dysfunctional family, like our family for Thanksgiving."
How they really taste the food on Chopped, according to judge Maneet Chauhan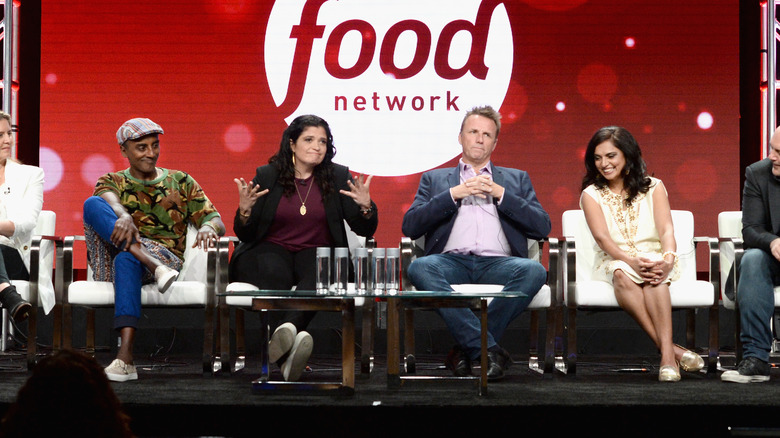 Amanda Edwards/Getty Images
There's no doubt that cleaning takes up a big part of the day on the set of "Chopped." Avid watchers of the show have probably noticed that when the judges are tasting the competitors' dishes, the kitchen behind them is spotless. That means there's no way the food each contestant is serving up at the judges' table is hot and fresh. Mashed asked Maneet Chauhan about this, and she revealed the process.
Chauhan said, "We make it a point that we go about, taste all the components, know how it tastes when it's supposed to be served." She explained that "what the creators and the producers, they encourage us to do is, as soon as the time is up, all the chefs, they head over to what is called a sequester room. At that time, all of us judges, we walk through their stations and taste all the different components while they are hot."
But Chauhan also noted that "temperature is definitely something that we've been told not to take into consideration when we are judging." Chauhan added that certain temperature-sensitive dishes, like ice cream, are "immediately thrown in the freezer, so that the integrity of the temperature is kept." But otherwise, once the cameras are rolling and the judging process begins, Chauhan said, "The food that we get is at room temperature."
​​Don't miss Maneet Chauhan in "Chocolate Meltdown: Hershey's After Dark," premiering September 27 on Food Network, and be sure and pick up her new book "Chaat: Recipes from the Kitchens, Markets, and Railways of India."