These Aldi Finds Will Make You The Most Popular House On The Block With Trick-Or-Treaters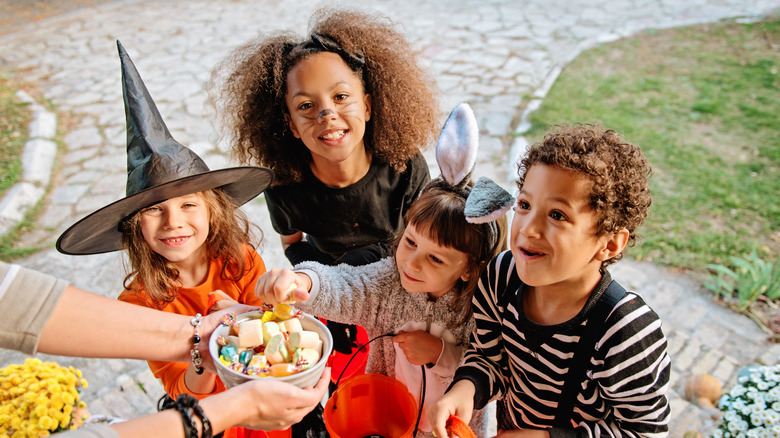 Tijana Moraca/Shutterstock
Halloween is almost here! Well, it's still a month away, but it is time to start shopping for all those treats you'll be needing to give away to the trick-or-treaters. While last year's Halloween was pretty much a non-event, it's likely that this year, a few mini cosplayers will be ringing your doorbell on October 31, demanding that you bribe them with Halloween candy — or else. (We're not sure exactly what else, but maybe they'll leave you a one-star Yelp review or something.) As to why you need to stock up weeks in advance, duh, how else could you "accidentally" run out before the holiday arrives, thus necessitating yet another candy run?
If you want to indulge your — er, the neighborhood kids' — seasonal sweet tooth without completely blowing the budget, do you know where you should try shopping? None other than Aldi. Not only does this fun-sized grocery chain offer a wide range of budget-friendly staples, but it has also been doubling, tripling, even quadrupling its holiday offerings in recent years. In fact, Aldi's extensive list of Halloween treats on deck during the month of October is sure to fill all of your seasonal partying and trick-or-treating needs.
80-Piece Nestlé Chocolate Assortment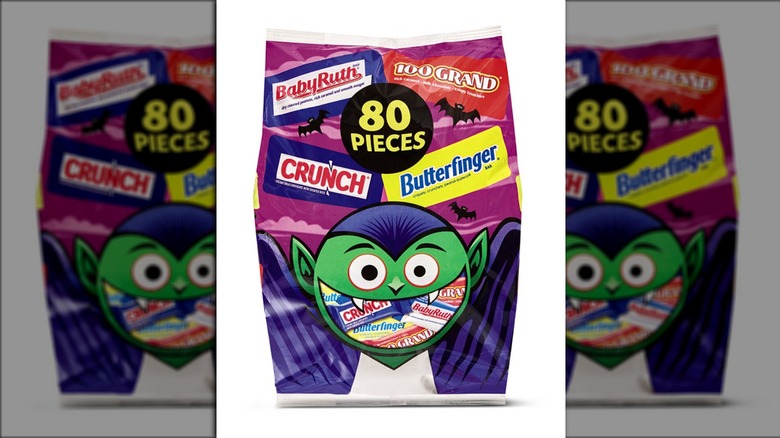 Aldi
The number-one item on your Halloween shopping list, once you've got your costume and decorations squared away, should always be a super-sized bag of miniature chocolate treats. From September 29, Aldi is selling an 80-piece assortment of Nestlé's finest chocolates for just $9.94. The mix features Nestlé Crunch bars, 100 Grand bars, Baby Ruths, and Bart Simpson's favorite Butterfingers. "Nobody better lay a finger on my Butterfinger!"
100-Piece Mars Chocolate Variety Mix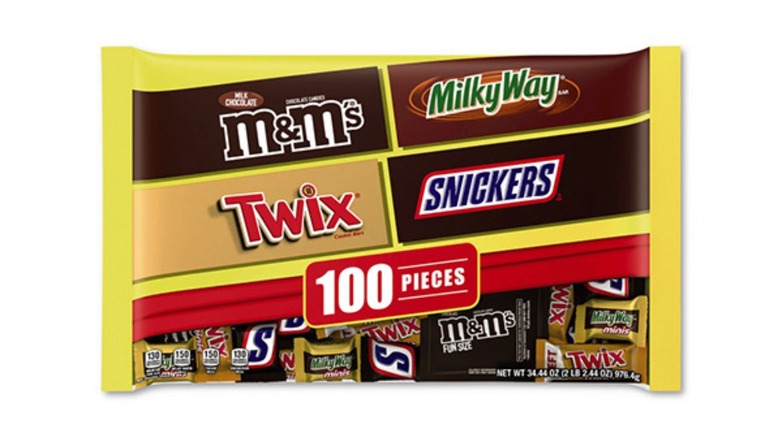 Aldi
If 80 mini candy bars just won't cut it, why not step up to this Mars chocolate assortment? You get 100 pieces here, including mini bags of M&Ms, Twix bars, Milky Ways, and the perennially popular Snickers. This item will be available on October 13 for $9.94, and it's sure to give you rave reviews from all the kids on your block. At less than $0.10 a piece, you may even let everyone take two candies!
Hershey's Chocolate Miniatures Assortment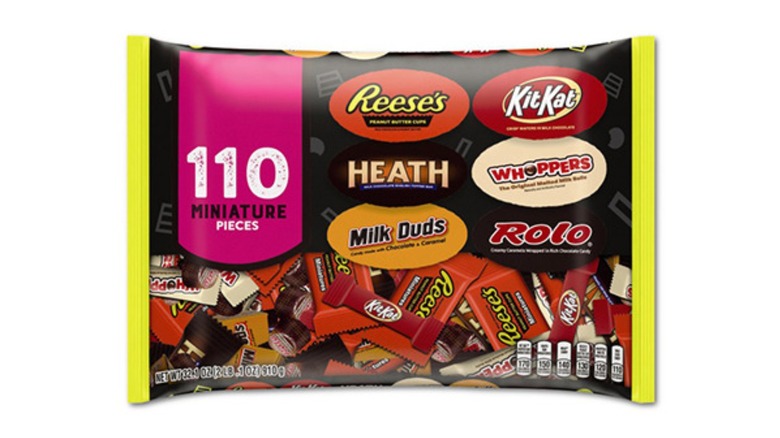 Aldi
Things just keep getting bigger and better as you stroll down the Aldi candy aisle. This Hershey's assortment gives you 110 pieces and six different types of candy, including chocolate caramel Rolos and Milk Duds, crunchy Heath bars and Kit Kats, malted milk chocolate Whoppers, and everyone's Halloween favorite, Reese's cups. You'll pay just $9.94 for this 2-pound trove of chocolaty goodness. These candies will be available beginning October 13, and we predict that they'll sell out quickly, so you might not want to sleep on them.
Reese's Pumpkin and Kit Kat Snack Size 90-Piece Assortment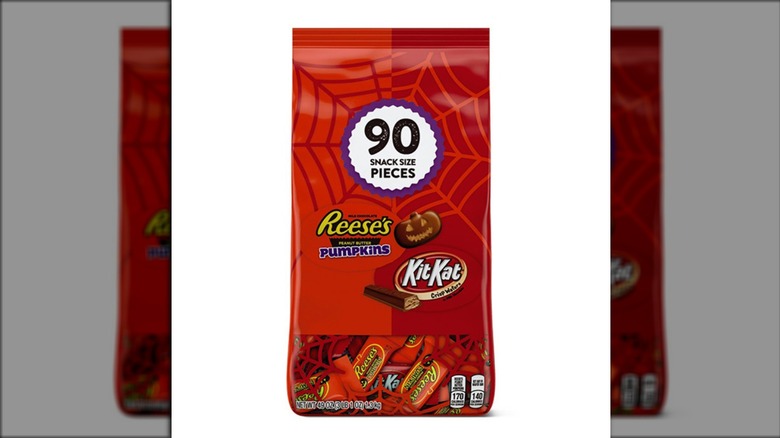 Aldi
If you just want to stick to a couple of kinds of candy, Aldi has you covered. You can purchase bags of 90 snack-sized Reese's pumpkins and Kit Kats, which are priced at $14.74 and have been available since September 15. We don't know whether or not somebody has already snatched up the last bag, but since these candy assortments are sure to be super popular, we have to hope that Aldi has re-stocked by now.
Haribo Trick or Treat Mix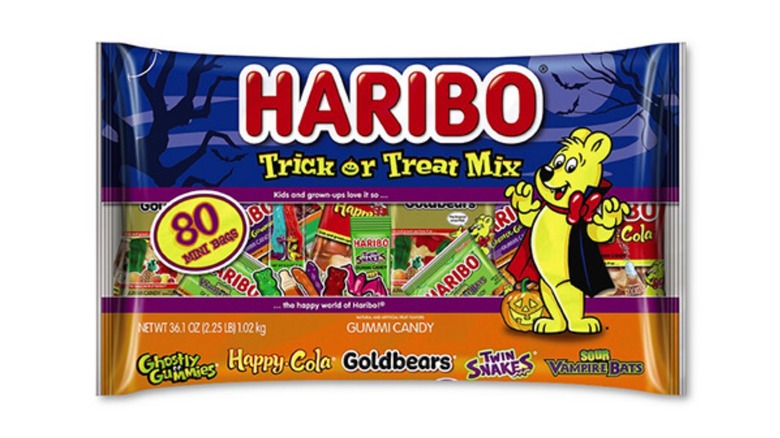 Aldi
If you're allergic to chocolate or are simply not a fan, there are other Halloween candies in the world, and some of them are made by Haribo, unofficially known to many as the gummy bear brand. The 80-piece Haribo Trick or Treat Mix offered by Aldi contains both classic favorites and selections from Haribo's 2021 Halloween lineup: Goldbears, Happy Cola, Twin Snakes, and the seasonally appropriate Ghostly Gummies and Sour Vampire Bats. A 2 ¼-pound bag will run you $8.95, and you can buy it starting September 29.
Kellogg's Halloween Rice Krispies Treats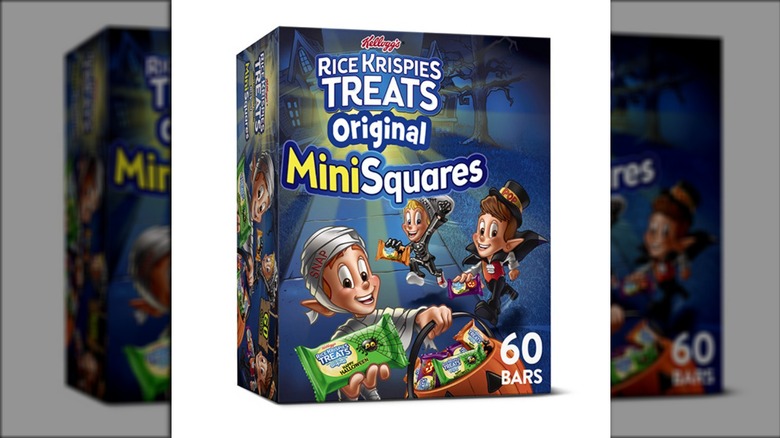 Aldi
Want to offer something other than candy to this year's trick-or-treaters? Be a hero to kids with food allergies by handing out something rice-based, like these mini Rice Krispies Treats, which will definitely be popular with anyone not already enrolled in the Future Dentists of America (if that's even a thing). Aldi is selling boxes of 60 individually wrapped marshmallowy bars for $6.98 starting on September 29.
Betty Crocker Reese's Pieces Cookie Kit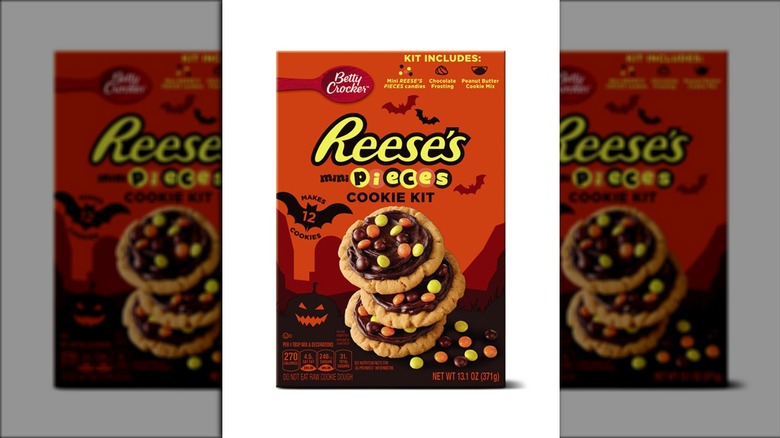 Aldi
OK, now we've covered the trick-or-treat shopping, but what about the sweets you'll need if you're hosting a Halloween party or have to contribute something to a classroom celebration? You can always combine your love of cookies and candy by baking peanut butter cookies topped with chocolate frosting and Reese's Pieces (which, conveniently, already come in autumnal colors). A boxed kit that has the supplies to make a dozen such goodies is priced at $4.98 and available beginning on October 6 at Aldi. On the same day, you'll also find a similar Betty Crocker kit for giant pumpkin-shaped cookies.
Pillsbury Pumpkin Cookies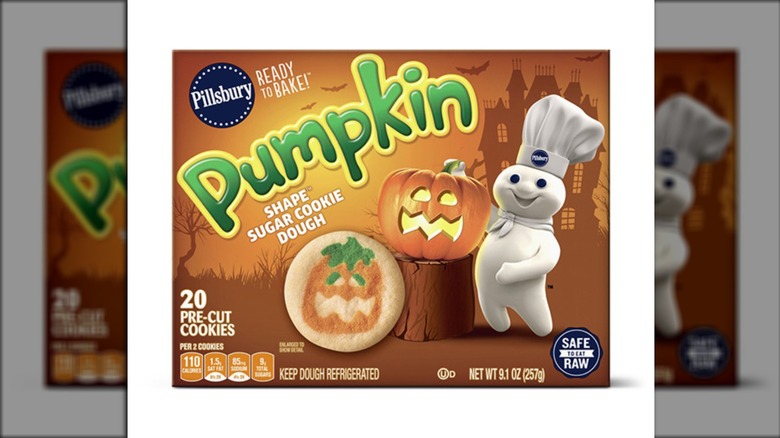 Aldi
If you're in the mood for some super easy baking, it doesn't get much simpler than Pillsbury's pumpkin-imprinted sugar cookies. These are even faster to make than the classic slice-and-bake cookies, as they're pre-cut, pre-decorated, and ready to be placed on a baking sheet and popped in the oven. A package of 20 cookies costs $2.49 and can be found in Aldi's refrigerator section starting September 29.
Benton's Pumpkin Face Creme Filled Cookies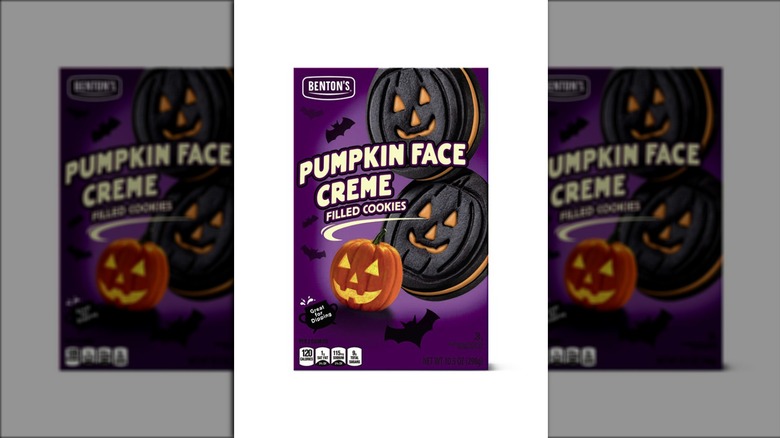 Aldi
Let's say you have zero time or inclination to bake — or perhaps you don't even own an oven. In that case, there's no shame in celebrating the holiday with store-bought cookies, especially if they're as cute as Aldi's Benton's brand pumpkin face sandwich cookies. The cookie part is spookily black with dark chocolate, while its jack-o-lantern cut-out shows a peek of orange-hued creme filling. One 10.5-ounce box of cookies costs $1.99 and can be purchased at Aldi from September 29.
Choceur Pumpkin Chocolates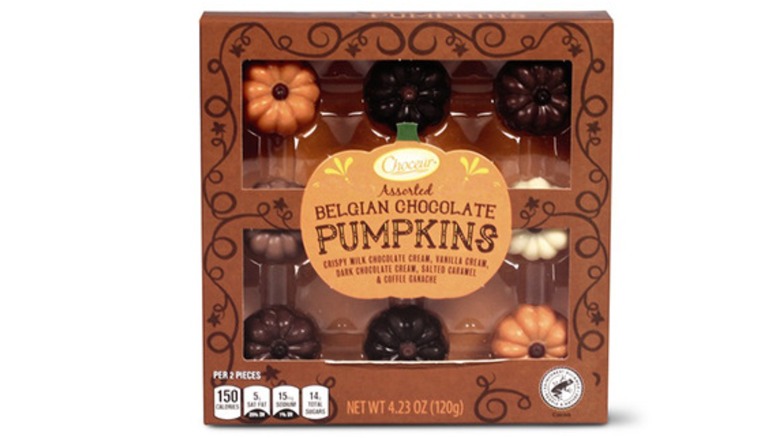 Aldi
Planning on celebrating Halloween solo? Turn off the porch light to ensure that no unwanted ghosts and goblins will be ringing your doorbell — then prepare to relax and do a little "gobblin" of your own. For your evening's refreshments, may we recommend this assortment of pumpkin-shaped Belgian chocolates from Aldi's own Choceur? Each mini box costs $2.99 and contains nine treats in five different varieties: milk chocolate cream, vanilla cream, dark chocolate cream, salted caramel, and coffee ganache. They first went on sale on September 15; if they're still available, try pairing them with Aldi's pumpkin pie hard cider for the perfect seasonal indulgence.