This Eggplant Dish From Beat Bobby Flay Is An Unbeatable Sunday Dinner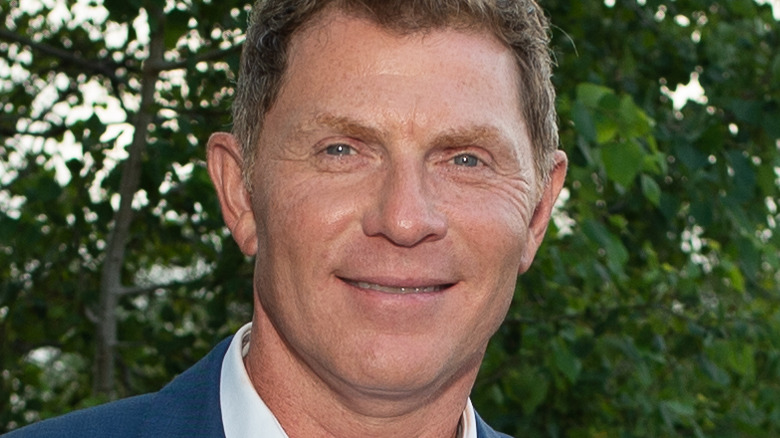 Mark Sagliocco/Getty Images
If you're looking for another celebrity chef cookbook to pad your bookshelves, then Bobby Flay has you covered. Stop by Flay's website and you'll see he has already published a small boatload of cookbooks, catering to just about everyone: people into health and fitness, burger-fry-and-shake lovers, and addicts ... barbecue addicts, that is. The latest compendium of Flay's recipes drops October 5, according to another page on the Bobby Flay website: a book spawned from his Food Network show titled simply, "Beat Bobby Flay: Conquer the Kitchen with 100+ Battle-Tested Recipes."
Flay is promoting his cookbook now, and he appeared on "Today" October 1 to demonstrate an eggplant dish from the book (via YouTube). If you turn to the page in Flay's new book that gives the recipe for eggplant rollatini with anchovy breadcrumbs (which you can right now, thanks to the power of Google Books), you'll learn the dish is based on something the chefs on "Beat Bobby Flay" came up with in a Season 18 episode called "Knighted Sir Loin."
Anchovy breadcrumbs are Bobby Flay's go-to garnish
Bobby Flay bills the eggplant rollatini in his new cookbook as "a terrific Sunday night, dished-out-from-the-center-of-the-dinner-table ... kind of meal" (via Google Books). On his "Today" appearance, Flay described it as a "very kind of old school dish" and a "fantastic Italian-American Sunday night dinner." It's vegetarian but not vegan, as it's loaded with ricotta, mozzarella, and Romano cheeses. To really count as vegetarian, though, you'd need to skip the anchovy and garlic breadcrumbs that get sprinkled over the top of the eggplant rollatini before serving, per Today.
Flay would advise against skipping the breadcrumbs, however. As Bobby Flay's website suggests, they are the chef's go-to garnish these days: "Anchovies have become a theme in my cooking," Flay writes in the new cookbook. Their salty, savory touch does all the right things."
The new "Beat Bobby Flay" cookbook should appeal to fans of Flay's long-running cooking competition show, as well as anchovy fans. The book promises "behind-the-scenes stories of fan-favorite moments," according to Flay's website.