Why Sunny Anderson Will Never Grill Burgers On A Cast Iron Pan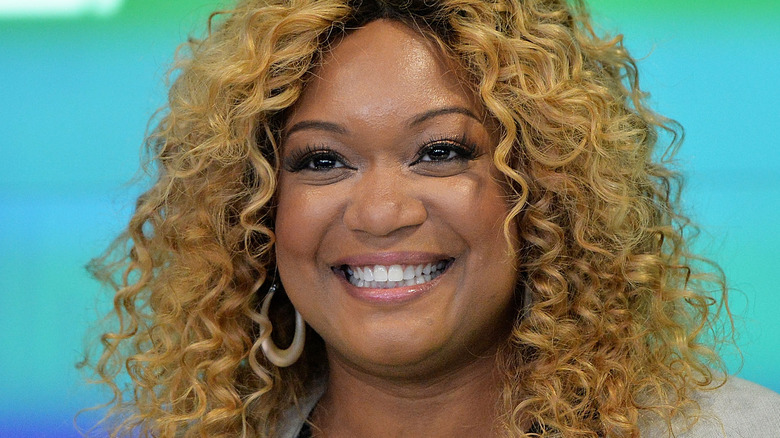 Slaven Vlasic/Getty Images
Food Network stars Sunny Anderson and Ali Khan are used to debating about food. It's the whole premise of their co-hosted show, "My Fave vs. Your Fave," in which Anderson, Khan, and several other celebrity chefs try to prove to each other why their favorite foods should be everyone else's favorite foods, too.
Anderson and Khan bring the same spirit of debate to their interactions on social media — and the latest debate has shed light on Anderson's preferred hamburger cooking technique. In late June, Khan shared a photo on Twitter of a meal he was preparing — several hamburgers cooking in a cast iron pan, heated over a charcoal grill. "No better way to cook a burger #castiron," read the caption. Khan inadvertently started a debate among his followers, with some singing the praises of cast iron pans, and others wondering why Khan had not simply cooked the burgers on the grill. (For the record, the burgers shown in the picture, sizzling away in their own fat, looked delicious.)
No school like the old school
Anderson was quick to comment on the photo, ribbing her "My Fave" co-host for his elaborate cooking technique. "Dude...ok, but the grill is right there!!!!" she joked. "This is why Fave vs. Fave needed to get picked up," the celebrity chef continued. "I wanna verbally fight you lol but yes, cast iron is the jam." Responding to Anderson, Khan defended his use of the cast iron pan, explaining that the outdoor grill over which he was cooking was in poor condition, and that he didn't have access to a grill scrubber.
As it happens, Anderson has made headlines before with her preference for outdoor grills. During the pandemic, when filming for her show, "The Kitchen," relocated to Anderson's home, the celebrity chef hosted her "from home" episodes in her backyard, using a grill in place of an oven (via Youtube). The decision perplexed some of her fans, but Anderson didn't seem to notice, continuing to use an outdoor grill well into the winter months. In fact, she kept outdoor grilling until shooting for "The Kitchen" returned to Food Network studios in early 2021. Like her "My Fave" co-host Khan, Anderson knows when to stand her ground.