Domino's New Oven-Baked Dips Come In 3 Gooey Flavors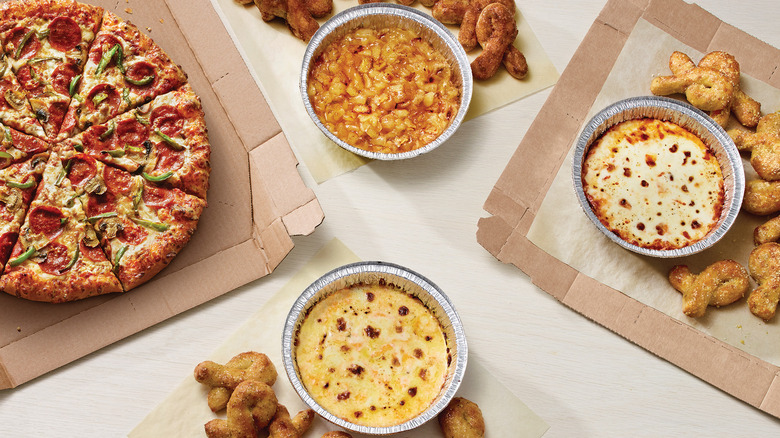 Domino's
Eagle-eyed Domino's fans may have noticed a recent change to the pizza chain's menu that is sure to excite anyone who likes melty, ooey-gooey cheese. (Let's be real, who doesn't?) The restaurant has quietly introduced a new trio of items perfect for dunking, sharing, and cheese-pulling, Chew Boom reports. They're called oven-baked dips, and they're warm, decadent, and available in both sweet and savory flavors on Dominos' newly named "breads and oven-baked dips" menu category.
Wondering what you're dipping with? Domino's oven-baked dips include two cheesy options and a third dessert-friendly flavor. The savory selections include a five cheese dip — which is made with cheddar, asiago, Parmesan, American, and pizza cheeses — and a cheesy marinara dip that combines marinara sauce with creamy cheeses. The sweet version is a baked apple dip that's loaded with cinnamon. 
We say Domino's has "quietly" released the dips because it has yet to make an official announcement about the items; while they're listed on the chain's national menu online, Chew Boom specifies that they're available at participating locations. Select your local store on the Domino's website to see if you can get your hands on the crave-worthy new dishes.
The new dips are meant to be paired with Domino's bread twists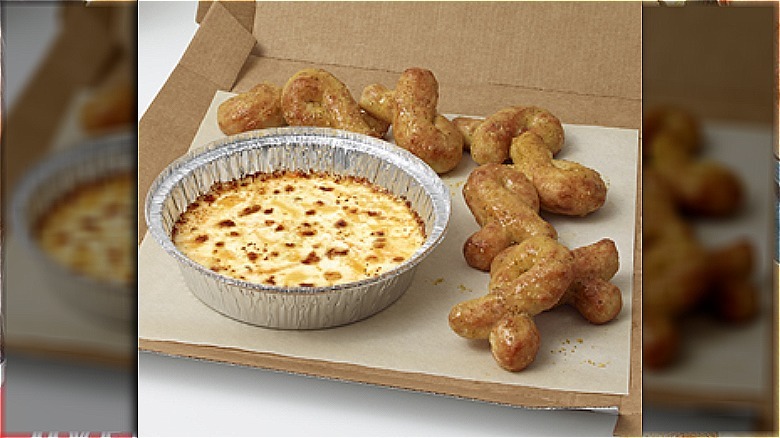 Domino's
Domino's designed its new oven-baked dips to be enjoyed with its pre-existing bread twists, Chew Boom explains. A play on breadsticks, the twists are twirled into a ribbon-like shape before they're baked. Unlike Domino's ultra-popular cheesy bread, the bread twists are not filled, making them the ideal blank canvas to slather with the restaurant's new dips. The parmesan or garlic twists make a tasty pairing with both the five cheese and marinara dips, while the cinnamon twists are a match for the baked apple dip. The Domino's online menu shows that you can order the dips alone or as a combo with your twists of choice.

YouTube food reviewer Peep THIS Out! got an order of five cheese dip at his local Domino's for $8.99 and called it "very delicious ... decadent," and a "nine out of 10." Ready to get your own? The pizza chain recently made headlines by announcing its intent to give away $50 million in "surprise frees," which are additional menu items included in online orders at no added cost to customers, through November 21 (via Chew Boom). While it's unknown whether the oven-baked dips might be included in this nationwide promo, one thing we know for sure is that these new dips make for the perfect shareable shack for when you just can't agree on pizza toppings.