10 Popular Cracker Barrel Breakfast Menu Items, Ranked Worst To Best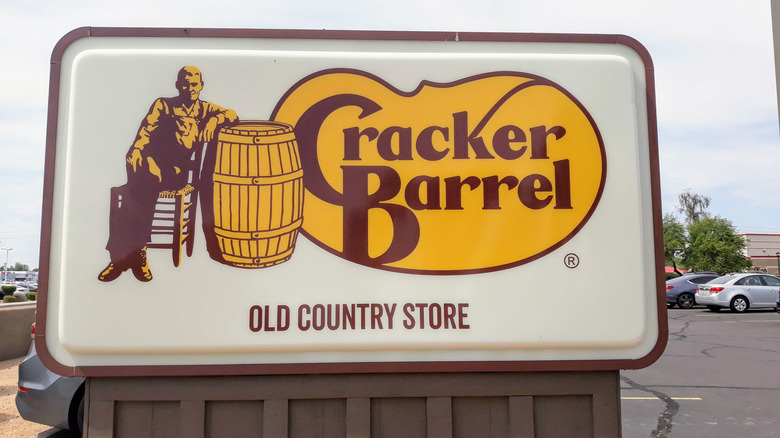 E. Murphy/Shutterstock
Cracker Barrel has been serving U.S. road trippers and Southern food aficionados since 1969 when former oilman Danny Evins founded the brand in Lebanon, Tennessee. The restaurant has earned its share of devotees over the years with its unique blend of homestyle cooking and gift-shop kitsch. Every location has a Country Store in addition to a sit-down restaurant, selling a mix of music, souvenirs, clothing, and old-timey candy. Visitors to the chain's over 400 locations get to taste a little slice of retro Americana, whiling away an afternoon on one of the brand's iconic front porch rocking chairs while admiring the authentic antiques and knickknacks that decorate each restaurant. Cracker Barrel's many quirks, like the peg game you can play at your table while waiting for your food, give it more personality than you would expect from a chain with outposts in 45 states.
We know the atmosphere is what draws people in, but how is the food? We selected a representative sample of some of Cracker Barrel's most popular breakfast items to see if they were worth the hype. Some were delicious, and some were disappointing. Here are our results from our rigorous taste test.
10. Biscuit Breakfast Sandwich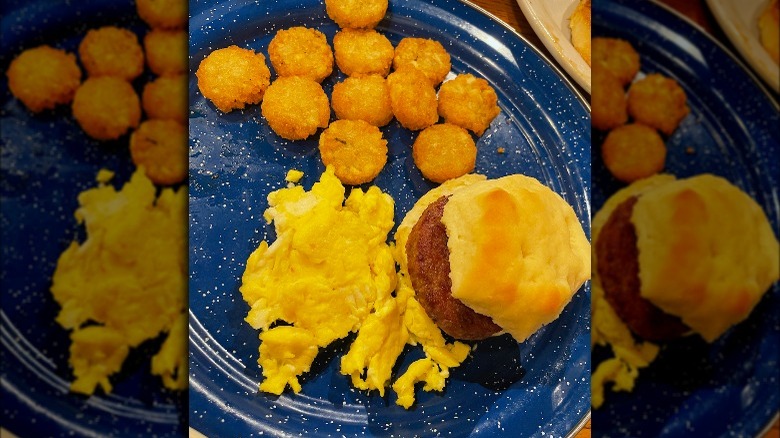 Madison Smith/Mashed
There's not much to recommend about the biscuit breakfast sandwich on the kids' menu. The kid-sized biscuit was drier than the chain's normally great biscuits, and the small sausage patty was also dry and tasteless. The small pile of scrambled eggs on the side was hard and unappetizing. The best things on the plate were the tater rounds, a menu item that comes exclusively with kids' menu items. They were small circles of hashbrown that were similar to Dunkin's potato nuggets. They were nice and crispy, crunchier than any other potato option on Cracker Barrel's breakfast menu. Sadly, they arrived at the table cold, which diminished their craveability significantly, although it was impressive how crunchy they remained even at room temperature. Ultimately, the passable mediocrity of the tater rounds couldn't save the rest of this kiddy combo from arriving at the bottom of the heap. It might be acceptable for children, but adults have plenty of better choices for breakfast at Cracker Barrel.
9. Grandpa's Country Fried Breakfast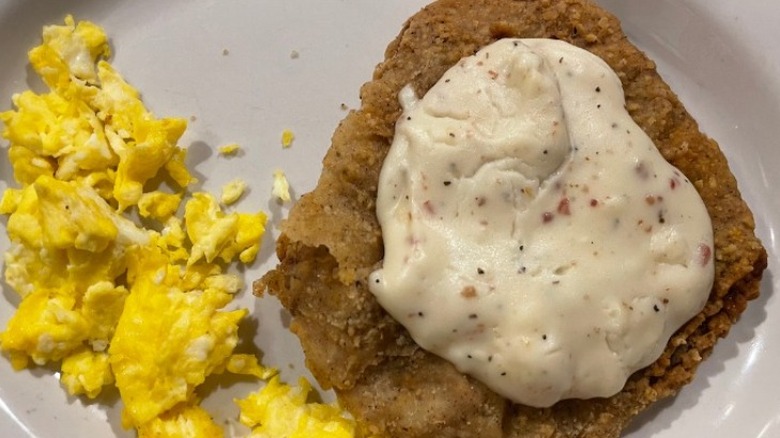 Madison Smith/Mashed
This combo is similar to the Old Timer's breakfast, except that it comes with either chicken tenders or a country-fried steak instead of sausage or bacon. Whether you order tenders or steak, the meat comes slathered in Cracker Barrel's thick sawmill gravy. This meal was one of the biggest disappointments of the morning. The scrambled eggs in this combo were dry and unappetizing, and the meat on the side didn't compensate for the eggs' weaknesses. We opted for the country-fried steak, which was a mistake. The outside was golden and crispy and relatively nice-looking, but the inside was an ugly gray. The meat seemed more like a burger patty than an actual piece of steak, and one bite had a large piece of gristle in it. It was edible while it was hot but quickly turned gross as it cooled down. Almost any other breakfast meat would be a better option.
8. Meat Biscuits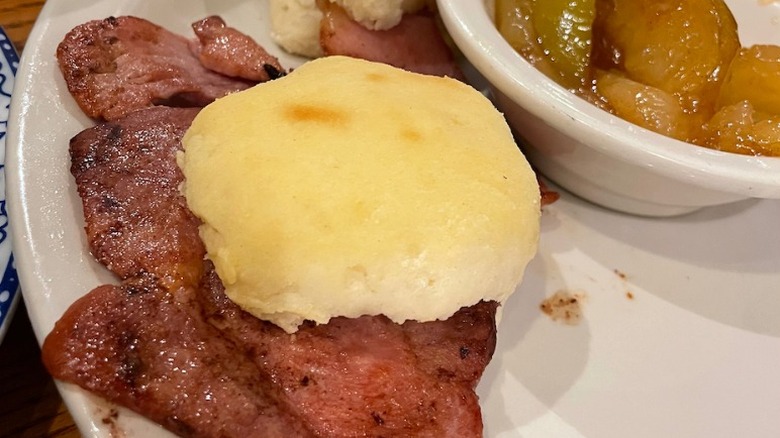 Madison Smith/Mashed
You can order meat biscuits individually, or order a combo of two with one side dish as we did. We went with country ham inside our biscuits, but you can also get them with sausage patties. This is one of Cracker Barrel's simplest menu items, consisting of one slice of meat inside a split biscuit with no other toppings. Anything this basic relies on the quality of its individual components, which were pretty good in this case. The biscuit was predictably great, and the ham was solid as well. Cracker Barrel's country ham is a classic Southern-style country ham cured with salt rather than sugar, which might be unfamiliar to you if you're used to sweet Northern-style hams. The texture of country ham is also noticeably firmer than that of wet-cured deli ham. In our case, it was a little too firm, as it had been griddled until dry and leathery. With a little butter to lubricate the situation, the meat biscuits were a totally acceptable breakfast.
7. Loaded Hashbrown Casserole Tots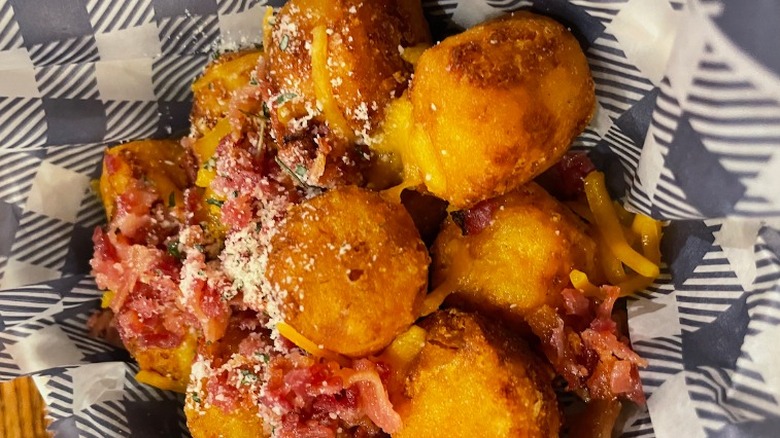 Madison Smith/Mashed
These turn Cracker Barrel's famous loaded hashbrown casserole into finger food. The tots have a very different texture from the tater tots you're used to from your grocery's freezer section. The interior of Cracker Barrel tots are silky, dense, and heavy, quite unlike the fluffy insides of a standard tot. The outside of the Cracker Barrel version is crispy, but doesn't develop the craggy, deep crunch you expect from a fried tot. 
The differences don't make the Cracker Barrel tots worse, but they're a different animal from most tots. They tasted pleasantly deep-fried and salty. The ranch, bacon bits, and cheese garnish was delicious and made them taste somewhat like a loaded baked potato. The only strike against them was insufficient topping distribution. The toppings were all concentrated on the top of the dish, leaving many naked tots in the bottom of the basket. Especially once the cheese started to cool down and congeal, it was tough to construct perfect bites that included all the toppings.
6. Biscuit Beignets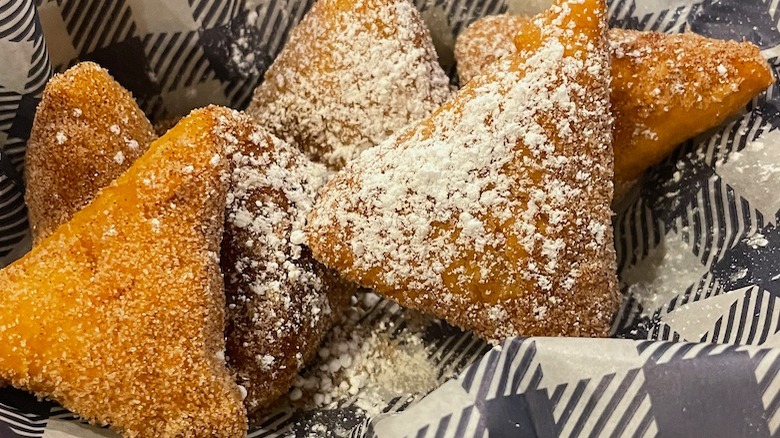 Madison Smith/Mashed
If you're expecting the classic New Orleans-style French doughnuts piled high with powdered sugar like you'd get at Cafe du Monde, you'll be disappointed by Cracker Barrel's biscuit beignets. Appreciated on their own merits, however, they're a tasty snack that straddles the line between breakfast food and dessert. 
The beignets at Cracker Barrel are little triangles of fried biscuit dough that are dusted with cinnamon sugar and served with a cup of caramel sauce. The inside is a little drier and denser than a traditional New Orleans beignet, but the outside gets nice and crispy. The biscuit dough isn't very sweet on its own, so the sugar levels of this dish are surprisingly restrained. The caramel sauce on the side is tasty enough, but its flavor lacks the complex notes of butter and vanilla you'd get in a higher-quality caramel. You'll definitely want to share these with at least one friend, as they're pretty heavy and it would be hard to finish an order on your own.
5. Old Timer's Breakfast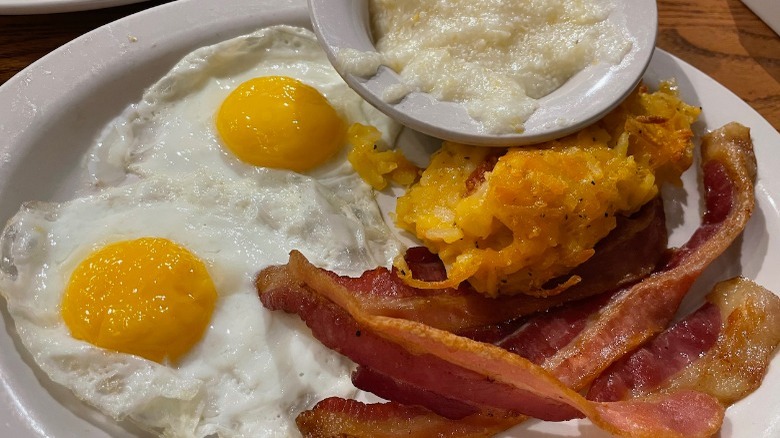 Madison Smith/Mashed
This combo comes with two eggs cooked your way, grits, choice of meat, and either fried apples or cheesy hashbrown casserole. Like most of the savory breakfast combos at Cracker Barrel, you also get biscuits, gravy, jam, and butter on the side. We ordered it with sunny-side-up eggs, bacon, and hashbrown casserole. The eggs were perfectly cooked, avoiding the slimy, raw egg whites that plague substandard breakfast restaurants. The "thick sliced" bacon seemed pretty normally sliced to us, and it could have been crispier, but it tasted good. The grits surpassed most restaurant grits, which tend to be undercooked and underseasoned. These grits were creamy and tasted pleasantly buttery, with enough salt that they could be eaten without any condiments. The cheesy hashbrown casserole lacked crispiness but its flavor was awesome. It had almost as much cheese as potato, and tasted like scalloped potatoes. The Old Timer's Breakfast is a massive amount of food, and could easily serve two people.
4. Momma's Pancake Breakfast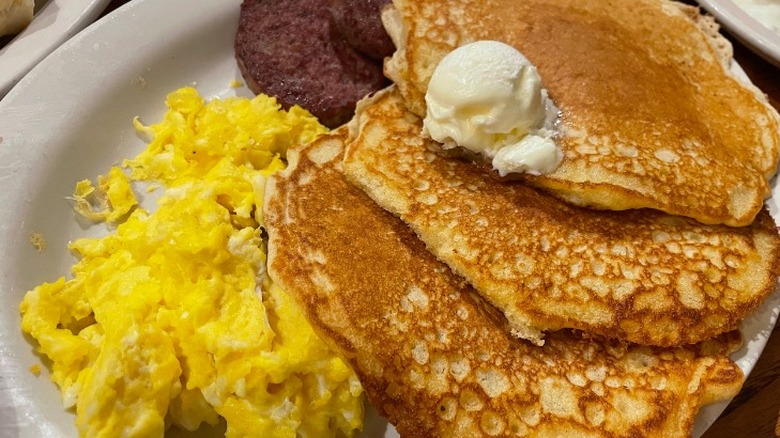 Madison Smith/Mashed
Cracker Barrel excels at sweet breakfast items, and the pancakes were no exception. The three buttermilk pancakes were as tasty as anything you'd find at a local diner, with a pleasant tang from the buttermilk. They come with a generous dollop of whipped butter on top that they soaked up readily. They tasted like they had come fresh off the griddle and we were impressed with Cracker Barrel's maple syrup, which is a blend of 55% real maple syrup and 45% cane syrup. It was a significant improvement over the flavored corn syrup served at most chain breakfast restaurants. The rest of this combo wasn't as good as the pancakes. The scrambled eggs had clearly spent some time under a heat lamp, developing a leathery exterior and a dry, foamy interior. The breakfast sausage was serviceable, but it was a little bit dry and had more sugar than you would expect.
3. Biscuits and Gravy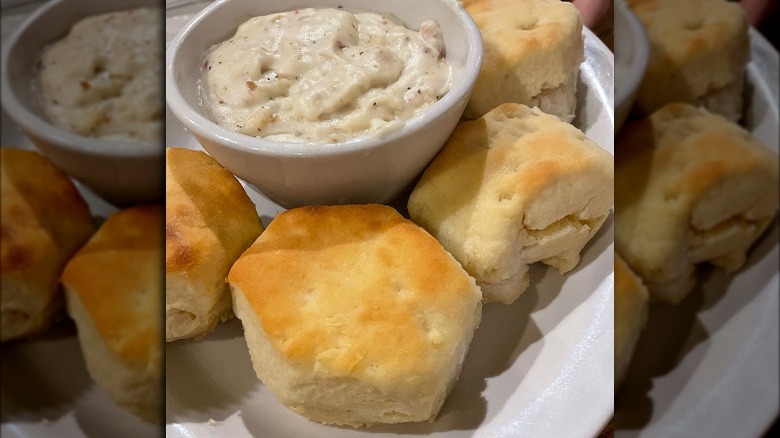 Madison Smith/Mashed
A Southern-style restaurant lives and dies based on the quality of its biscuits, and Cracker Barrel's biscuits are stellar. The biscuits we ate tasted fresh from the oven, and they hit the perfect balance between soft, fluffy, and crispy. The sawmill gravy served on the side was disconcertingly thick, almost the texture of mashed potatoes. Blessedly, it tasted good, hitting all the right creamy notes you expect from milk gravy. It had a mild dairy sweetness that was offset by little crumbles of sausage and cracked black pepper. 
You can order the biscuits and gravy on their own, and they also come with many of the chain's signature meals. If sawmill gravy isn't your thing, you can also eat the biscuits with butter and fruit jam. On our visit, the fruit jam was marionberry, a blackberry varietal native to the Pacific Northwest. Although serving a fruit from Oregon seems a little off-brand for a company that prides itself on its down-home Southern image, the jam was delicious, with a pleasant mix of sweet and tart flavors.
2. Bacon 'n' Egg Hashbrown Casserole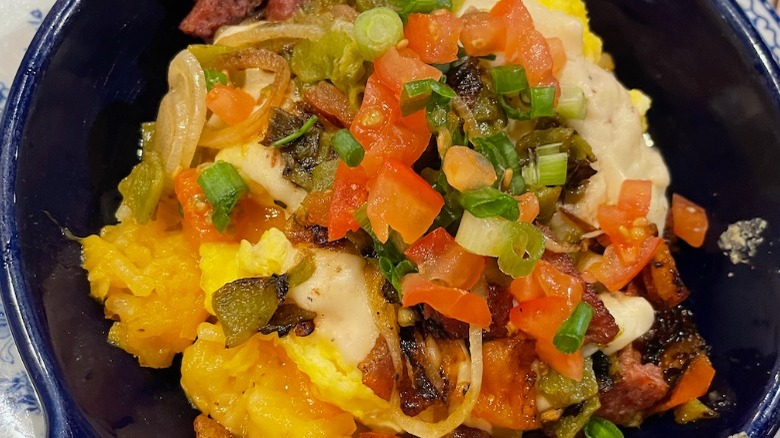 Madison Smith/Mashed
We ordered the Southwest Loaded Hashbrown Casserole, but received this dish instead. We can forgive our harried server because it was super busy at this Cracker Barrel — plus, this was one of the tastiest things we ate. It's basically a big skillet full of breakfast mush, but it's tasty mush. The bottom layer is Cracker Barrel's ever-reliable cheesy hashbrown casserole, which then gets topped with even more cheese, eggs, bacon bits, fried onions, chopped tomatoes, and scallions. Unlike the skimpy bacon crumbles on the loaded tots, the bacon on this dish is thick cut and substantial, more like a French lardon than a standard bacon bit. The eggs were moist and tender, and the whole dish was well-seasoned. The best part of this was the fresh tomato and scallion on top, which added brightness and freshness that you won't find much of throughout the rest of the chain's menu.
1. French Toast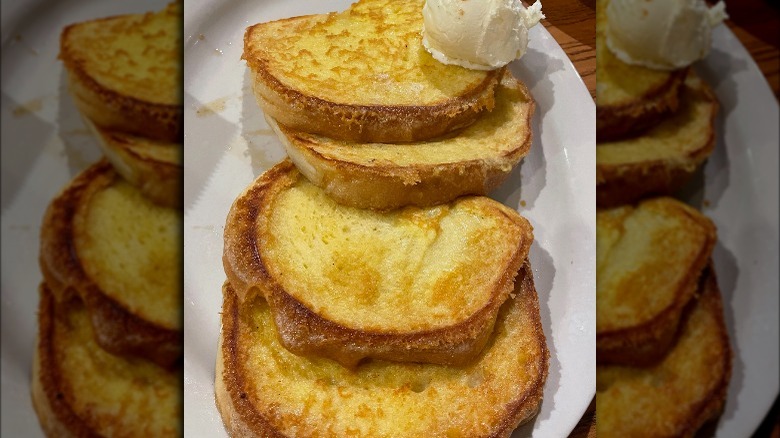 Madison Smith/Mashed
The French toast was even better than the pancakes. One order gets you four pieces of Cracker Barrel's house sourdough, dipped in egg batter and griddled to order. Like the pancakes, they come with an immodest amount of butter slathered on top, as well as the chain's delicious syrup blend. The sourdough made for a welcome twist on the classic French toast formula, adding a hint of acidity that cuts through the sugar and fat. The egg batter totally saturated the pieces of bread, keeping them nice and moist in the middle and forming a crispy crust on the exterior. You can get the French toast on its own like we did or as a combo. If maple syrup isn't your thing, you can substitute it with blueberry syrup or sweet fruit toppings like Country Peach and Cinnamon Spiced Apple. Sugar-free syrup is also available, although it won't exactly turn the French toast into a light meal.