Taco Bell Has Good News For Fajita Fans In Ohio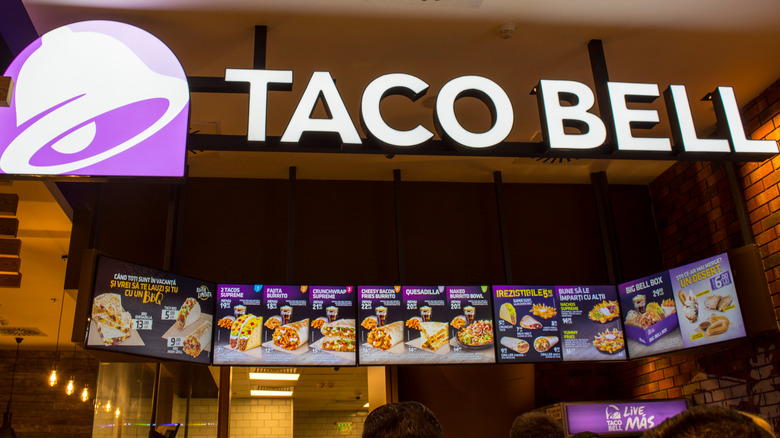 kitzzeh/Shutterstock
Given that Taco Bell touts a menu full of flavor-packed, crunchy, and cheesy options like the Nachos Bell Grande, Shredded Chicken Mini Quesadilla, and the Nacho Cheese Doritos Locos Taco Supreme, per Thrillist, you might wonder how the chain could possibly improve its menu ... until it does. As longtime fans have likely noticed, Taco Bell's item lineup is ever-evolving, and some items leave a lasting impression that can lead to an impressive-sounding upgrade down the line.
You may remember enjoying a limited-edition item on the menu circa 2016 called the Quesalupa, a combination of a quesadilla and chalupa, with a crispy chalupa shell, melted pepper jack and mozzarella cheeses, and all of Taco Bell's original taco ingredients; seasoned beef, lettuce, cheddar cheese, diced tomatoes, and reduced-fat sour cream (via Food Network). The Quesalupa, much to the merriment of fans, returned to Taco Bell restaurants in March of this year, with a whopping  50% increase in cheese (YES!) and a new campaign with a spot-on name: "Overhyped" (via PR Newswire). Now, there's more to get hyped-up about, at least if you live in Ohio.
Ohio gets first dibs on the Fajita Quesalupa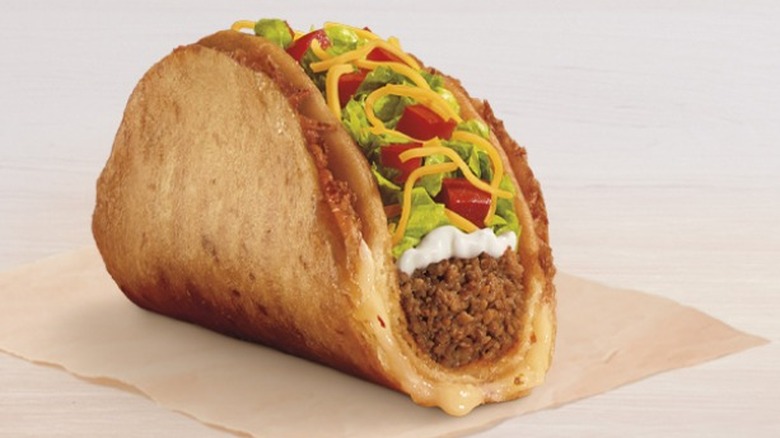 Taco Bell
Building on the re-rollout of the popular Quesalupa, Taco Bell has created another limited-edition item based on it: the Fajita Quesalupa. Food Beast reports that those residing in (or visiting) Toledo, Ohio can now try this test item featuring a fire-roasted Fajita Quesalupa shell, poblano sauce, lettuce, tomatoes, cheddar cheese, and ... more cheese.
It's important to note that the pricing could differ across locations. But Chewboom found that in its case, the Fajita Quesalupa can be ordered with grilled chicken for $3.99 or with steak for about $4.49. And yes, there is also a combo meal that includes chips, nacho cheese sauce, and a large drink for around $5.49.
The newly released test menu item may already be gaining traction. Recently, a Reddit user shared a photo of the combo meal and captioned it, "Spotted in Toledo [Ohio] area." A couple of commenters expressed excitement, writing, "Not gonna lie that sounds amazing and with their new and improved Quesalupa I hope this goes national too," and "Jackpot!" The OP declared in the comments, "It's so much better than the regular [Q]uesalupa." If all goes well in Ohio, perhaps some of us non-Ohioans will see a Fajita Quesalupa at a nearby Taco Bell in the future.