Instagram Is Losing It Over Duff Goldman's 'Crab Cake' Photo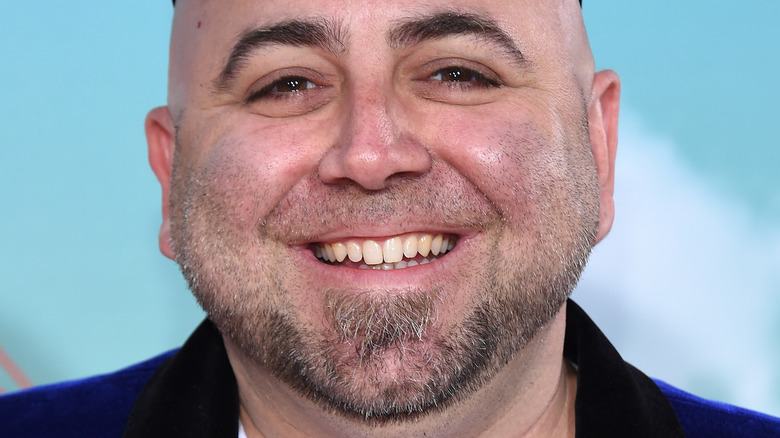 DFree/Shutterstock
Duff Goldman is known for his extraordinary and realistic cakes. Since Goldman made his television debut, the Charm City Cake owner has made a name for himself and his sweet creations on Food Network's "Ace of Cakes," constantly leaving fans inspired by his creativity. Goldman's cakes are pretty insane. And when the cake specialist isn't busy mentoring the next great baker on "Kids Baking Championship," Goldman is gushing over the latest addition to his family and sharing photos of his baby girl, Josephine, whom he welcomed in January of this year. He even shared his joy with his social media followers when he ribbed his daughter's "Aunt" Nancy Fuller over her sweet nickname. 
Still, Goldman is true to his craft, and he clearly isn't afraid of a cake challenge, either. He shared with the Daily Beast that the cake that left him the most overwhelmed with pride is the R2-D2 cake he created for George Lucas. But it would be hard to judge his cakes without considering the "Harry Potter" inspired cake he made for the series' final film, the rollercoaster cake he created with King Dominion's Intimidator 305 in mind (via YouTube), or the five wedding cakes he baked for his own nuptials (via Yahoo!). However, none of those are the Goldman cake that has Instagram buzzing.
Duff Goldman's cake has us feeling crabby
Duff Goldman posted a photo of his latest Charm City cake creation on Instagram and it is as amazing as you would imagine. The cake is clearly inspired by Goldman's Maryland roots and a cool take on the state's oh-so-famous Blue Crabs and the delicious fried (or baked) crab cakes they inspire. Goldman wrote, "Check out this awesome custom cake. Great job team! Interested in getting your own custom cake? Order one now at Charm City Cakes. #CakeoftheWeek." 
Instagram was left in awe over this surreal cake creation, with many followers gushing over how incredible it looked. One follower wrote, "Oh my God...unbelievable. gorgeous!" Another asked, "Where's the Old Bay??" If you are a fan of Maryland's blue crabs, this seems like the perfect way to enjoy a sweeter version.
Why a crab? Goldman definitely has a soft spot for these crustaceans. He humorously told Food Network, "Crabbing is the world's best waste of time. You have to catch them one at a time, and you have to catch a bunch to get enough meat, so you bring along your friends and your brew of choice and make a day of it." Goldman is such a fan of these sea creatures, you may even catch him at Maryland's local seafood festival sampling the briny treasures it serves up. And, if you are in the neighborhood, per Taste Trekkers, the cake master is said to enjoy his crab cakes at Pierpoint in Baltimore.