Mini Cherry Pie Recipe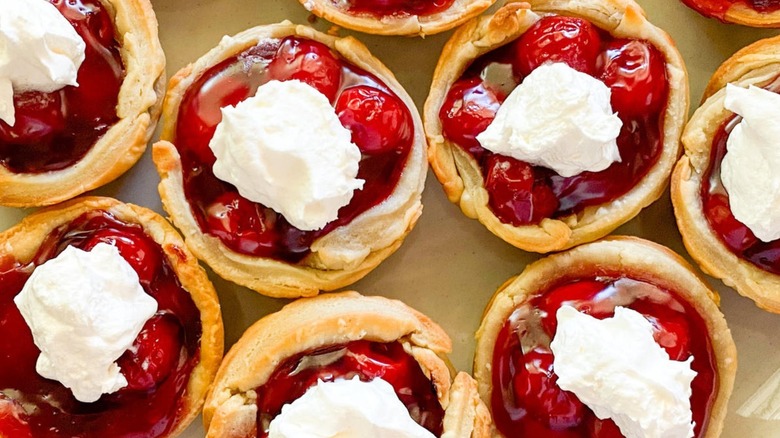 Miriam Hahn/Mashed
Recipe developer Miriam Hahn is also a wellness coach, but that doesn't mean that she can't have a little fun with baking. And these mini cherry pies of hers are basically the definition of fun with baking because they're bursting with sweet and juicy cherries. At the same time, they're a cinch to make. They require a mere two ingredients, very little in the way of cleanup, and you can go from thinking about them to serving them in as little as 20 minutes. Plus, they're even easy to serve — because they're mini, with each mini pie comprising one serving.
"These little pies are so easy yet look super fancy," Hahn tells Mashed. "I most recently made them for a bridal shower, and they were a huge hit. I think they are nice for any sort of brunch, shower, or holiday event where you want something delicious but pretty too. They work well on a platter or tiered stand and eliminate the need to have people slice themselves a piece of pie at a gathering." And we all know how messy and awkward that can get. Plus, people just love the idea of miniature foods. How else to explain the enduring power of White Castle sliders and the increasing popularity of Tastemade's Tiny Kitchen franchise?
Now, if you're anything like us when it comes to cherry pie, then you're already looking to get started. So let's do that now.
Gather up your mini cherry pie ingredients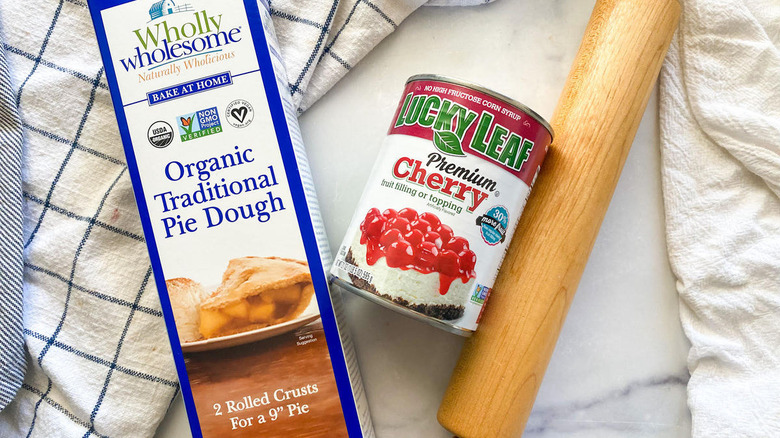 Miriam Hahn/Mashed
The first ingredient you'll need for Hahn's mini cherry pies is one 16-ounce box of two frozen rolled pie crusts. Hahn likes to use Wholly Wholesome brand's organic traditional pie dough. Since the fat in this brand is pure vegetable shortening rather than butter, your crust will be vegan. "I'm sure some people like to make their own pie crust," Hahn notes, but pre-packaged roll-out pie crusts are "such a time saver," and few, if any, would be able to discern the difference.
For the cherry pie filling, Hahn is all in favor of using canned because, as she explains, "cherries can be hard to work with because of the pits, and since they are so seasonal, it is nearly impossible to make these pies in the winter when you can't find them." Hahn likes Lucky Leaf brand cherry pie filling, which is organic and made of little more than whole, pitted cherries, sugar, cornstarch, and a bit of food coloring. You'll need one 21-ounce can for this recipe.
You'll also need a rolling pin, a 12-muffin tin, and some nonstick spray. And if you'd like your presentation to resemble Hahn's, then you'll also want to have whipped topping on hand for garnishing the finished mini pies. 
Prep your oven and your muffin tins, and select a pie-crust cutter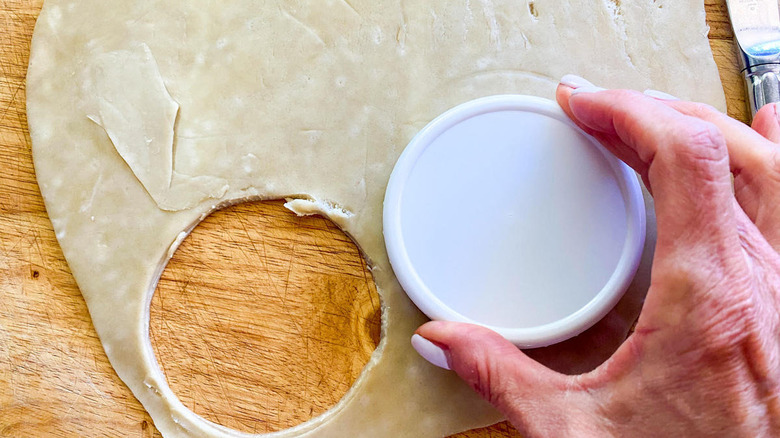 Miriam Hahn/Mashed
Since Hahn's mini cherry pies will bake at 400 F, you'll want to get the oven preheating now before you begin prepping the mini pies. At this point, you'll also need to spritz some nonstick spray into each of the 12 muffin cups in your muffin tin. Finally, you'll want to select what you will be using to cut your dough into circles. Assuming you're using standard-size muffin tins, Hahn recommends finding a glass or round cookie cutter that has a diameter of three and a half to four inches (Hahn used a wide-mouth mason jar lid). 
Now move directly onto the next step. 
Cut dough circles to form the mini cherry pie crusts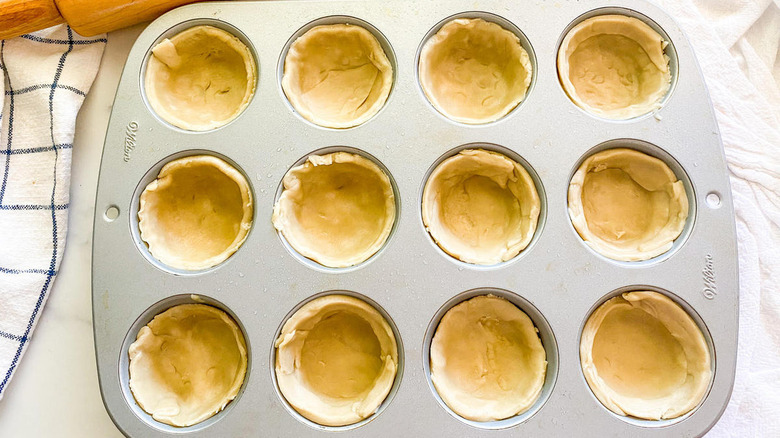 Miriam Hahn/Mashed
It's important to be fully prepared before you take the pie crust out of the refrigerator because the dough will begin to warm up quickly, making it harder to work with. Assuming you've completed the previous step, take one of the dough circles out of the refrigerator, lay it on your work surface, and roll it out with your rolling pin to increase its diameter by around two inches. Use your designated pie crust cutter to cut six circles out of the crust. Transfer each circle into a prepped muffin cup. You may need to combine and reroll the scraps to make the last circle. 
Then take the other dough circle out of the refrigerator and repeat the process. 
Fill the mini pie crusts with the cherry pie filling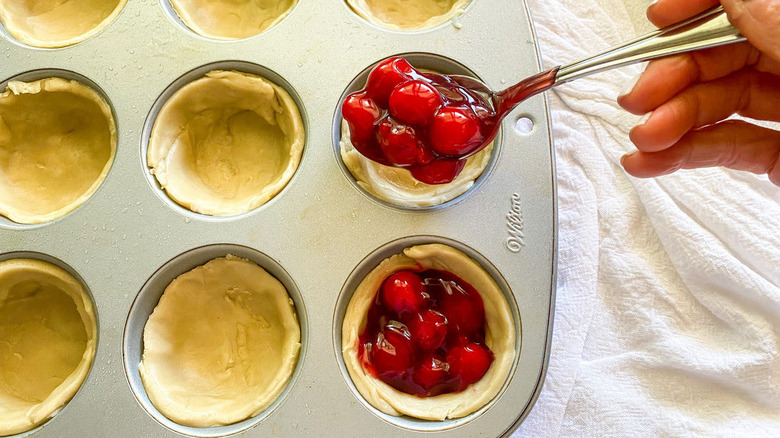 Miriam Hahn/Mashed
All that is left to do now is to distribute the cherry pie filling evenly into the 12 prepared mini-crusts. Do so, and then place the muffin tin on the center rack of your preheated oven. Set a timer for 10 minutes, and check to make sure the crusts are brown. If not, bake for another five minutes. When you're finished with the oven, turn it off, and place your pie tins on a wire rack to cool. Wait at least 15 minutes before attempting to remove the mini cherry pies from the tin. 
Serve immediately, and if desired, garnish with the whipped topping of your choice. Enjoy!
Mini Cherry Pie Recipe
Now, if you're anything like us when it comes to cherry pie, then you're already looking to get started. Let's do that now.
Ingredients
1 (16-ounce) box frozen rolled pie crusts
1 (21-ounce) can cherry pie filling
Optional Ingredients
Whipped topping of your choice for serving
Directions
Preheat oven to 400 F.
Grease 12 muffin cups with nonstick spray.
Select a pie-crust cutter that has a diameter of 3 ½ to 4 inches.
Take one crust out of fridge and roll it to increase its size by 2 inches.
Cut 6 dough circles using your pie-crust cutter, and place each in a prepped muffin cup.
Repeat with the second crust.
Distribute the cherry pie filling evenly into the 12 muffin cups.
Bake for 10 to 15 minutes until the crusts are beginning to brown.
Cool for 15 minutes on a wire cooling rack.
Carefully remove mini cherry pies from their cups and serve with whipped topping, if desired.
Nutrition
| | |
| --- | --- |
| Calories per Serving | 225 |
| Total Fat | 9.7 g |
| Saturated Fat | 3.6 g |
| Trans Fat | 0.0 |
| Cholesterol | 0.0 mg |
| | |
| --- | --- |
| Total Carbohydrates | 33.2 g |
| Dietary Fiber | 1.0 g |
| Total Sugars | 0.0 |
| Sodium | 163.5 mg |
| Protein | 1.3 g |