Instagram Is Loving This Sweet Family Moment With Daphne Oz's Daughter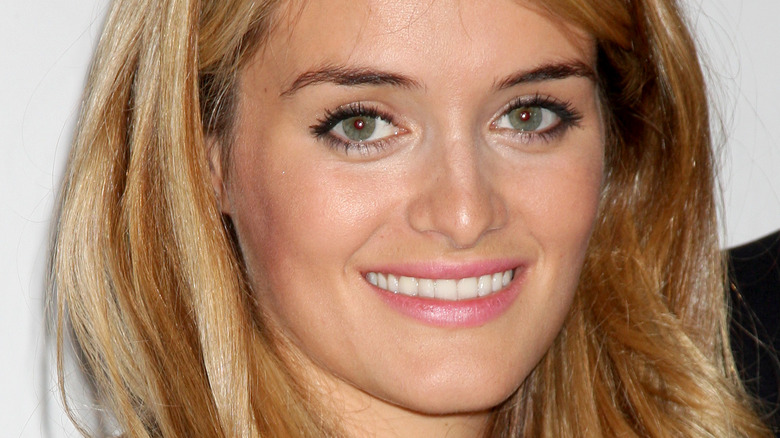 Kathy Hutchins/Shutterstock
Daphne Oz has a lot to be happy about. Yes, she is the daughter of the one and only doctor Oz. But this veteran TV personality, who spent six seasons as co-host of "The Chew," is a true celebrity all on her own. According to her bio on Fox, Oz is also a New York Times best-selling author, Emmy Award winner, and chef. But what some fans might really love about Oz is the way she openly adores her family.
Oz and her husband John Jovanovic are the parents of Philomena Bijou, Jovan Jr., Domenica "Nica" Celine, and Giovanna "Gigi" Ines (via People). Oz has said she loves having such a big family, and you can find images of her kids scattered all throughout her Instagram account. The social media account displays many precious moments surrounding her family, and some of Oz's 627,000 followers are probably obsessed with the cuteness overload. The delight followers expressed over a post about baby Gigi's first day of pre-school really illustrates how much her heartwarming posts win the internet. And by that standard, a picture she recently posted of a sweet family moment is a big winner.
Daphne Oz shared a touching moment between aunt and niece
Daphne Oz's latest Instagram post, as shown above, shared a photo and a video of daughter Gigi wrapped in the arms of Daphne's sister, Zoey with the caption, "The Duchess and her ZoZo reunited!! (heart-eye emoji) nothing like seeing your siblings with your kids, love their love so much!! (heart emoji) @zoeyasoz." The video portion of the post zooms in for a close-up and the emotion on display is truly heart-melting. The heartfelt post has generated more than 14,000 likes so far. 
Gigi, affectionately referred to here as "the Duchess," looks serene being held by her aunt Zoey, and the tender moment has fans swooning. Many of the comments sang a similar tune. Reactions included "Cherish those precious, precious moments," "The next best thing to motherhood is being an Aunt!" and "This made my heart sing!!!" While Daphne Oz may be a star shining over the career success she built, it's absolutely refreshing to see this sweet part of her world, and she apparently has no qualms about sharing that.