Grilled Cajun Chicken Sandwich Recipe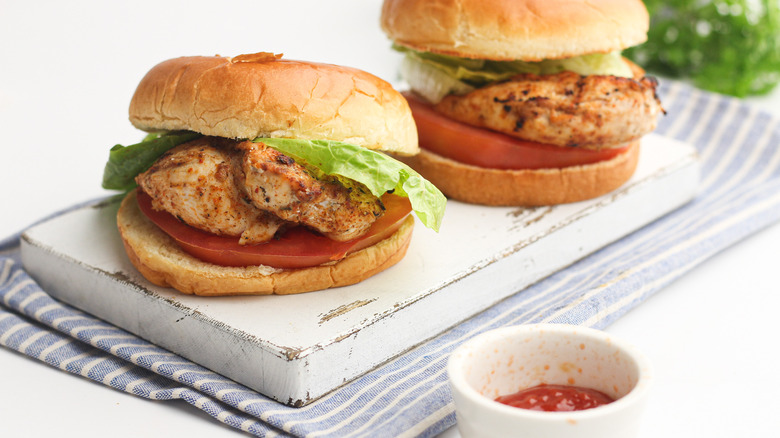 Susan Olayinka/Mashed
A picture says a thousand words, so you probably already know what to expect from these grilled Cajun chicken sandwiches just by what you see here, but in case you'd like a few more words on the matter, take it from chef and recipe developer Susan Olayinka of The Flexible Fridge, who says, "They tasted so good! We are chicken breast fans in our house and we're also huge spice fans so this recipe was a great match."
And in more good news, these tasty sandwiches are hardly a challenge. "This is definitely easy," Olayinka tells us, adding, "You just season the meat, [and] Cajun season is a blend of seasonings which makes it much easier, too. And then all that's left is to put it on the BBQ." (Don't have handy access to a grill? You can cook the chicken in a cast iron pan or even just roast it in the oven — the texture may be a bit different but the taste will remain intact.)
Ready for a savory sandwich the whole family will enjoy? Let's dig in!
Gather your ingredients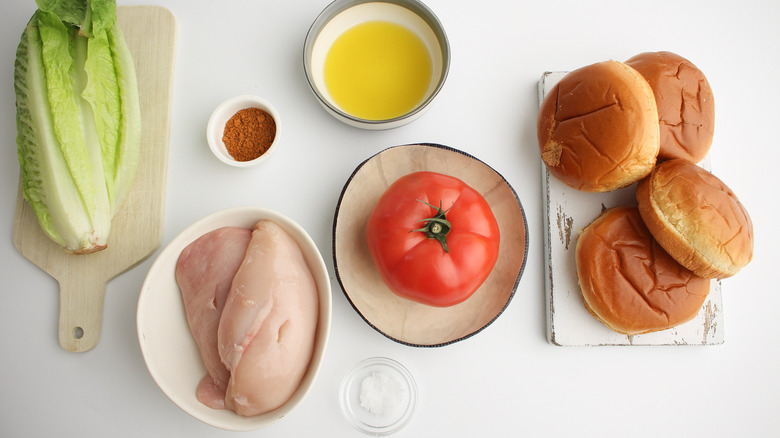 Susan Olayinka/Mashed
This recipe is pretty simple in terms of prep and ingredients. All you need is chicken breasts, Cajun seasoning, olive oil, salt, a tomato (a beefsteak tomato works best), a head of romaine lettuce, and four brioche buns (assuming you're making four sandwiches).
Want to add some Louisiana hot sauce to the recipe? Well that's a fine idea: you can drip some onto the buns or drench the chicken in it before grilling. Want to add some cheese? Well don't — that's overdoing it. Less is more here.
Season and grill the chicken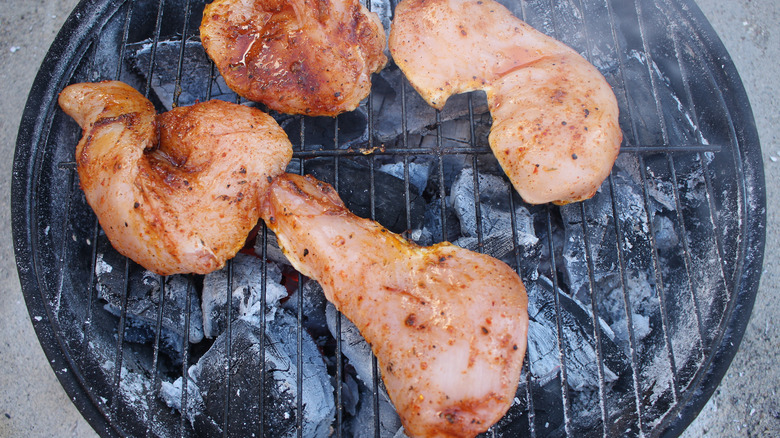 Susan Olayinka/Mashed
Begin the recipe by slicing the two chicken breast into halves, cutting along the long side of each breast, as if you were going to butterfly them (but slice them all the way through). This will make them thinner. Then put them into a mixing bowl. Add to said mixing bowl the Cajun seasoning and salt, both sprinkled over the meat, and the olive oil, drizzled on. Use a spoon or your hands to toss the chicken and ensure it gets coated in the spices.
Now place the chicken onto a grill going at a medium heat and grill it on one side for 10 minutes. You will know when it's ready to be turned over once the chicken stops sticking to the grill — pulling it away will be very easy. Use a metal spatula to turn it over (or tongs, but be gentle) and grill the other side. After eight to 10 minutes on this second side, the chicken should be cooked, but you might want to check to make sure the internal temperature is 165 F. You can set it aside for a moment.
Prep your toppings and buns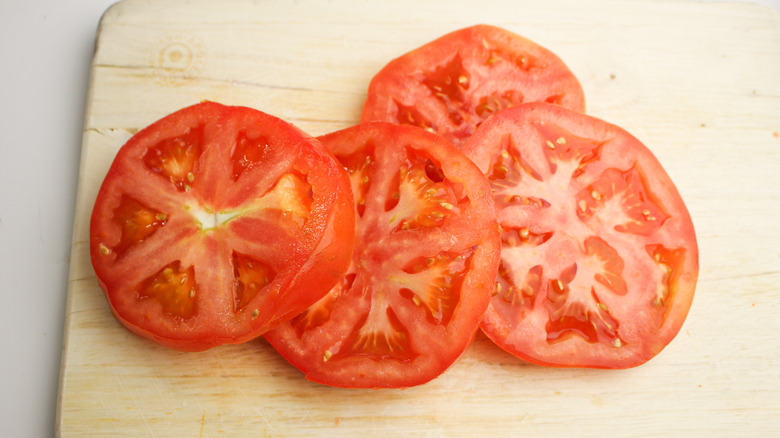 Susan Olayinka/Mashed
Once the chicken is cooked and off the grill (or while it's cooking, if you're the multitasking type), slice the tomato to produce four thick discs, each about ¼-inch thick. Now slice the romaine into halves and remove the bottom section of the lettuce. You can use one, two, or three leaves per sandwich, depending on one's preference.
Finally, slice the buns in half if they're not pre-cut and set the halves beside one another.
Assemble the sandwiches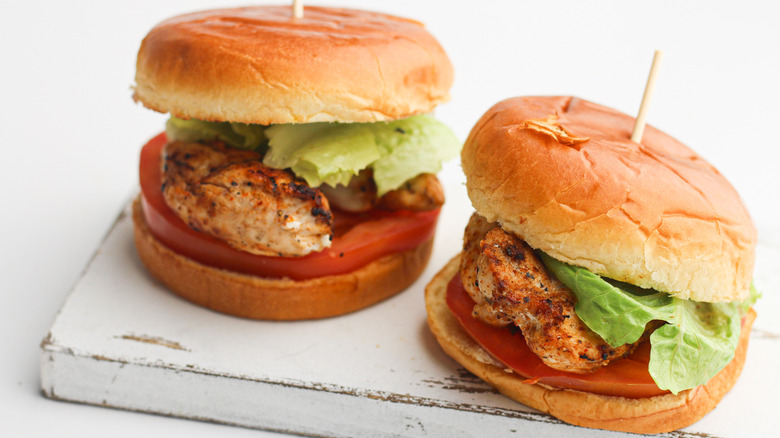 Susan Olayinka/Mashed
To assemble the sandwich, start with the bottom half of a bun and place one slice of tomato down onto it, then add a piece of grilled chicken, then finally place the lettuce leaves on the chicken and then close the sandwich. And then enjoy!
Note that a toothpick or little skewer can help prevent the sandwiches from falling apart before they're eaten. And for serving ideas, "Fries/chips would be great," Olayinka suggests, adding: "Sweet potato fries would be even better or even some mashed potato, or perhaps a salad."
Grilled Cajun Chicken Sandwich Recipe
When you want to add a simple but spicy kick to your day, these easy grilled sandwiches make a perfect lunch or dinner.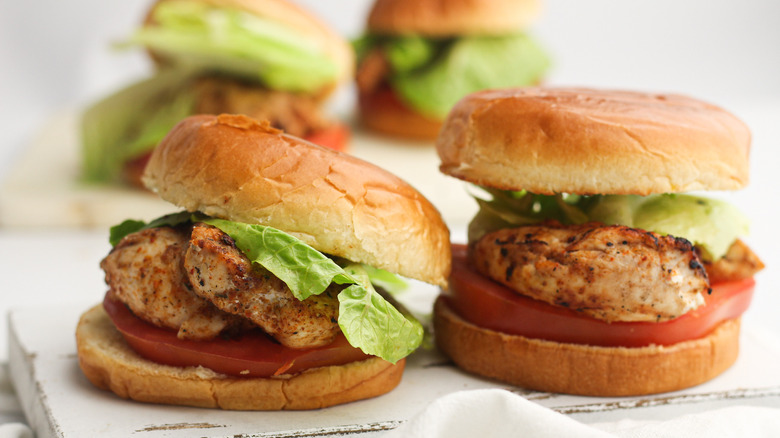 Ingredients
2 chicken breasts
1 tablespoon Cajun seasoning
2 tablespoons olive oil
1 teaspoon salt
1 beefsteak tomato
1 head romaine lettuce
4 brioche buns
Directions
Slice the chicken breasts in half, cutting along the long side of each breast, and put them into a mixing bowl.
To the mixing bowl add the Cajun seasoning, olive oil, and salt and toss to coat the meat.
Place chicken onto a grill heated to a medium intensity and grill the meat for 10 minutes on one side.
Turn over the chicken and cook on the other side about 8 to 10 minutes, checking the internal temperature for doneness.
Once the chicken is cooked, set it aside.
Slice the tomato into ¼-inch thick discs, then slice the romaine lettuce into halves, cutting off the root end. Slice the brioche buns.
To assemble the sandwich, place 1 slice of tomato on the bottom bun, then a piece of grilled chicken, then 1 to 3 leaves of lettuce, and close the sandwich. Repeat for all the sandwiches.
Serve and enjoy!
Nutrition
| | |
| --- | --- |
| Calories per Serving | 241 |
| Total Fat | 11.3 g |
| Saturated Fat | 2.5 g |
| Trans Fat | 0.1 g |
| Cholesterol | 37.1 mg |
| | |
| --- | --- |
| Total Carbohydrates | 18.8 g |
| Dietary Fiber | 3.1 g |
| Total Sugars | 3.6 g |
| Sodium | 502.5 mg |
| Protein | 16.4 g |