The One Dish Scott Conant Always Orders Out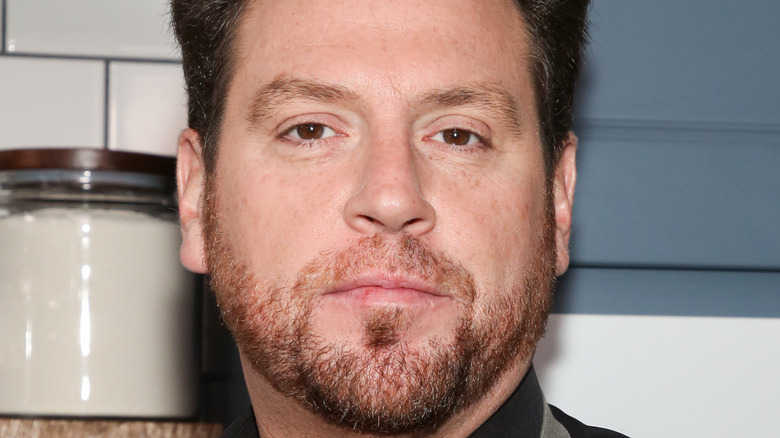 Paul Archuleta/Getty Images
Scott Conant is probably best known for his role as a judge on the long-running Food Network competition show "Chopped," but there's so much more to this onion — which, coincidentally, the celebrity chef doesn't like. While Conant might hate onions, he told Forbes that he is a fan of popcorn. The celebrity chef said, "I'm a popcorn guy. Sometimes I will skip meals to have popcorn with extra-virgin olive oil and sea salt. It's very simple." The host of "Chopped Sweets" further revealed, "extra-chunk Skippy peanut butter is one of my favorite things in life."
And when it comes to his signature noodle dish, Conant told Food & Wine that each month his Italian restaurants receive almost 10,000 orders of his spaghetti with tomato and basil. Why is such a dish, which anyone can make at home, so popular? Conant speculates that its simplicity is the key. He said, "It always goes back to the same thing — the old da Vinci quote: 'Simplicity is the ultimate luxury.'" Perhaps that is why this culinary genius chooses to order this one dish rather than make it himself.
Conant prefers to order octopus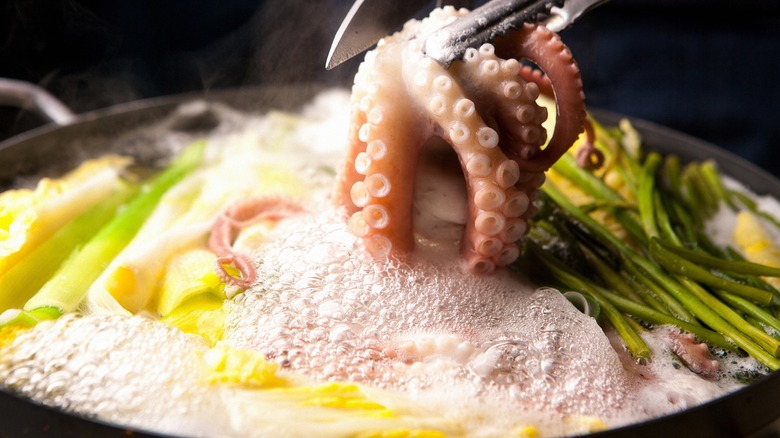 TMON/Shutterstock
When asked whether there is a dish he likes to order up rather than make at home, Conant told Food Network, "Octopus. I love a delicious octopus." Truth. Conant gives this seafood a starring role in many of his recipes. He shared a sherry vinegar-braised octopus recipe with Scarpetta Magazine back in 2012, per Facebook, and via Twitter, he revealed that the menu for the opening of his Phoenix, Arizona restaurant, Mora Italian, offered "Grilled Octopus Ceci with bean purée, crispy potato, cured olives & mint." This cephalopod also got a shout-out by an Arizona critic who dined on Conant's olive poached octopus that he serves at The Americano (via AZ Family). 
So why might Conant like to eat octopus at a restaurant rather than prepare it at home? Per The Spruce Eats, cooking octopus comes with its own set of challenges — it takes some TLC, but it can be delicious if prepared correctly. And harkening back to Conant's thoughts on simplicity, the food site explains that cooking octopus requires only a "few simple steps." In fact, Serious Eats suggests that good octopus really requires just two things: heat and time. And maybe that's the answer – the time investment needed to make it tender — as to why Conant enjoys eating this dish at a restaurant.