Halloween Mummy Hot Dogs Recipe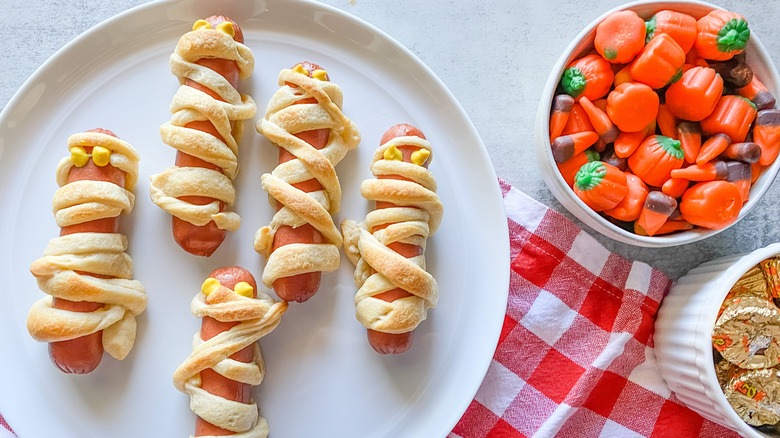 Kristen Carli/Mashed
Whether you are a hot dog lover yourself or are looking for something to serve to a picky eater, these mummy hot dogs are the perfect treat for Halloween — or really just the whole month of October in general. Seriously, these are one of the most festive treats that you can serve and it's got us feeling all of the fall vibes. Recipe developer Kristen Carli came up with this fantastic recipe that looks super cute and spooky, making it perfect for a kids' Halloween party or even a special seasonal treat. 
But, of course, this dish is great for people of all ages. This spooky hot dog treat is excellent for a dinner party, a family dinner, and it's spectacular to eat at a boo bash or another Halloween-related shindig. Let's make it plain and simple: these eerie franks are the bomb and a must-try. Keep reading to find out how to make this easy and fun dish.
Gather the ingredients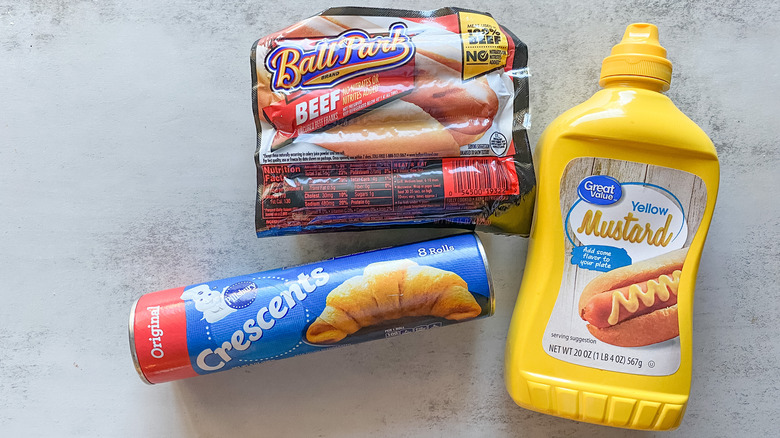 Kristen Carli/Mashed
One of the best things about this festive recipe is the fact that it requires just a few items. And by a few, we're talking three total. That makes this spooky treat both incredibly affordable and also makes your trip to the grocery store a breeze. When you go to the store, start at the refrigerated section and grab a pack or two of hot dogs, totaling 10 franks in all.
While you're in the cold section, you should also grab an 8-ounce tube of crescent roll dough. The last item you need, if you don't happen to have it in your fridge already, is some vinegary and utterly simple yellow mustard to draw on the eyes of your finished mummy.
Preheat the oven and prep the crescent roll dough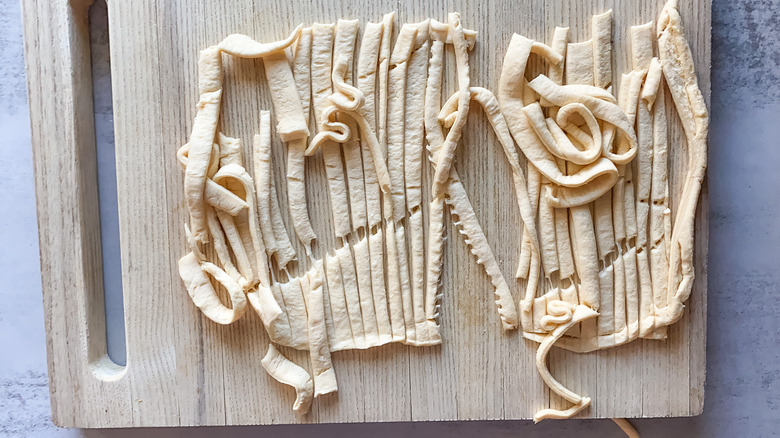 Kristen Carli/Mashed
Before you get down to the cooking part of this recipe, of course you need to ensure that your oven is ready to go. So, set the temperature to 375 F and let it preheat. If you don't feel like using your oven, Carli says that you can use your air fryer if you'd prefer that over the baking method.
As your oven preheats, you can start preparing the other ingredients in the recipe. First, grab the crescent roll dough, open the container (gently whacking it again the counter to open it is maybe the best part!), and unroll the dough on a flat cutting surface. Then, take out a pizza cutter to slice your dough. Cut it into thin strips, forming the mummy wrappings which will go around the hotdogs. 
And don't worry about precision here. The best part about this step is that the strips don't need to be perfect — you are trying to replicate ancient mummy bandages, after all. "These strips can be haphazard and random. I find that the more uneven, the better," Carli says.
Wrap the hot dogs and bake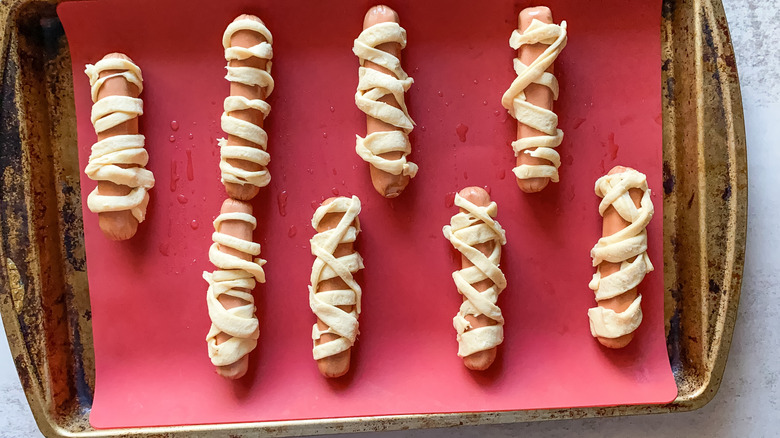 Kristen Carli/Mashed
Now, it's time to begin that transformation of your hot dogs into some edible mummies. Grab the hot dogs from the fridge and remove them from the package. Then, wrap each one in strips of the crescent roll dough, crisscrossing pieces to create a sufficiently ragged and ancient look. Repeat this step with all 10 hot dogs. 
Then, take out a large baking sheet, line it with foil, parchment paper, or another layer, and place the mummy-wrapped hot dogs on it. Double-check that your oven has finished preheating, and then pop those bad boys in! Set your timer for 13-15 minutes and let the hot dogs bake until the crescent roll dough turns golden brown.
Cool, decorate, and enjoy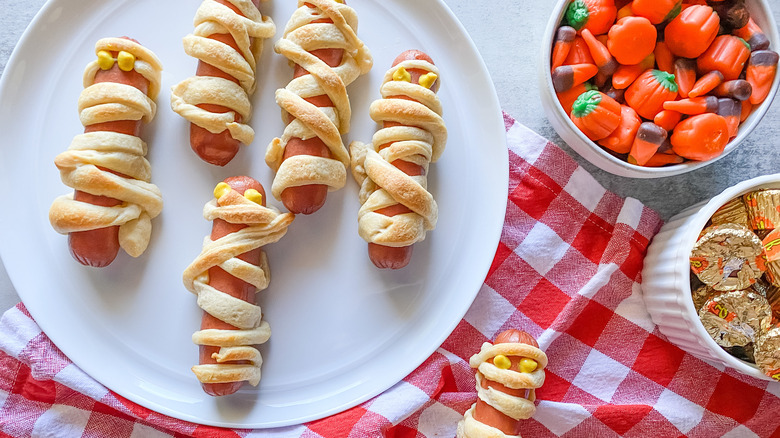 Kristen Carli/Mashed
Once your timer goes off, remove the hot dogs from the oven and set them in a safe place to allow the mummies to cool. Once the hot dogs have cooled and are safe to work with, take out your mustard and draw the mummy eyes on each dog. It's as simple as applying two little dots on each hot dog to create eerie green eyes.
Then, it's time to enjoy the dogs! ​​"I love these served with ketchup for dipping," Carli shares. If you've got party plans or just like to be prepared, you can also get these ready ahead of time. "Yes, these are great prepped in advance," Carli notes. Serve alongside other themed spooky season treats like Oreo spiders, some healthy clementine pumpkins, and a spooky and filling main Halloween pasta dish.
Halloween Mummy Hot Dogs Recipe
These spooky mummy hot dogs are excellent for a dinner party, a family dinner, and are spectacular to eat at a boo bash or another Halloween-related shindig.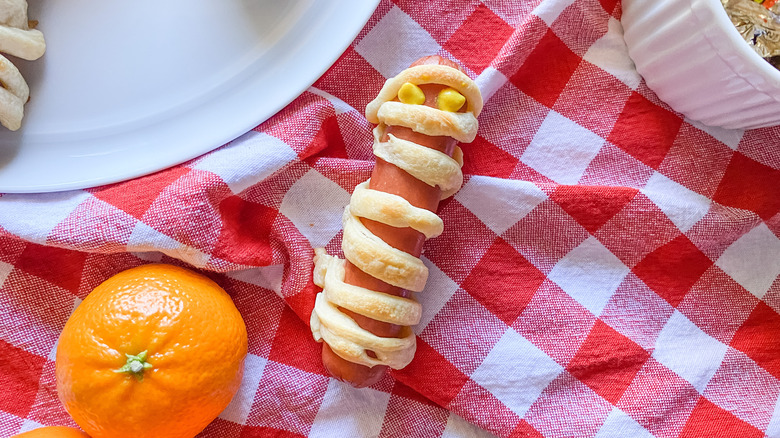 Ingredients
10 hot dogs
8 ounces crescent roll dough
Yellow mustard
Directions
Preheat oven to 375 F.
Unroll crescent roll dough onto a cutting board. Using a pizza cutter, cut thin strips of the dough.
Wrap strips of dough around each hot dog in a haphazard fashion. Place all hot dogs on a large baking sheet.
Bake for 13-15 minutes, until the dough is golden.
Remove from oven and allow to cool.
Draw mustard eyes on each mummy hot dog.
Nutrition
| | |
| --- | --- |
| Calories per Serving | 199 |
| Total Fat | 13.3 g |
| Saturated Fat | 5.0 g |
| Trans Fat | 0.0 g |
| Cholesterol | 22.5 mg |
| | |
| --- | --- |
| Total Carbohydrates | 12.2 g |
| Dietary Fiber | 0.7 g |
| Total Sugars | 0.2 g |
| Sodium | 518.8 mg |
| Protein | 7.2 g |