Carl's Jr. Is Finally Bringing Back Its El Diablo Thickburger, But Only To One City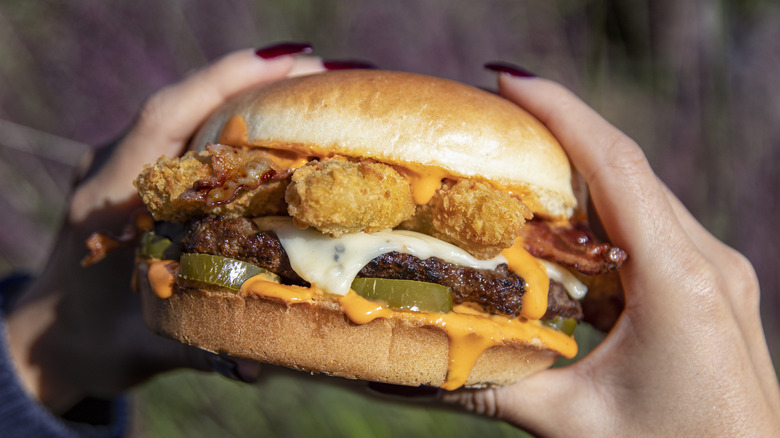 Carl's Jr.
Plenty of chains and fast food restaurants are taking advantage of Halloween to bring back some fan-favorite menu items. Burger King is reviving the ghost pepper trend by debuting some extra spicy chicken nuggets, and Jack In the Box is selling its Monster Tacos for a limited time. Carl's Jr. isn't going to be left behind in the spooky celebrations either!
According to a press release received by Mashed, "Carl's Jr. is treating – not tricking – customers this Halloween weekend with the return of the infamous El Diablo Thickburger in Los Angeles." The press release states that this burger was originally put on the menu in 2015, but if you missed it, this sandwich is packed with spice. Toppings include jalapeno poppers, slices of jalapeno, habanero sauce, bacon, and pepper jack cheese, according to the description from FoodSided. If you love spicy food and burgers, then this Halloween treat is designed just for you.
Where can you get El Diablo Thickburger?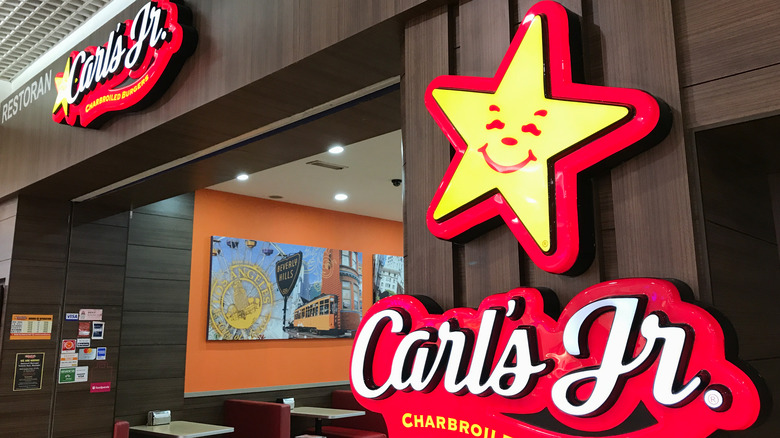 Kevin Khoo/Shutterstock
Unfortunately, according to the press release shared with Mashed, you'll only be able to purchase El Diablo Thickburger in Los Angeles. In fact, this burger is actually coming to a specific store at 5625 W Century Boulevard. If you are in the LA area, you can stop by Carl's Jr. and treat yourself to this spicy burger from October 29 to October 31. To add to the spookiness of the season, Carl's Jr. is offering a small combo for the devilish price of $6.66, which will get you the burger along with fries and a drink.
If you aren't in Los Angeles or can't get to this specific store, Carl's Jr. still has a Halloween surprise for its fans. At every Carl's Jr. location, you can buy the Monster Angus Thickburger starting on October 27. According to a 2020 article by Chew Boom, this massive sandwich contains bacon, mayo, and American cheese. So if you're looking for something meaty to savor alongside all that Halloween candy, you have options.