This Whiskey NFT Just Sold For Over $2 Million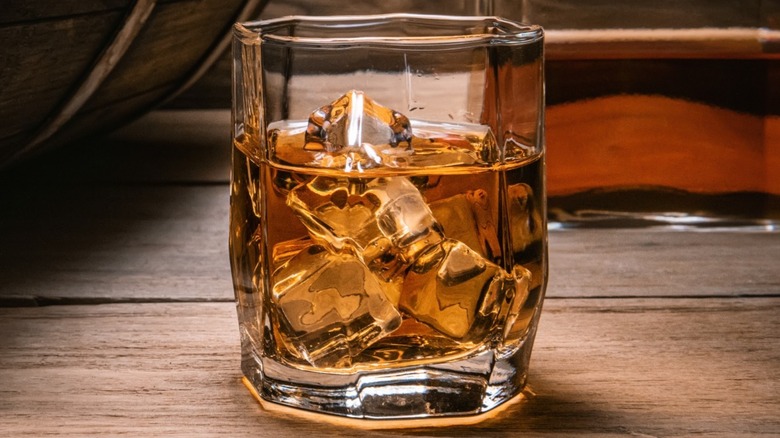 Prilutskiy/Shutterstock
In the past, rare bottles and casks of whiskey have sold for mind-boggling amounts of money at auction, with some prices soaring into the millions. However, a recent auction of a sought-after Scotch shattered past records with the help of some new-age technology. According to Food & Wine, a rare cask of Macallan 1991 Scotch sold at auction for a staggering $2.3 million dollars, breaking the record for the most expensive whisky barrel ever sold at auction.
This isn't the first time a Macallan Scotch has been priced in the multi-million dollar range. Earlier this year, a nearly 6-foot tall bottle containing over 300 liters of 32-year-old Macallan was valued at over $1.8 million, due to the sheer quantity of decades-old whisky contained within. In 2018, a single bottle of 60-year-old bottle of Macallan Valerio Adami whisky sold for $1.1 million. And, in 2019, another rare bottle of Macallan sold at Sotheby's for $1.9 million.
The most recent $2.3 million cask contained about 600 bottles of the 30-year-old Macallan Scotch, which has an ABV (alcohol by volume) of 51.1% and typically sells for around $3,880 per bottle. In addition to a trove of rare whisky, the eye-catching auction item also came with a modern add-on: A specially designed NFT (or, non-fungible token) featuring artist Trevor Jones' abstract depiction of the Macallan cask.
This company wants to bring the whisky industry into the digital age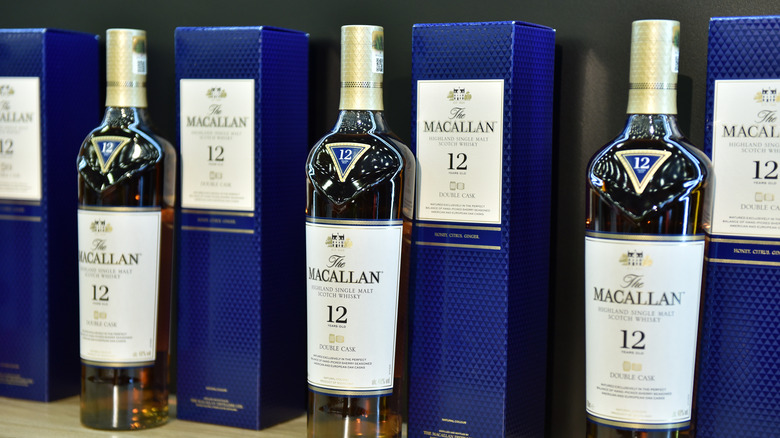 John Keeble/Getty Images
The bidder for the oversized Macallan cask simultaneously became the owner of the one-of-a-kind NFT. According to VinePair, the NFT, which was commissioned by the NFT marketplace Metacask, featured an image of Jones' oil painting of the barrel titled "The Angel's Share," but the physical painting was not included.
Metacask, which calls itself the "world's first NFT marketplace for whisky cask investments," is on a mission to bring the age-old whisky world into the digital age by allowing investors to buy and sell whisky casks on the world's first NFT marketplace (via Metacask). While most of the company's whisky NFTs feature photographs of casks, the company commissioned Jones' art for this specialty barrel. 
"The collaboration with Trevor and Metacask to create an abstract NFT artwork — which is based on an oil painting – gives the new owner a 21st-century way to connect with their whisky," VCL Vintners Director Stuart Thom told Food & Wine. "Our goal is to bring wonderfully complex and old things to as many new people as possible, and to enhance their understanding and access to it through technology."
While it's impossible to know whether the anonymous record-setting bidder was interested more in the physical whisky or the NFT, one thing that's for certain is that the deep-pocketed buyer is set for life when it comes to their new Scotch supply.