Guy Fieri Fans Are Loving This Buzz Lightyear Joke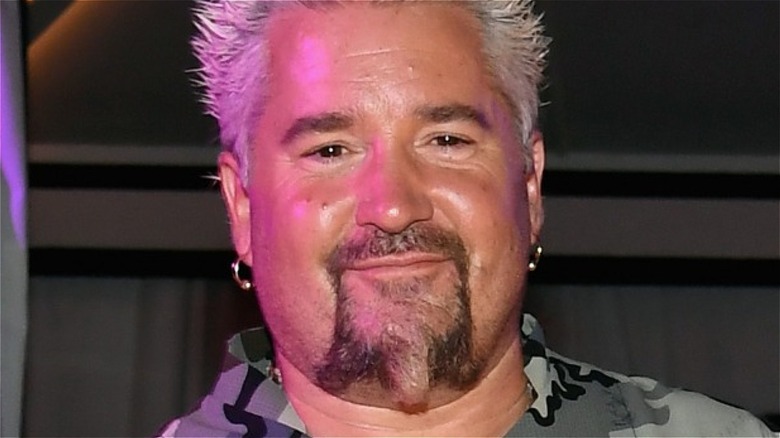 Ethan Miller/Getty
Whether it be his quirky personality, his signature frosted tips, or the way he has his own language ("SMC" means "super melty cheese," if you're new here), Guy Fieri is Food Network's most meme-able celebrity chef. Considering that he went so far as to officially add a meme-inspired burger to the menu of Guy's Flavortown Kitchen, it's obvious that the celebrity chef loves the internet jokes as much as we do. Just scroll through Fieri's official meme page, @FlavortownUSA and you'll see just the extent to which Fieri will go to make his fans laugh.
One recent post from the Instagram account shows an artistic rendition of Fieri based on the "Toy Story" character Buzz Lightyear, with a caption reading, "To Flavortown, and beyond!" The post has received so much attention from fans that the television personality even re-shared it on his personal Instagram and re-Tweeted it on his Twitter page. It's hard to imagine any other celebrity chef posting such content, but based on the comments section, fans can't get enough of it.
Guy Fieri's Buzz Lightyear picture has taken on a life of its own
If the Guy Fieri version of Buzz Lightyear wasn't hilarious enough, fans have taken the meme to a whole other level by referring to him as "Buzz Lightfieri," and even Photoshopping Fieri's head onto a spacesuit and saying they can't wait to see him in the new "Toy Story" movie (via Instagram).
The reference may seem random, but Fieri has been comparing himself to the animated movie's characters since 2019. "Catch me in the @ToyStory 4 deleted scenes!" Fieri once captioned a joke post on Twitter, adding, "Buzz said I was a pleasure to work with, but I guess the editors didn't agree." The accompanying picture shows Al McWhiggin, the character who owns Al's Toy Barn in the movie, photoshopped to look exactly like Fieri.
Though whether he's Buzz Lightyear or Al McWhiggin, fans agree Fieri fits right into the "Toy Story" cast. It could be his animated personality, or all the trips he takes to Flavortown (and beyond) — but either way, the meme apparently is here to stay.