Costco's Doggy Advent Calendar Is Already Bringing Shoppers Joy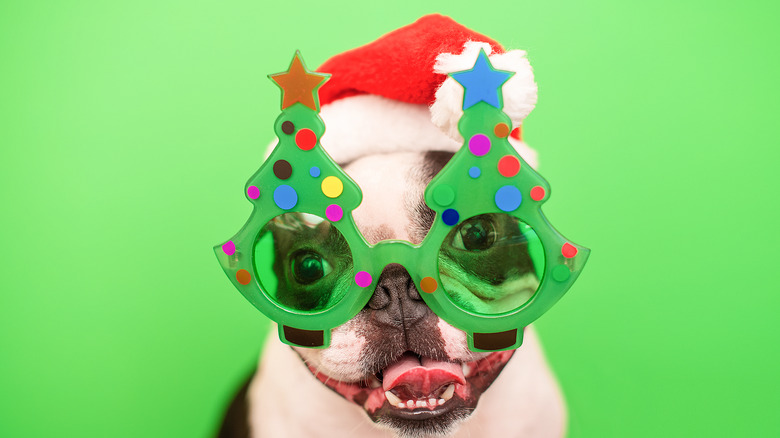 Zakharova_Elena/Shutterstock
Christmas may be two months away, but it's never too early to get into the festive spirit and plan ahead! Costco certainly thinks so. Even back in September, shoppers had already started spotting the wholesaler's giant 24-day beer, wine, and Prosecco advent calendars on the shelves (via Thrillist).
And later that same month, the Instagram account dedicated to Costco — @CostcoBuys — reported eyeing a cheese advent calendar with 12 kinds of the good stuff imported from Europe. Another Costco fan posted on Instagram that they were glad to have found a coffee advent calendar at the store featuring 12 half-ounce pouches of Arabica beans in festive, holiday blends.
Since then, the warehouse giant has consistently been rolling out Christmas-themed foods, drinks, and décor, well in advance of the holiday season. While most of the festive treats are meant for humans, Costco fans have been overjoyed to have found advent calendars for their furry friends too! As originally seen in their 2020 advent calendars for dogs on Insta, Costco is happy to announce the return of the much-loved gift (per Facebook) — dogs should be able to experience the joy of having their very own advent calendars too after all.
Costco's doggy advent calendar has eight toys and 16 bags of treats
Costco's doggy advent calendar isn't just any old advent calendar. The 24-day themed gift, priced at $44.99, comes with eight toys for your four-legged pet to play with as well 16 bags full of different kinds of treats with guidance on how many snacks you can safely give to your dog in a day, depending on their weight and the kind of doggy treat (via the Costco website).
The assortment includes pet favorites like beef and turkey jerkies and chicken and bone charcoal lumps of coal, as well as more festive treats like dog-friendly gingerbread persons, merry munchie mixes, and jingle bars with dehydrated cranberries and oats. And each bag seems to have multiple treats in it. As for the toys, your little furry friend is going to have lots of new plushies, vinyl balls, and a cotton rope to play with this Christmas!
Naturally, Costco fans are over the moon about having this gift for their dogs. One happy pet parent wrote on Reddit that the advent calendar was so exciting that they couldn't wait 'til December and had already opened it, adding that the quality of the toys is exceptional. Another happy shopper deemed this pick the best of all options at Costco: "This is the only advent calendar product I support," and it seems, Costco fans couldn't agree more!