Katie Lee Biegel's Pasta Pic Shares A Super Relatable Moment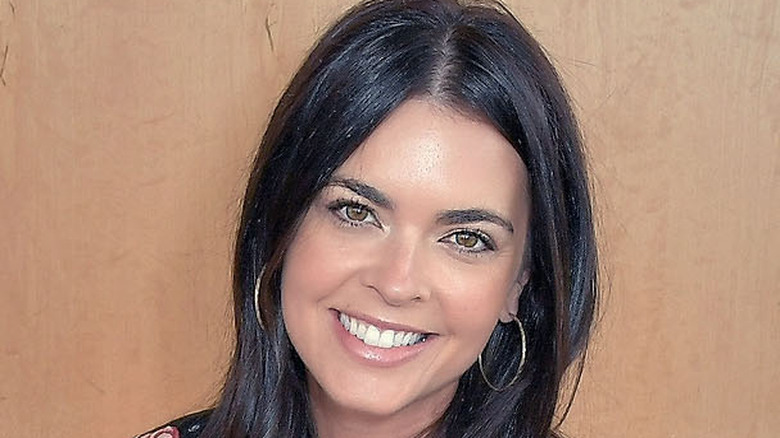 Chance Yeh/Getty Images
How often have you pored over the menu of a great restaurant, unable to decide which tantalizing offering to choose? We've all been there, telling the rest of the table to "go ahead," while we try to choose before the server's attention comes back to us. The pressure can be intense.
Katie Lee Biegel circumvented the whole situation recently by doing what we've all been tempted to do: order one of everything. While she didn't exactly get the whole menu during her trip to Rezdôra restaurant in New York City, she does appear to have ordered half of the 10 dishes listed on the pasta section of the menu.
An Instagram photo posted by Biegel, co-host of "The Kitchen" on the Food Network, showed her sitting at a table in the Michelin-starred restaurant with not one plate of pasta in front of her, but five, as she coolly sips a glass of red wine. "When one pasta just isn't enough," her post read. Entirely relatable. We're not only loving the looks of all that pasta and Katie's bon vivant vibe, but those gorgeous blue and white dishes as well.
Tagged in the photo is husband Ryan Biegel. Even if they shared what appears to be Rezdôra's five-dish, Regional Pasta Tasting ($95), we suspect there was enough pasta left over for lunch the next day.
Katie Lee Biegel treats herself
According to the restaurant's website, the efforts of chef Sefano Secchi and his partner David Switzer earned Rezdôra three stars from The New York Times in addition to their Michelin star. So, we can see why any lover of Italian food would have a difficult time choosing just one dish. Rezdôra describes itself as an homage to the foods of the Emilia-Romagna region of Italy. Located in the northern part of the country, the area is known for, among other things, "its cheese, cured meats, and balsamic vinegar," according to The New Yorker. But it is house-made pastas that are the focus of the menu at Rezdôra, a term from the Modenese dialect that refers to the female head of the household. Picture a no-nonsense Italian grandma hand-rolling pastas for the family on a Sunday. "The New Yorker" says Rezdôra's stuffed pastas are especially delicious, so we're not surprised that Katie ordered many of these.
Katie Lee Biegel, the author of four cookbooks and one novel, dropped a cute "#nocarbleftbehind" hashtag on the post, which had several comments, including one from chef Secchi, who wrote "Grazie mille per venire." (Thank you very much for coming in.) Follower and former co-host of "The Chew" Daphne Oz chimed in. "Too much is never enough," she commented.
Why order one pasta when you can have five? Katie Lee Biegel is our kind of dinner date.