The Massive Amount Of Bananas Uber Eats Sold In September 2021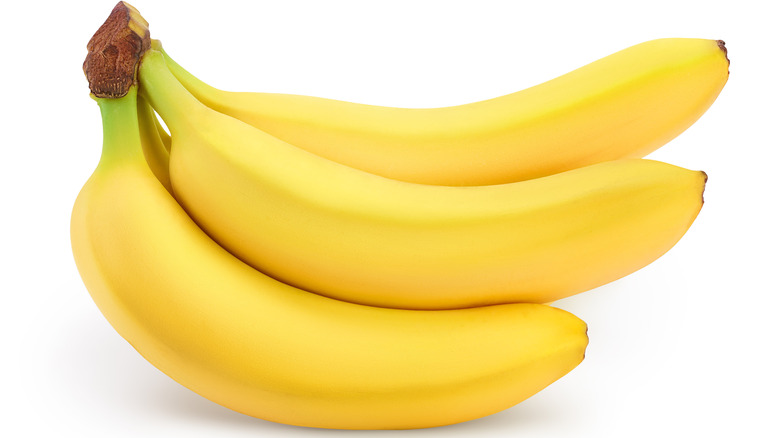 Nataly Studio/Shutterstock
In September of 2021, people were going bananas for bananas. According to the third annual Uber Eats Cravings Report — which revealed "the most popular, most unusual, and some of the wackiest delivery requests of the last year," the company shared in a statement to Mashed — Americans bought 25,150 pounds of bananas in the month of September alone. Aside from being the top seller on the app, bananas were also the number-one selling fruit in the country in general, beating other grocery staples such as peanut butter and coffee, Businesses reports.
Considering the popularity of mouthwatering banana recipes, including banana pudding and cake, it's no wonder why people still crave this childhood-favorite yellow fruit. According to Mayo Clinic, the average American eats 90 bananas a year. Because the ingredient is so versatile in smoothies and desserts (and even satisfying on its own), this number isn't too surprising. Demand for bananas has also risen in other countries: The Packer states that in Canada, banana demand has been on the up since the start of the pandemic.
The world became banana-obsessed in 2020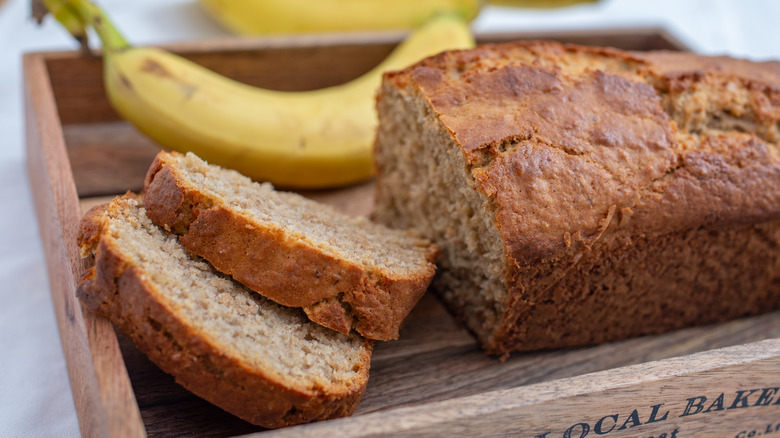 A_Lein/Shutterstock
As you likely know, the pandemic's effect on banana sales was substantial in 2020 — and not only in Canada. Was it because many of us were still living our lives indoors and avoiding dining out? Bananas are a good investment when bought in bulk, especially when you buy them for only 19 cents each at Trader Joe's. That year, many of us were quarantining with family members and roommates, so buying a fruit that comes in bunches was even more convenient.
Or maybe it was due to the popularity of the pandemic-era specialty of banana bread, which CNN dubbed the "unofficial snack of the coronavirus pandemic." With a banana bread recipe showing up on just about every scroll through social media, those stuck at home had plenty of methods to choose from. While the internet has since moved on to other trends, such as TikTok salmon rice bowls, magical bananas still have not lost their hype, if the Uber Eats report is any indication.