The Hosting Rule Stanley Tucci Always Abides By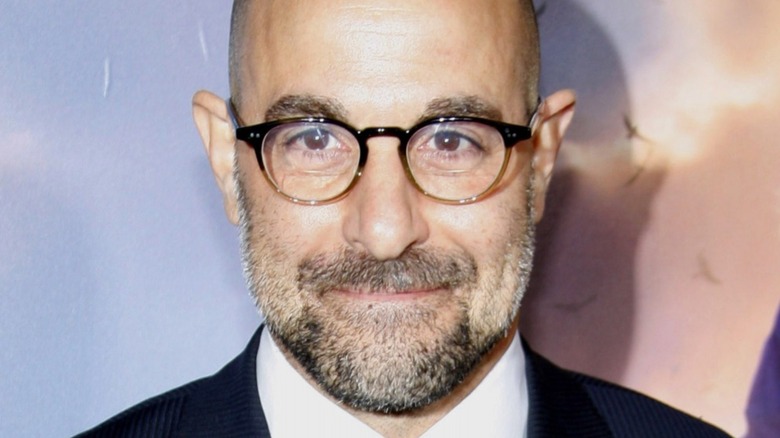 Tinseltown/Shutterstock
Do you know the actor Stanley Tucci? Recognized for his roles in movies such as "The Devil Wears Prada" and "Spotlight," per Vulture, Tucci — in addition to being an accomplished actor, writer, and producer — is also a consummate food lover. Take the 1996 movie "Big Night," a foodie favorite whose plot revolves around a pair of brothers running a struggling Italian restaurant (via IMDB), for example. Tucci actually co-wrote that film and has gone on to star in other food-focused projects, such as his CNN travel series, "Searching for Italy," which will return next year for a second season.
Given Tucci's love of food and cooking, it wasn't a big surprise when he released his memoir, "Taste: My Life Through Food," last month, reports The New York Times. In the book, Tucci traces his life and career through the lens of food, including harrowing details about his treatment for a cancerous tumor at the base of his tongue which had him fearing the potential loss of his sense of taste. In the memoir, the actor touches not just on cooking and eating, but also on hosting — and he shares one tried-and-true rule that he always abides by when he has guests over. 
Tucci always offers guests a drink
Andrei Iakhniuk/Shutterstock
In "Taste: My Life Through Food," Tucci imparts a golden entertaining rule he learned from his father, who is now 91 years old, Delish reports. When having guests over, Tucci will always offer them a drink. The actor shares this rule fewer than 10 pages into the book, so we have to assume it's an important custom in his home. We already know that Tucci takes the art of the cocktail quite seriously, often sharing his mixology skills on his social media accounts, from his Tucci tequila-tini to his favorite negroni (via Instagram).
While many of us would probably love to be treated to Tucci's bartending skills, we'll just have to content ourselves with making his drinks ourselves for the time being. Luckily, the actor shares his famed negroni recipe in his book, teasing that once you imbibe it, "the sun is now in your stomach."