Sonic Has Good News For Fans Of Its Hard Seltzer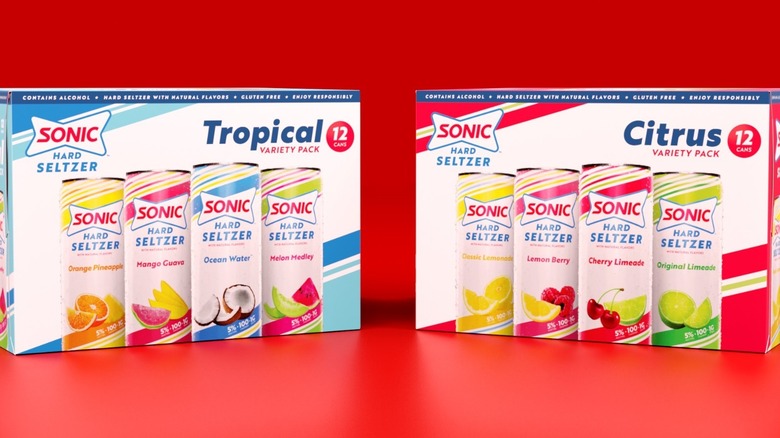 Sonic
Sonic is known for its hot dogs, hamburgers, tater tots, and of course, the fact that it's a drive-in restaurant. This makes it great as a stop on a long road trip or when you just want to grab a quick lunch. For those reasons, bubbly alcoholic drinks might not immediately pop into your mind when you think of the popular chain. However, while White Claw and Truly are some of the bigger hard seltzer brands out there, America's drive-in does indeed have a Sonic hard seltzer collab with COOP Ale Works.
The partnership combines Oklahoma City-based COOP Ale Works' hard seltzer with Sonic's iconic slushes in eight different canned beverages, which were first released in May in Oklahoma only. For out-of-state fans of Sonic and seltzer, here's the good news: In a press release shared with Mashed, the restaurant announced that you can now buy these drinks in more areas of the country.
Here's where you can get Sonic's hard seltzer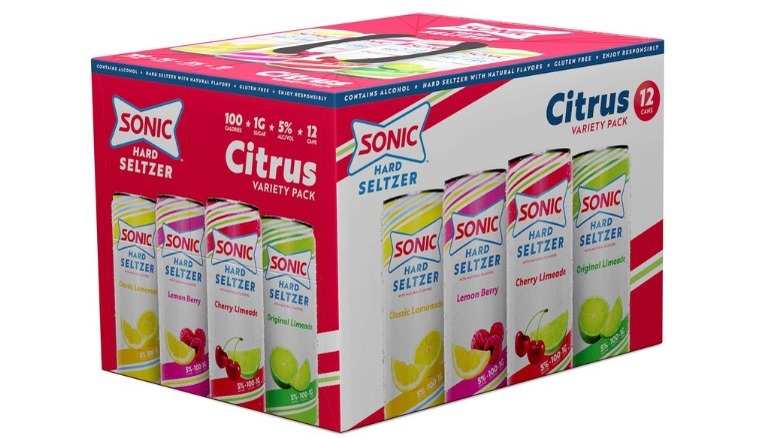 Sonic
Unfortunately, you can't yet get Sonic hard seltzer nationwide, says the announcement sent to Mashed. Luckily, the cans are now being released in Texas, Kansas, Arkansas, Nebraska, Missouri, and Arizona in addition to Oklahoma. As has been the case since May, you can't buy these drinks at Sonic's drive-thru locations, but you can find them at select retailers in the listed states. Use Sonic's website to find a location near you.
Sonic seltzers come in two different variety 12-packs. The first is tropical-themed with flavors including Ocean Water™, Melon Medley, Mango Guava, and Orange Pineapple. If you're not feeling those selections, there's always the citrus-centric pack with Cherry Limeade, Original Limeade, Classic Lemonade, and Lemon Berry. All flavors are 100 calories, 5% ABV, and reminiscent of your favorite Sonic drinks with a boozy twist. Can't track them down in your state? You can always order your favorite Sonic slushes and doctor them up at home.