Aldi Shoppers Can't Stop Talking About Its Coffee Cheese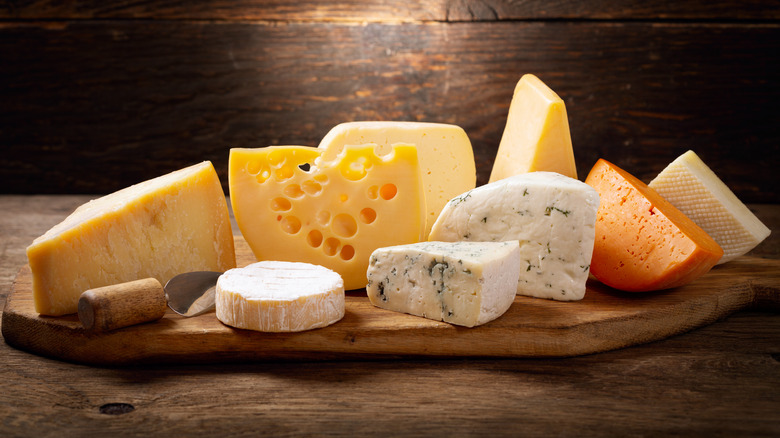 Nitr/Shutterstock
Over the last few years, Aldi has successfully managed to establish itself as the supermarket to go to for all sorts of cheese. Come Christmas, you can expect Aldi to sell Santa-shaped cheddar cheese with port wine, snowman-shaped cheddar cheese with caramelized onion, and star-shaped cheddar cheeses, just as they did last year (via Delish). And that's not even half of it. 
Delish reports that Aldi also sold egg and chick-shaped cheeses for Easter in 2020, and for Halloween this year, shoppers found all sorts of cute little monster inspired cheeses, including a green-colored mild derby cheese with dried sage inspired by Frankenstein, a pumpkin-shaped cheese with cinnamon, ginger, and nutmeg, and an aged cheddar cheese wrapped in black wax inspired by creepy bats. (via Aisle Of Shame). The real kicker was Aldi's booze-inspired summer cheese collection earlier this year which featured peach bellini, pina colada, and espresso martini-flavored Wensleydale cheeses (via The Kitchn).
Regardless of the season or what holiday is about to come around, Aldi really knows how to equip you with just the right kinds of cheeses for a charcuterie board that is sure to impress your guests. The cheese-obsessed retail giant does sell cheese advent calendars, after all!
In Aldi's latest cheese innovation, the supermarket chain has announced its fall lineup of cheeses and Aldi shoppers can't get over their coffee-flavored cheese.
Aldi's coffee cheese is rubbed with espresso and lavender
Per Aldi, there are four Emporium Selection cheese flavors that are a part of the new cheese collection. While the honey and salt, chili, and cayenne-infused cheeses have Aldi shoppers pretty darn excited, it's the coffee cheese that has people rushing to their nearest store. Going under the label of #ButFirst Coffee, the block of cheddar cheese is rubbed with lavender and real espresso, which gives it a grainy crust with a coffee-colored hue. The full-bodied cheese has been aged for six to eight months and has a nutty flavor with a smooth texture.
Naturally, Aldi's cheese fanbase could not believe their eyes. "That coffee cheese is LIFE", wrote one happy shopper on Aldi's Instagram account. Another Aldi shopper had a hilarious complaint to make to Aldi: "You guys make it so hard to quit cheese!" Aldi's does make it near impossible to quit cheese, doesn't it?
If you loved Aldi's summer espresso martini flavored cheese with chocolate-coated coffee beans and espresso martini flavoring, the new coffee cheese is likely to be a hit, as well.