Joanna Gaines Might Have The Cutest Sous Chef Of All Time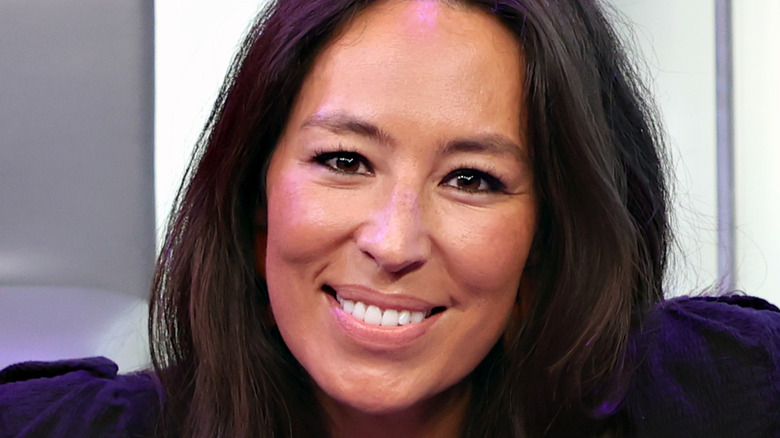 Cindy Ord/Getty Images
We often see the children of celebrity chefs follow in their parent's culinary footsteps. Hunter Fieri, 25, has appeared on dad Guy Fieri's "Diners, Drive-Ins, and Dives" and works so closely with his father he has dubbed himself "Prince of Flavortown" (via New York Post). Jamie Oliver's son Buddy is so advanced at age 11 that he makes his own cooking videos, per Jamie Oliver's website. 
The future of cooking programming on the Magnolia Network could be Chip and Joanna Gaines' young son Crew. At just 3 years old, Crew was working as his mom's sous chef in the latest episode of "Magnolia Table," which dropped on Discovery+ November 5. In the episode, called "Special Occasion Favorites," Joanna Gaines makes a birthday dinner for her mom: grilled raspberry chipotle pork tenderloin; zucchini and squash strata, which is a casserole; Brussels sprouts salad with blueberries, toasted almonds, and a homemade vinaigrette; and chocolate cola cake for dessert. When it comes time to whip up the cake, Gaines solicits Crew's help. He brings his apple box, so he can reach the counter.
Joanna Gaines calls on 3-year-old son Crew to help in the kitchen
In the latest episode of "Magnolia Table with Joanna Gaines," 3-year-old Crew Gaines shows he needs a little more kitchen experience before he gets his own food show. But he does show promise, with his strong affinity for eggs. Joanna says on the show (via Discovery+) that young Crew's favorite thing to do every morning is to find eggs in the chicken coop "and bring them to mama. ... And then he loves to crack the eggs." In "Magnolia Table," Crew leaves the eggs alone long enough to whisk the chocolate cola cake's dry ingredients in a bowl. Then he decides he's done and walks away in the middle of cake prep.
The camera captures an especially cute moment as Crew says, "Momma I love you" on his way to the stairs. "I love you too, buddy. Have a good day," Joanna replies. "Hey, have a good day," Crew answers. The camera and Joanna's eyes both have a hard time turning away from Crew and back to the task at hand as the boy ambles up the stairs.
Gaines posted Crew's highlights from the episode on Instagram November 5. "My favorite sous chef," she wrote in the caption. Instagram commenters declared Crew cute and adorable, while a few decided to give some social-media parenting advice (always appreciated) by suggesting a proper step stool. (He had an apple box, people!) Instagrammer @lottfamily6 showed nothing but appreciation for this little moment of mom-son kitchen bonding: "I've never seen someone cook with such grace as you with a toddler," they commented. "Love it."