Anne Burrell's Gorgeous Wedding Ring Steals The Spotlight In Nail Pic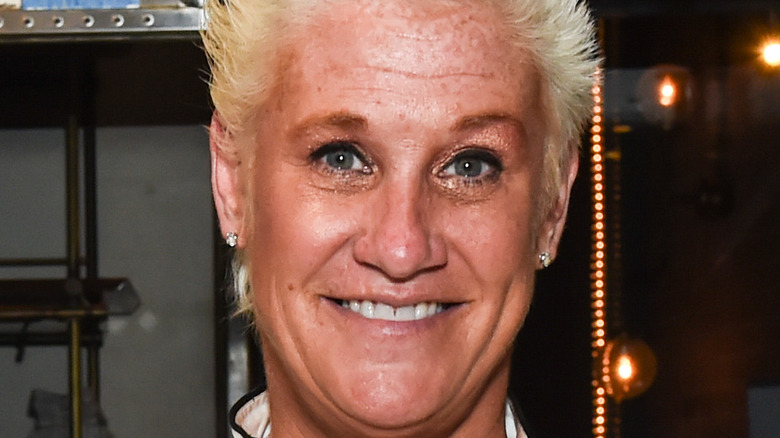 Daniel Zuchnik/Getty Images
With a spiky platinum hairdo that is not unlike her fellow Food Network star Guy Fieri's, the last word that anyone might use to describe Anne Burrell's style might very well be "basic." And in the spirit of showing off her style, Burrell took to Instagram on November 10 to share a photo of her new manicure. Her nails were painted a burgundy hue with teal tips (perfect for autumn!) but that's not what fans were paying attention to. 
The celebrity chef took the Instagram photo a few weeks after her wedding (on October 16, Burrell married Stuart Claxton in her hometown of Cazenovia, New York, according to People). Which means that she is rocking some very sparkly new jewels on her left ring finger. After all, let's not kid ourselves. It's a gorgeous manicure, Anne Burrell, but you gotta admit, your stunning stack of rings is what really steals the spotlight!
Anne Burrell's wedding ring utterly eclipses her admittedly rad mani
Food Network star Anne Burrell may have posted a photo of her rad manicure — a colorful spin on the classic French manicure, as you can see from the photo — but it's her diamond wedding band and gorgeous engagement ring that caught fans' attention.
"Soooooooo... I may have decided to keep the nails for a minute," the chef wrote coyly in the accompanying caption. But, needless to say, it was the stack of diamond rings that really caught everyone's attention. Along with a wedding ring made entirely of diamonds, Burrell's engagement ring featured a knuckle-sized oval cut diamond flanked by two trillion baguettes. And fans and celebrity chefs alike were floored.
"Keep the ring too," "Chopped" judge Alex Guarneschelli quipped in the comments. "Love your nails and that ring," wrote one fan, notably stunned by the jewelry (as they added several shocked faces). "love the red but that ring is something else," added another follower. With that size, it certainly is!