Instagram Is Impressed By Rachael Ray's Italian Garden Glow Up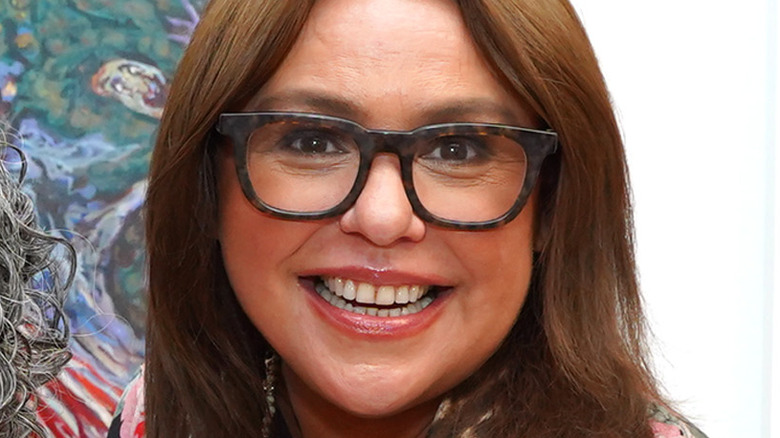 Sean Zanni/Getty Images
There's certainly no place like home, and for Rachael Ray, there's no place like Italy. 
Per "The Rachael Ray Show," the celebrity chef revealed in the fall issue of her magazine that she and her husband John Cusimano had finished renovating their new home in Tuscany, three years after purchasing the property. For Ray, owning the Italian villa is a dream come true. "When I was a very small girl, one of my first memories of life is my grandpa telling me stories about Italy and the mountains and how people would farm all the way up to the sky. All of my life, all I ever wanted was to live in Italy," Ray said. Despite the fact that the house the couple purchased was run down and uninhabitable, Ray was convinced they could make it a spectacular home based on the olive trees and vineyard surrounding the structure, she revealed. 
Not only have the home renovations now been finished — including Ray's new jealousy-inducing Italian kitchen — but her outdoor gardens have been cultivated — and Instagram is freaking out over how incredible the results are.
Rachael Ray's Italian villa landscaping is #GardenGoals
In a recent Instagram post, Rachael Ray gave fans a preview of her completed garden and its spoils with a video showcasing the all the vegetables (tomatoes, zucchini), herbs, plants, and fruits (strawberries!) she's been growing. "Benvenuti in giardino!!" ("Welcome to the garden!!"), she captioned the clip.
The post is a sneak peek into the latest episode of "Rachael Ray's Italian Dream Home," a series by A&E appearing on Facebook Watch, which chronicles the rehabilitation of Ray's new property. In the episode, Ray and Designer and Project Manager Michael Murray discuss placement of the garden and we see how the landscape had to be altered in order for Ray's vision to come to life. "Landscaping is going to be a huge undertaking to make Rachael's dream come true. The most important outdoor space for Rachael is her vegetable garden where she can gather fresh herbs and produce for cooking," Murray said.
Just like the completed house, the finished garden is certainly a glow up. "Wow! What a beautiful garden!!!! So organized ... you thought all that out quite well!!! Good job!!!!" commented one user on Ray's Instagram post. "That's a big tomato, mama mia!" posted another. But perhaps the most succinct comment that sums it all up perfectly was a simple "Bellissimo."