Instagram Is Losing It Over This Hard-To-Find Dunkin' Merch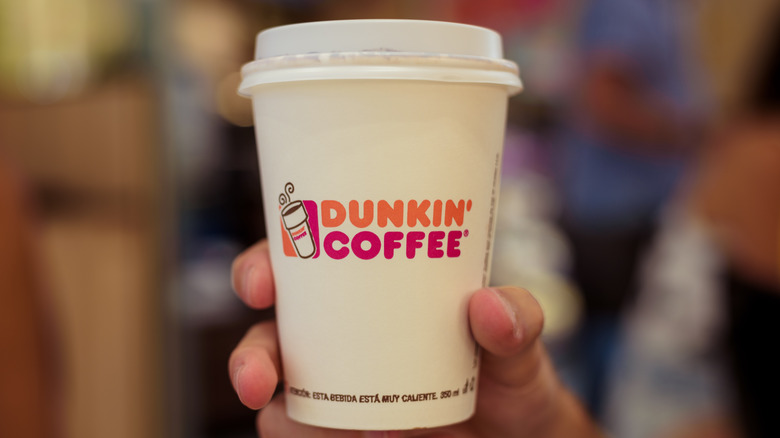 JCDH/Shutterstock
Asking someone about their preferred coffee chain can be a touchy subject that, just like with pizza toppings, can quickly turn into a heated debate. Many are loyal to Seattle-based Starbucks, which Eat This, Not That! reported was the second-largest chain in American last year with more than $22.28 billion in sales. However, not everyone is in agreement that Starbucks is home to the best coffee around: Others much prefer to get their daily caffeine fix at Dunkin', especially those dwelling up north, where the coffee shop was born.
If you're in agreement with the 25% of respondents to this Mashed poll that chose the joint formerly known as Dunkin' Donuts is the chain coffee shop of choice, you may be looking for another way to show your devotion to the brand besides simply walking around with a cup of their joe in your hand. Luckily, the coffee joint also offers merchandise for customers wanting to show off their loyalty, like the glow-in-the-dark tumblers that they dropped just in time for Halloween. Dunkin' fans on Instagram are also loving their newly-released plush keychain, though you may not want to get your hopes up if you're wanting to snag one for yourself.
Dunkin's plush iced coffee keychain is all the rage
Dunkin' lovers are losing it over the coffee chain's latest piece of merch — an adorable plush iced coffee keychain that the brand recently touted on their Instagram account. "As if you needed another reminder to make a pitstop at Dunkin'," they captioned the above photo of the tchochke, which is available to purchase either in-store or through Dunkin's mobile app. The post has racked up more than 31,000 likes since being shared on November 5, as well as hundreds of comments. "Wait this is the cutest thing ever," one person wrote, while another follower revealed that they already had one hanging from their keychain. Sadly, many other Dunkin' fans cannot say the same.
"I ordered it through the app and went to the store and they did not have it, went to 3 different Dunkins and nobody had it," a disappointed user wrote, a struggle that several others seem to be experiencing as well. "Everywhere I've gone no one has it," said an additional fan, while another Instagrammer revealed that they had ventured to five stores without any luck.
Though Dunkin's Instagram advertisement was shared just a few days ago, a snap of the merch appeared on Reddit on October 20. This suggests that they've been around for some time now, and is likely why they're so hard to find. Therefore, if you happen to spot them during your next Dunkin' run, make sure to snatch one up so you can proudly show off your love for the chain.