TikTok Is Freaking Out Over Snoop Dogg's Surprise Shift At Raising Cane's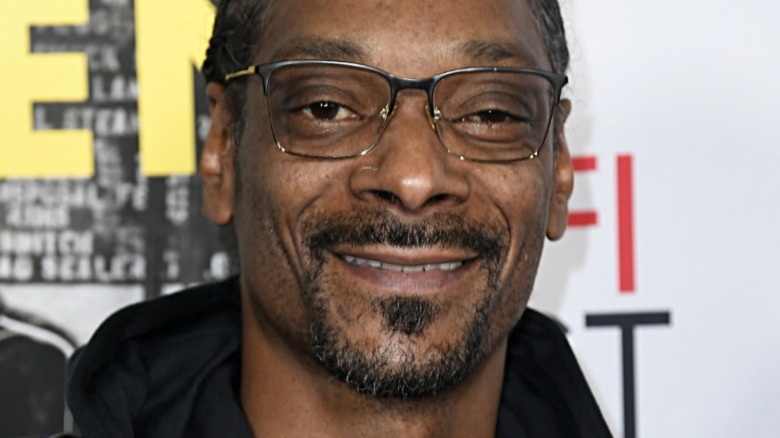 Frazer Harrison/Getty
It's a normal weekday afternoon and you're craving some fried chicken. You wait in the line at the drive-thru at Raising Cane's, order your usual chicken fingers and fries, and pull up to the window to pay and get your food. Everything seems ordinary until you realize that's not just any Cane's employee handing over your lunch: It's Snoop Dogg.
This really happened to customers this week at a Raising Cane's in Fayetteville, Arkansas. According to information sent to Mashed, the rapper worked a surprise shift at the chicken chain to promote his most recent album, "Algorithm." Locals and University of Arkansas students caught wind that Snoop Dogg was there and waited in long lines that wrapped around the building for their chance to see him at work. Apparently, Snoop loves Raising Cane's and thought it would be the perfect place to hype up his new music. His presence there was a total surprise to some customers, who got their interaction with the rapper in a now viral TikTok video.
TikTok reacts to Snoop Dogg's surprise shift at Raising Cane's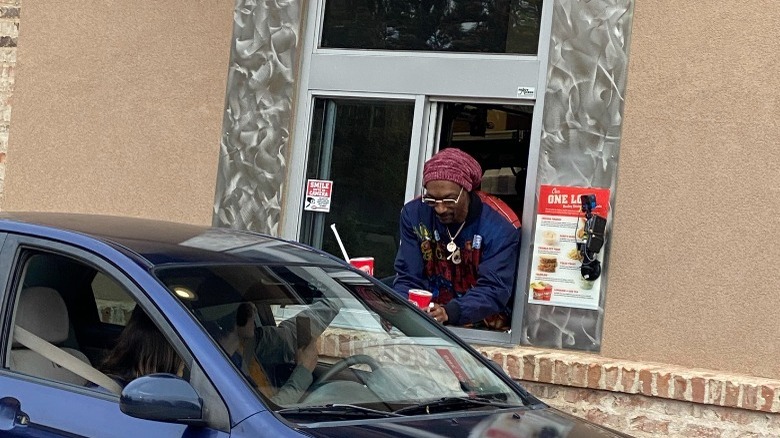 Champion Management
TikTok user @bellenashh visited the Fayetteville Raising Cane's with a friend, and the pair received their order from none other than Snoop Dogg. She posted a video of the excitement, and it's gone completely viral with 1.6 million likes at the time of this writing. The friends could hardly contain themselves as Snoop Dogg leaned out of the drive-thru window with bags full of food and a smile on his face. He wore an official fast food headset under his signature hat and was more than happy to take a selfie with the TikToker. The friends drove away smiling and dancing to "Young, Wild & Free" by Snoop Dogg and Wiz Khalifa.
TikTok users thought the stunt was totally hilarious. One noted how Snoop Dogg is everywhere, always seeming to be in the most random places doing whatever he pleases. One user commented that Snoop has "completed life he's just doing side missions now." Fans remarked how cool and kind Snoop Dogg appeared in the interaction. Even if you weren't in Fayetteville for the surprise shift, you can still visit your local Raising Cane's and order from its iconic menu while listening to Snoop's new album.