Fans Are Begging Dunkin' To Bring Back This Holiday Favorite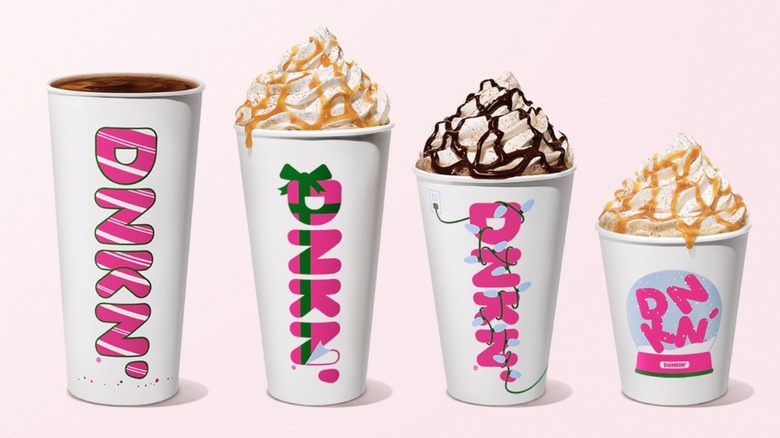 Dunkin'
Now that Halloween is officially behind us and Thanksgiving is steadily approaching, it's time to embrace the jolly spirit of Christmas and all the goodness that it brings with it: the first dusting of snow, chilly but cozy nights, winter spices, and lots of sugar! Fast food and coffee chains like Starbucks (yes, the Starbucks red cups are back), Caribou Coffee, IHop, and Applebee's have steadily been announcing their 2021 holiday menus since the first week of November and there's plenty of pepperminty, gingerbready goodness in-store (via Newsweek).
Another chain that recently released its much-coveted holiday menu has fans divided. Along with its holiday cups, Dunkin' is bringing back its Peppermint Mocha Latte with a generous swirl of whipped cream, mocha drizzle, and a dusting of cocoa powder this year (via the Dunkin' website). New on the menu are a Toasted White Chocolate Latte with caramel drizzle and cinnamon sugar as well as a White Mocha Hot Chocolate and a Holiday Blend Coffee.
While the holiday menu is bound to have Dunkin' fans all across the country excited, people can't help but notice the absence of one beloved holiday beverage from this year's menu: the Gingerbread Latte.
Dunkin' fans are not happy about the missing Gingerbread Latte
While Dunkin' fans are glad that the Peppermint Mocha is back on the holiday menu after the coffee and donut chain announced the launch of its holiday lineup on Instagram, some have been flooding the page with displeasure over the absence of Gingerbread Lattes this year. One disappointed commenter went so far as to suggest that wouldn't go to Dunkin' at all because of it: "No gingerbread no customer...I'm gonna take a dunkin break while there's no gingerbread. I'm so sad." Other fans said that they didn't care about the new holiday lineup if it didn't have the coveted latte. As one person wrote with a crying emoji, "I'm not even excited because gingerbread was my holiday drink of choice. No Christmas coffee for me this year." Demands that Dunkin' "bring back gingerbread" could be found all over the comments section.
While people are pleading with Dunkin' to bring back the Gingerbread Latte, Elite Daily suggests that you can still order one by asking your barista to add certain ingredients to a different beverage. Simply order a small Signature Latte and request one pump of caramel and vanilla syrup each and a dusting of cinnamon powder. Then ask for the drink to be topped with some whipped cream and more cinnamon powder. It might not be the exact same Gingerbread Latte that Dunkin' fans are upset about, but it could be the closest you'll get to one this year.