Every 2021 Dunkin' Holiday Item, Ranked Worst To Best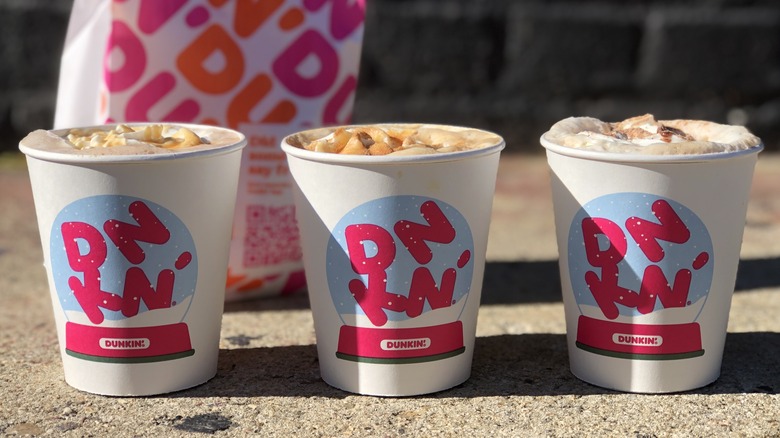 Jenny Kellerhals/Mashed
No sooner than the Halloween decorations come down, do the winter holiday beverages arrive. Don't worry, your pumpkin favorites are still available for a little while longer, but it's officially peppermint season at Dunkin' Donuts. The coffee chain launched the holiday collection of beverages and foods along with a few new year-round menu items on November 3rd. Fan favorites like the Peppermint Mocha Signature Latte have returned, as well as three new seasonal drinks, a new packaged coffee, and three new food options.
With so many festive drinks to choose from, it might be difficult to know what to drink first. The day all of the holiday drinks launched, we went to Dunkin' Donuts and tried every new menu item, to save you the energy of drinking your way through each beverage to find your favorite.
The newest drinks include a Holiday Blend drip coffee, the Toasted White Chocolate Signature Latte, and the White Mocha Hot Chocolate. We tried them hot and iced when available, because even though it's November, it's not cold everywhere yet, and sometimes the temperature of the drink can completely change the beverage experience.
We also grabbed the new Pancake Minis, Chicken, Bacon, and Cheese Croissant Stuffers, and seasonal Cranberry Orange Muffin to offset the massive amount of coffee we set out to consume. Curious about what you just have to try and what you can pass on? Read on to see what we think of every single item on the Dunkin' holiday menu.
11. Holiday merchandise and donations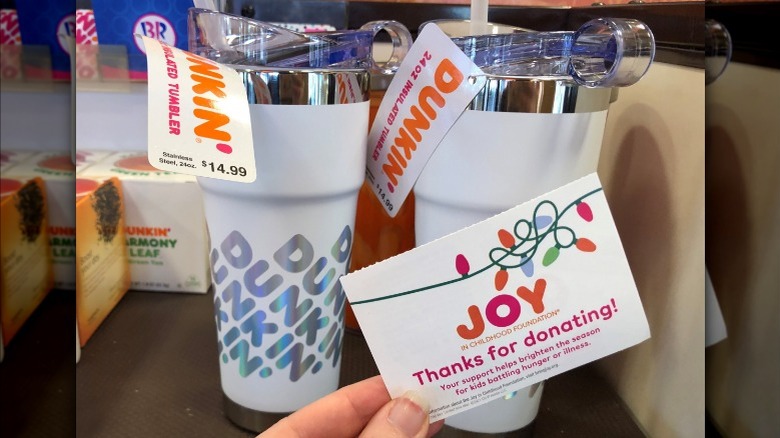 Jenny Kellerhals/Mashed
Okay, so it's not specifically a menu item, but plenty of people wait for the seasonal merch with the same anticipation that others have for the drinks themselves. This year Dunkin' has started slowly rolling out their holiday merch in the form of gift baskets filled with coffee and travel cups that are prewrapped in cellophane with a Dunkin' Donuts bow. They've also introduced large coffee travel mugs with iridescent Dunkin' printed all the way around the mug. Either is an ideal quick gift for someone in your office or as a stocking stuffer for the coffee enthusiast in your life.
Dunkin' Donuts is also taking $1 donations for the Dunkin' Joy in Childhood Foundation, now through the end of the year. The foundation helps kids battling illness and hunger, especially during the holiday season. With an in-store donation, you're given a $1 off a dozen donuts coupon that's valid through December 31st, and even more importantly — your name on a paper Christmas light sticker that gets hung in the store to help decorate for the holidays.
10. Pancake Minis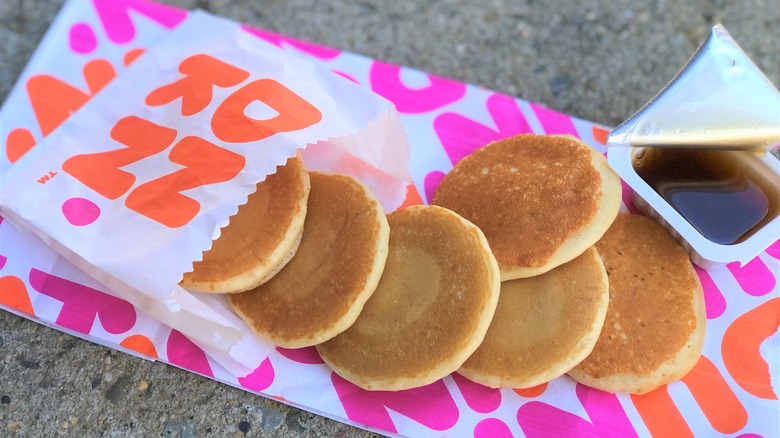 Jenny Kellerhals/Mashed
The new Pancake Minis were practically made for road trips to grandma's house, or anywhere else you may be traveling this holiday season. Six silver dollar pancakes are served warm and tucked into a little bag that's easy enough to snack on while in transit. A pull-top container of Mrs. Butterworth's breakfast syrup is included for dipping your pancake minis in, but we were a little disappointed how little the syrup actually tastes like maple syrup.
The pancakes themselves are surprisingly consistently shaped, perfectly golden, and an acceptable level of fluffy. They aren't ultra-tender, but they met our expectations for sponginess. Flavor-wise, they're a little bit boring and they lose what little complexity they have once the warmth wears off, which is quick. But we think it's best to keep this particular food item in perspective. It's a perfectly suitable breakfast item that's very cute and can easily and quickly be eaten on the go. It would be nice if they were as delicious as a stack of your favorite fresh and hot buttermilk pancakes from the diner, but that's not really a reasonable expectation here. 
On the other hand, the fact that these pancakes keep it simple is ideal for kids (and adults) who tend to be pickier eaters. Just make sure you've got a stable place to put that container of syrup so it doesn't end up splashed across the backseat as you pull onto the highway for your next road trip.
9. Iced Toasted White Chocolate Signature Latte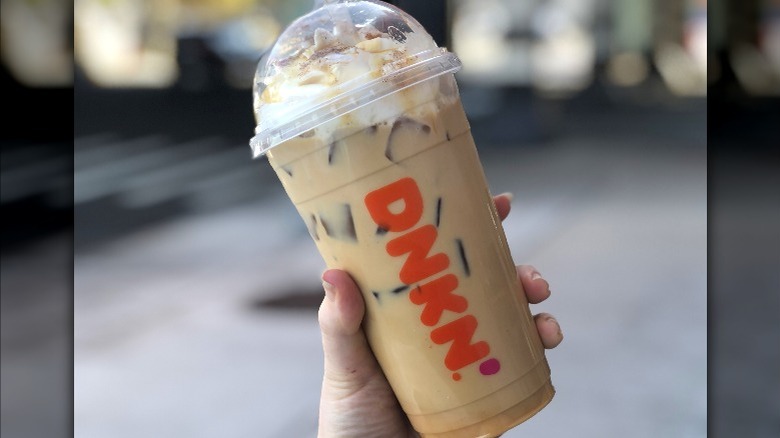 Jenny Kellerhals/Mashed
Some days in November are crisp and chilly, with cold winds blowing the leaves from the trees prompting you to find the hats and scarves you buried at the back of the closet in the spring. Other days are so hot that you wonder if winter has any intention of arriving this year at all. So it's a good idea to have both hot and cold versions of your favorite drinks for whatever the weather decides to throw at you. With the launch of the new Toasted White Chocolate Signature Latte, we were excited to taste it both hot and cold, and while we really like it warm, it's kind of a letdown in the iced format. It's not gross or undrinkable, it actually just tastes like an extra milky iced caramel latte, which isn't inherently a bad thing. But it's missing some of the more subtle toasty notes that come through in the warm version that we loved so much.
But it makes sense. While peppermint is inherently a cool flavor and tastes great in iced mocha form, toasted white chocolate is inherently a warm flavor that goes bland when it's chilled. So for now we'll pass on the iced Toasted White Chocolate Signature Latte and order the warm version instead, no matter what the temperature outside is.
8. Holiday Blend drip coffee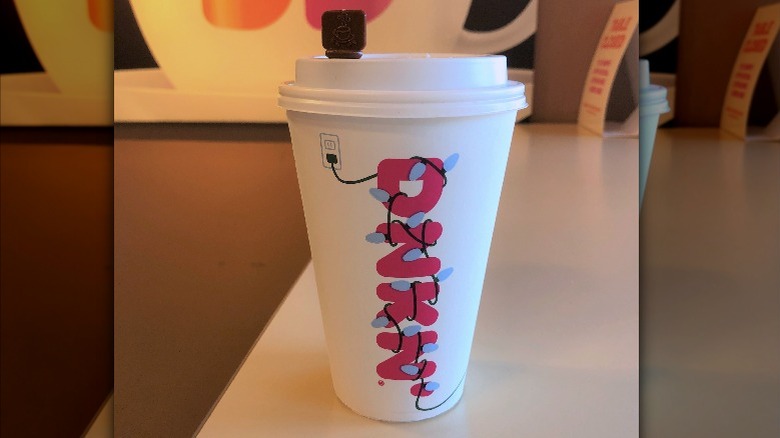 Jenny Kellerhals/Mashed
We were genuinely surprised by how much flavor Dunkin' managed to pack into this particular Holiday Blend coffee. It's a much stronger departure from the typical house blend coffee that you'd get in a regular cup of coffee at Dunkin'. The coffee itself is sourced from Colombia and Ethiopia, and is a relatively strong roast. Dunkin' points out that the blend has notes of molasses and dried fruit, both of which clearly make their way through the brewing process into the drip coffee. The bittersweet flavor of molasses is apparent and accents the coffee well without turning it too bitter. The sweetness of dried fruit comes through, although it doesn't taste like one particular fruit. 
We tried the coffee black, as well as with milk and sugar, and liked it fine both ways. We might suggest ordering it with light or no sugar to really let the sweet molasses and dried fruit flavors sing. For those who like their coffee a little less bitter, adding your choice of dairy or creamer will be necessary. It's perfect for mornings where you want a strong kick to start the day, or afternoons when you want to enjoy a drink that's full of flavor. And what's even better is that Dunkin' is offering the Holiday Blend for only $2 through the month of November. But for people who like a softer and more mild start to the day, you might want to stick with the regular house blend.
7. Cranberry Orange Muffin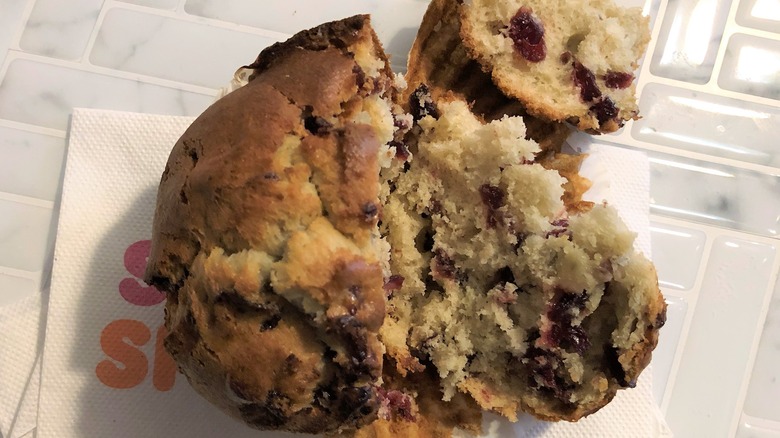 Jenny Kellerhals/Mashed
There isn't really a nice way to say this, but the new Cranberry Orange muffin isn't pretty. And no, muffins aren't usually the most beautiful pastry in the case, certainly alongside colorful glazed doughnuts, but this particular muffin is especially unattractive. But as we know, looks can be deceiving, and it's worth taking a risk on this muffin. If you're a cranberry lover, you're in for a real treat because this muffin is nearly bursting with dried cranberries in every bite. The orange flavor is very apparent, but not fake like a bucket of orange flavoring was spilled into the batter. It's floral and vibrant like candied citrus which is a great compliment to the cranberry. The fruit isn't subtle, but bursts with every bite. And to its credit, the muffin itself is moist and tender. It's a large muffin, perfect for sharing or getting you through a large stretch of the morning. Cranberry isn't everybody's thing, but if you're into it, this muffin is a winner. As long as you can ignore how ugly it is, you're going to be very happy with your choice.
6. White Mocha Hot Chocolate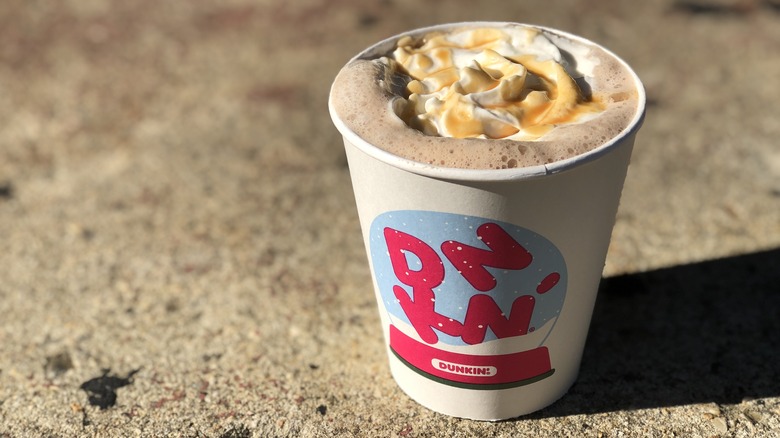 Jenny Kellerhals/Mashed
This hot chocolate is very sweet. Now that we've gotten that out the way, we think it's the good kind of sweet, not the overwhelming kind of sweet. It's the kind of hot chocolate that as you drink it, you can't help but smile and feel a little bit like a kid again — and honestly, we could all use a little bit of that kind of cheer during the holiday season. The white chocolate itself has a lovely caramel flavor to it and is truly a pleasure to drink. We adore the whipped cream topping that's drizzled with a caramel sauce, and think it's a necessary addition to the drink. After all, if you're ordering a hot chocolate, you're probably expecting a creamy and sweet drink already. You might as well lean all the way in and get it with all of the bells and whistles. But if you don't have a high tolerance for sweet beverages, we'd suggest just ordering the small, as it'll probably be more than enough to satisfy that sweet tooth.
But if the White Mocha isn't your thing, we understand. Dunkin' Donuts actually has five flavors of hot chocolate on the menu including a classic hot chocolate, mint, espresso, and Oreo flavored. So whether you're ordering for your kid or just pleasing your inner child, we think you're going to find something you like here.
5. Dunkin' Midnight Coffee (K-cups)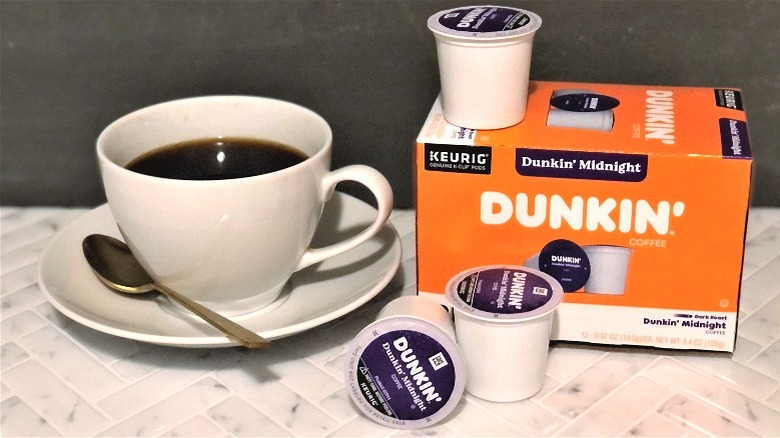 Jenny Kellerhals/Mashed
Dunkin' Midnight Coffee is the new packaged coffee offering from Dunkin' Donuts, available in K-Cups and bags. We picked up a box of K-Cup pods to try at home, and were pleasantly surprised by the result. The coffee is certainly a darker roast than the other coffees Dunkin' offers, but not so bitter that it tasted burnt or so acidic that it was too much to handle first thing in the morning. Mixed with a touch of milk and sugar, it was a good strong boost to the day. We can see this being the perfect way to wake up and make holiday breakfast, or brew when you've got to stay up all night putting a bike together for Christmas morning. 
Even though it's the darkest roast that Dunkin' offers, it's still approachable for people who aren't necessarily accustomed to darker coffees, and a fine choice for daily drinking. Purchased in the Dunkin' Donuts store, the box of 12 K-Cup pods cost us $8.99, plus tax which is an average price for a box of coffee.
4. Chicken, Bacon, and Cheese Croissant Stuffer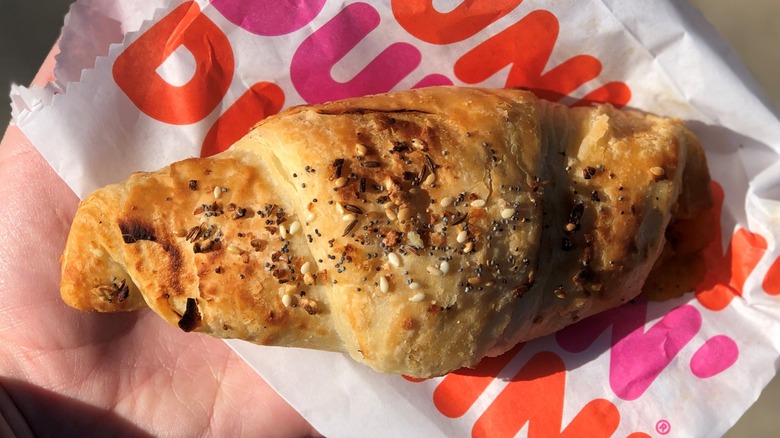 Jenny Kellerhals/Mashed
The Chicken, Bacon, and Cheese Croissant Stuffer exceeded our expectations with the very first bite. Granted, we were very hungry and had just consumed a disproportionate amount of coffee, but even still, the new croissant stuffer hit the spot without weighing us down, and felt like a fulfilling small meal that would hold us over well into the afternoon. 
The croissant stuffer is served warm and topped with an everything bagel style seasoning. It's then filled with just the right amount of cheese, bacon, and chicken. The meats and cheese are rolled right into the croissant, so you don't have to struggle with a sandwich that's falling apart as you try to eat it. In fact, it can be easily eaten one-handed while walking around with your coffee in the other hand. If you've had any of the other Dunkin' Donuts croissant breakfast sandwiches, you're aware of how deliciously buttery they are, but you probably also know that they're a two-handed affair. You get all of the same buttery croissant goodness with the ease of a whole pastry. 
Again, we see this as a great breakfast or even lunch choice as you're getting on the road for your holiday travels. This isn't the first time this stuffer has been on the Dunkin' menu, and we're hoping it will stay on the menu long after the holiday season passes.
3. Toasted White Chocolate Signature Latte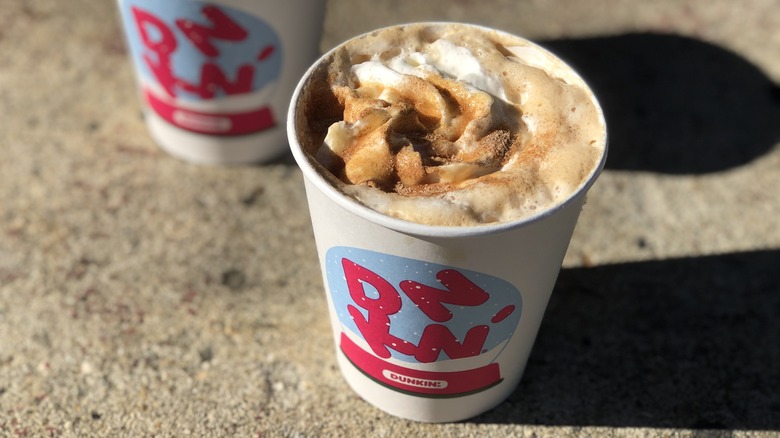 Jenny Kellerhals/Mashed
After tasting the White Mocha Hot Chocolate, we were expecting the Toasted White Chocolate Signature Latte to be very sweet too. But we were pleasantly surprised to find that it is restrained in its sweetness, and stays true to its toasty description. If you're not familiar with the process, white chocolate that's been toasted takes on a natural caramel flavor as the sugars and milk solids are heated. So caramelized, or "toasted" white chocolate tends to be less sweet and milky tasting than regular white chocolate. 
The new signature latte is downright luxurious, with a caramel flavor that's only mildly sweet and a tender toasted flavor that will remind you of a lightly toasted marshmallow. We think it's the perfect drink for sipping by a warm and crackling fireplace — or on your way to work when you'd rather be home by the fireplace. We ordered our latte with whipped cream, caramel drizzle, and cinnamon sugar topping and we thought that the toppings really gift-wrapped the whole drink perfectly. If you choose to forego the whipped cream, ask if you can still get the cinnamon sugar sprinkled on top for that little extra warm spice flavor.
2. Peppermint Mocha Signature Latte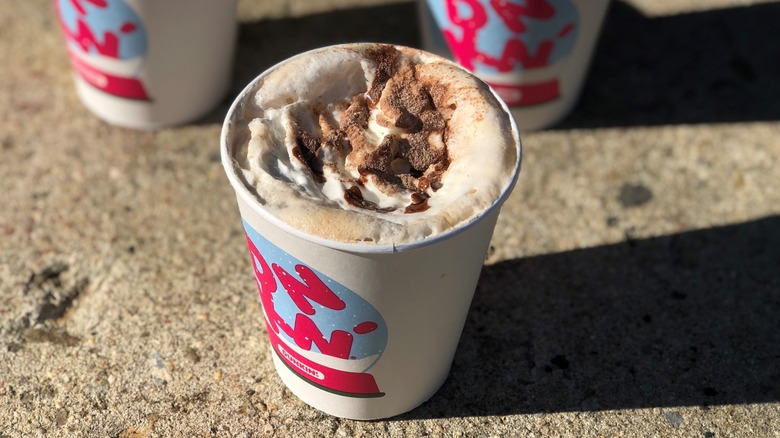 Jenny Kellerhals/Mashed
The Peppermint Mocha Signature Latte isn't new on the holiday menu, but it's a holiday favorite that people are thrilled to see return. Sure, peppermint mochas are sold just about everywhere, but we think this particular version is pretty special. Served hot, we made sure to order it with whipped cream that came drizzled with a touch of chocolate mocha syrup and cocoa powder. It only took one sip to notice that this particular latte isn't the same ultra candy cane flavored sugar bomb that you might find at other coffee shops. As a matter of fact, it's a smooth latte first, flavored with noticeably dark chocolate that's just the right hint of bitter, and sweetened with a delicate peppermint syrup that doesn't overwhelm the senses. 
It's not Altoids-level peppermint intensity, but instead more of a peppermint perfume. The combination of bitter chocolate and mild peppermint make it taste more like a drink for adults, and we'd even go so far as to call it moody. We think that people who are typically turned off by the intensity of peppermint in holiday drinks might actually be into this particular rendition of the holiday favorite. We liked the drink with the additional whipped cream and toppings, but we think it would be plenty enjoyable without them as well. There's really nothing like a peppermint mocha to give you a little burst of holiday cheer on your commute.
1. Iced Peppermint Mocha Signature Latte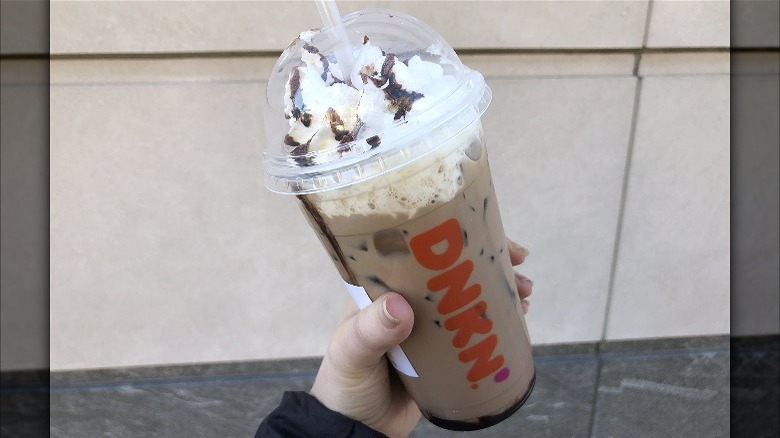 Jenny Kellerhals/Mashed
Given how popular the Peppermint Mocha Signature Latte is in its warm form, we thought it would be a good idea to see how it compared in its iced state, and we're happy we did. The cold version of the drink is a little sweeter than the hot version, with the syrup visibly drizzled around the entire cup. It's almost like drinking a large, pepperminty chocolate milk that's been thinned out with coffee over ice, and we could hardly get enough. Ordered with the whipped cream topping and mocha drizzle, the drink is really extra, but we think it would be just as good (and probably a little bit healthier) without the additional toppings. This is less of a serious and subtle latte in cold form and much more of a playful drink that makes you feel like Buddy the Elf walking down the street. Much of the syrup sinks to the bottom of the cup, but you don't really have to worry about stirring it in. The straw reaches far enough down in the cup to pull up that chocolate peppermint flavor with every sip. Get the large and don't look back.