This Stuff'd Cake From Costco Combines 3 Fall Favorites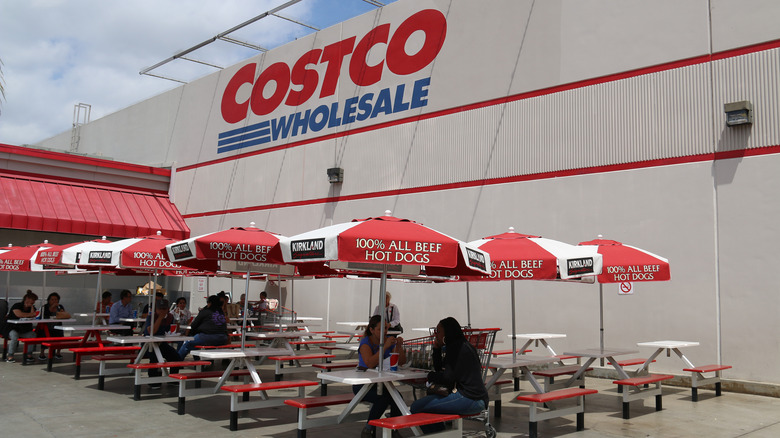 Idealphotographer/Shutterstock
The holidays bring more than just presents, colder weather, and time with friends and family — they also bring an onslaught of desserts. From Thanksgiving to Christmas, it seems that there are sweet treats around every corner, whether it's the pumpkin pie on the dessert table at Thanksgiving or the dizzying number of Christmas cookies you inhale during the month of December. According to a OnePoll survey commissioned by Oh Danish Bakery, of 2,000 Americans, 56% of people exchange baked goods over the holidays, and — get this — the average survey participant starts having fantasies about their favorite seasonal dessert three weeks before they actually eat it (via New York Post).
While there are plenty of sugary, chocolatey, caramel-y eats to choose from, we all have our favorite holiday treats. If you're someone with a sweet tooth, however, it can be difficult to choose just one dessert. But now, thanks to a new find at Costco, you don't have to. A recent Instagram post revealed a new Stuff'd cake that recently hit shelves at the massive retailer that combines some of your favorite sweets in one indulgent bite.   
Fans are going crazy over the fall edition Stuff'd cake found at Costco
If you're looking for the most over-the-top dessert to bring to your Thanksgiving or Christmas dinner, you may just find it at your local Costco soon. On Instagram, Costco fan account @costco_empties recently posted a picture of a drool-worthy cake that is essentially three desserts in one. Made by Zac Young's Sprinkletown, the fall edition Stuff'd cake includes layers of vanilla butter cake, caramel apple cheesecake, and pumpkin pie, all covered in salted caramel frosting. (Hungry yet?!) Each cake, which looks like a giant cupcake, rings up at $29.99 and weighs a staggering five pounds.
"I'm getting diabetes just thinking about devouring a piece (in a good way)," one person commented on the post, echoing others who are dying to try a bite. However, a few people who have sampled the cake caution that it's very sweet. "I love sweets but it was too much... too much going on in one cake," one shopper said.
As for where to find the fall Stuff'd cake? Creator Zac Young posted to Instagram that it's currently available at all Northeast Costco stores, which is any store from Virginia and up.