You Won't Believe The Massive Bloody Marys At This Wisconsin Bar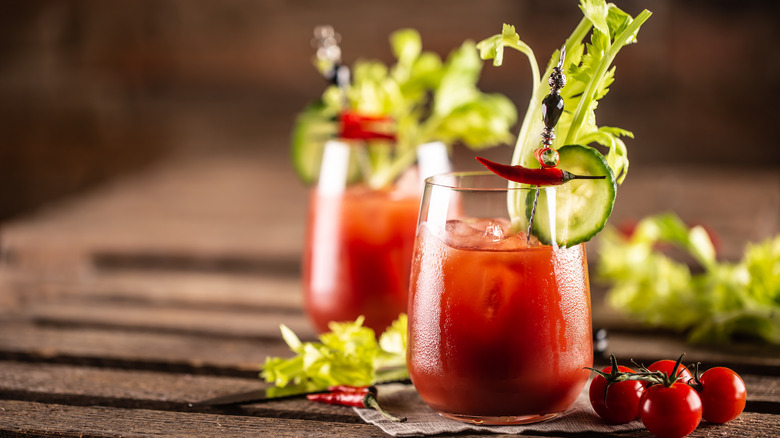 Marian Weyo/Shutterstock
When Sunday brunch rolls around, some diners may feel enticed to order a "hair of the dog" cocktail with their meal to help them cope with their gruesome hangover. One of the most popular cocktails for this remedy is the Bloody Mary – the classic tomato juice- and vodka-based drink that offers a savory, spicy tang to help relieve symptoms from last night's bender. But, of course, you don't have to be battling a hangover to enjoy a good Bloody. Especially in recent years, restaurants and gastropubs have been amping up the creativity when it comes to their menus' Bloody Mary lineup. In addition to concocting tasty mix recipes with top-quality juice, vodka, and spices, establishments are experimenting with unexpected garnish combinations that cause eyes to bulge, taste buds to dance, and cameras to snap.
If you ever visit Milwaukee, Wisconsin, the setting for "Happy Days" and "Bridesmaids," and a city famous for its many breweries and its championship-winning sports teams, you'll find no shortage of good eats and delicious drinks. One eatery in particular, Sobelman's Pub & Grill, is known not only for its tasty Angus beef burgers, but also for its gargantuan Bloody Marys that feature some of the most jaw-dropping fixins you'll ever see (via Sobelman's Pub & Grill). Thirsty? Keep reading to find out what's in store at Sobelman's.
Sobelman's serves Bloody Marys with outrageous garnish
Sobelman's Bloody Marys have been highlighted on shows such as the Cooking Channel's "Food Paradise" (via Twitter). Every Classic Bloody Mary comes garnished with Colby-Jack cheese, pickled Polish sausage, pickled mushroom, pickled Brussels sprouts, an asparagus stalk, a celery stalk, shrimp, lemon wedges, and a grape tomato, per Sobelman's Pub & Grill. But the fun doesn't stop there! The Bourbonado includes the classic embellishments plus bacon-wrapped chicken slathered in bourbon or buffalo sauce. The Beast, appropriately named, includes the signature garnishes along with cheeseburger sliders and bacon-wrapped cheese balls. And lastly, there's The Bloody Beast, which comes with an entire fried chicken balanced on top.
"It all started with a few pickled garnishes to support our neighbor, Bay View Packing, and the next thing I knew, I was putting entire fried chickens in my Bloody Marys. A full-out garnish war in Milwaukee has ensued," says Dave Sobelman (via the restaurant's official website). And coming in at $60, The Bloody Beast is much more than a cocktail; it's a whole meal for two.