This Dorm Room Staple Is 1 Of The Only Meals Pete Davidson Can Cook
Not only does Pete Davidson look like an eternal college student coming off a savage all-nighter, but he also cooks like one. In his recent podcast interview with Ruthie Rogers of "River Cafe Table" on iHeart, the famous comedian discusses his relationship with food. When asked about his memories of food growing up, he explains to Rogers that his mom was a working single mother who didn't have time to cook, so they ordered a lot of Chinese and Italian take-out. His mom cooked whenever she could, and Pete says her specialty was breaded chicken cutlets. "I still have yet to have a better chicken cutlet anywhere else," he said. That must have been some tasty chicken, as it kept Pete living in his mom's basement until just last year, according to Us Weekly.
The funnyman goes on to discuss the connection between his comedy and food. He used to wait to eat until after doing a show or performing stand-up, and if his set didn't land, he often lost his appetite and would skip the meal. Davidson says, "Now I eat before the show. That way, even if it doesn't go well, I'm full."
Of course it's ramen noodles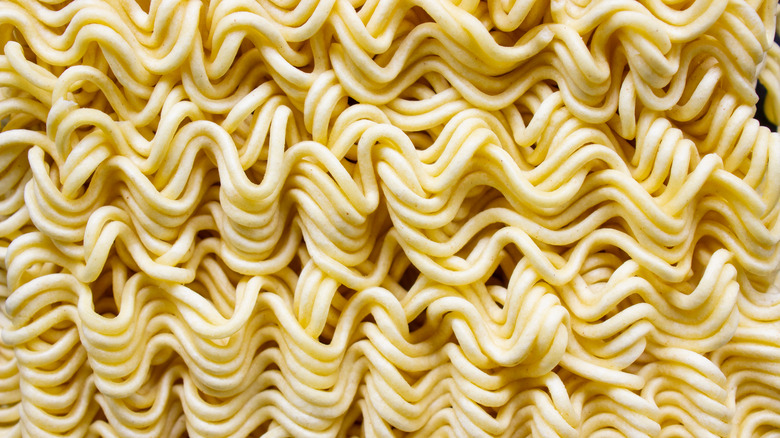 Faiz Dila/Shutterstock
In her iHeart interview, Ruthie Rogers is quick to point out the emotions associated with the meals we eat and asks Pete Davidson if he has a go-to comfort food. "It's always gonna be pasta," Pete replies, acknowledging that he doesn't know how to make it. He proves his status as a novice cook with the one recipe he can make.
Davidson's claim to culinary fame is a "mean" Cup O' Noodles. Rogers waxes poetic when she describes reading a recipe as "partly prose and partly science," making Davidson a poet who didn't know it as he goes on to detail his method for making the favorite dorm room dinner. He starts by going to Costco, buying instant ramen noodles, and then shockingly simplifies the recipe from there. Davidson explains, "Since I don't know how to boil water because I'm dumb, I go to the Keurig, and I hit the hot water button ... and then I dump it in the Cup O' Noodles, and then I stir it for about four to five minutes." Dinner is served.