The 14 Best Food Gifts For The Foodie In Your Life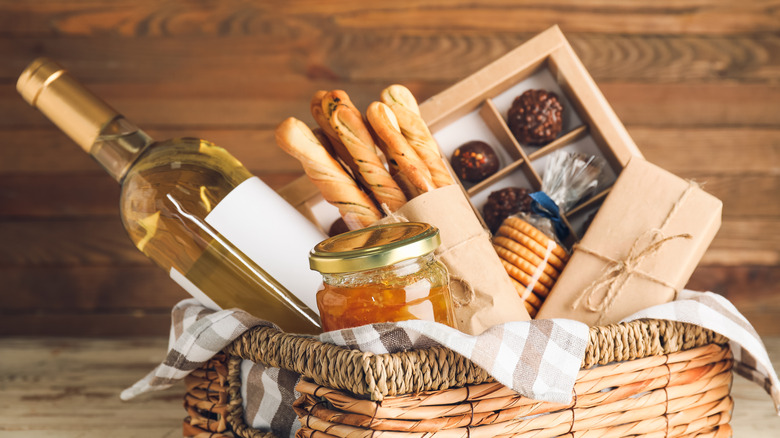 Pixel-Shot/Shutterstock
We may receive a commission on purchases made from links.
In theory, you might think that giving the foodie on your holiday shopping list a great gift would be easy, right? Just give 'em something edible! But there are a few problems here: First off, a genuine food lover is going to have a more demanding palate than the general population, so the same Harry & David food gift basket that might thrill some of us may leave your foodie friend underwhelmed. (Maybe not those amazing fresh pears, but the crackers and summer sausage? Meh, not any "wow factor" there.) Second, there's a good chance that your intended gourmet gift recipient already has a well-stocked larder in their home, making it harder to supply something that won't be redundant. And third, lots of food is highly perishable and thus inherently a bad gift choice, because a gift that goes bad does not a good gift make.
For those reasons and more, we went searching high and low for the best food gifts that are of genuine quality, that are unique enough that they will (likely) not be already present in the pantry, and that are either reliably shelf-, fridge-, or freezer-stable, so your giftee won't be obliged to chow down on anything as soon as they open up the gift. Beyond that, we know that no two palates are exactly the same, so we strove to find gifts for everyone from the sweet-tooth to the meat-lover to the sauce and spice specialist, and more.
Seabear Smokehouse Waterbrook Winemaker's Smoked Salmon
The best thing about Seabear Smokehouse's Waterbrook Winemaker's Smoked Salmon is that it is a fine cut of fish. The second best thing about it is the price. A fillet of this fancy smoked salmon costs less than $15, yet the recipient will feel like they are getting a luxury gift. Which they are. The salmon is prepared "with a glaze of Waterbrook wine, and smoke using vines and American Oak Chardonnay wine barrels from [Waterbrook Winery] vineyards." So yeah, it's delicious.
And as the salmon ships frozen, it's very stable, too. The fillet can be stored in the freezer for up to half a year, and it can be kept in the fridge for three weeks. Even once it has been opened it will remain fridge safe for five days. Whether used on crackers or a bagel, sliced into a salad or wrap, or lightly heated and served as a winning entrée, this smoked salmon fillet will make a winning gift — and an affordable one, too.
Talia Di Napoli Pizzas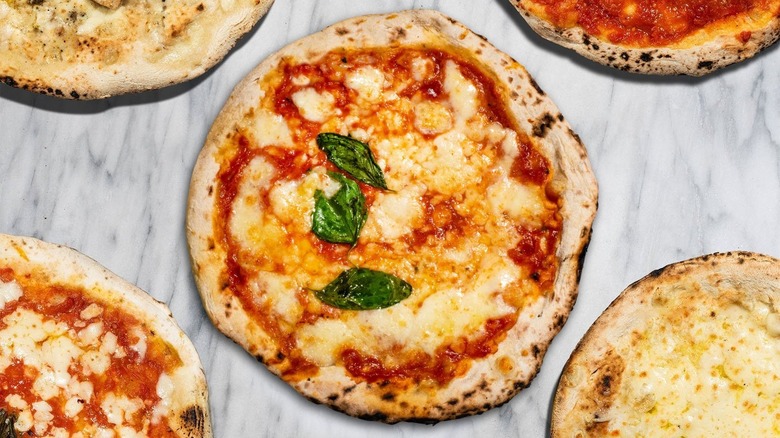 Talia
When we call these pizzas from Talia Di Napoli "The best frozen pizzas ever" we're not saying that because we are 100% certain they are objectively, certifiably, the best frozen pizza on the planet. But we are 100% saying they are the best frozen pizza we have yet to try. Simply put, these pizzas come out of your oven tasting better than just about any pie you will have ever gotten from the oven of an actual pizza restaurant. The possible exception? An oven in a pizza place in Naples, Italy. And that just so happens to be where these pizzas are made.
You can get pies like the Double Cheese Margherita, the Tartufina, the Provolina, and more. Any way you cut it, you'll end up with great pizza. Or rather, your giftee will — but you can also do yourself a favor and order some pies to your own address. Sure, this stuff isn't cheap: The pizzas work out to a little more than $14 each, and for reference they're a bit smaller than a medium sized pie you'd get delivered from a major chain that starts with a "D" and ends with an "omino's." But they are worth every penny and then some.
Pukka Herbs Support Selection Christmas Gift Box
Here again is a great gift that's genuinely thoughtful, will be truly appreciated, and that costs a lot less than the person will think it did. An herbal tea sampler box from Pukka will run you less than $25, in fact. As there are 45 tea bags included, do the math and that's less than 55 cents per cup of tea, each of which will make your gift getter think of you fondly. The teas, which are all caffeine-free (save for the relatively low-caffeine Turmeric Gold blend, which has some green tea) come in flavors like Three Ginger and Blackcurrant Beauty. They arrive in a handsome gift box that makes for easy storage and organization.  
Great for cold weather (and yes, you can take that to mean chilly weather or the season of the cold and flu — and hopefully not of COVID), this is a gift that will be enjoyed for weeks or even months.
Dylan's Candy Bar Classic Christmas Tackle Box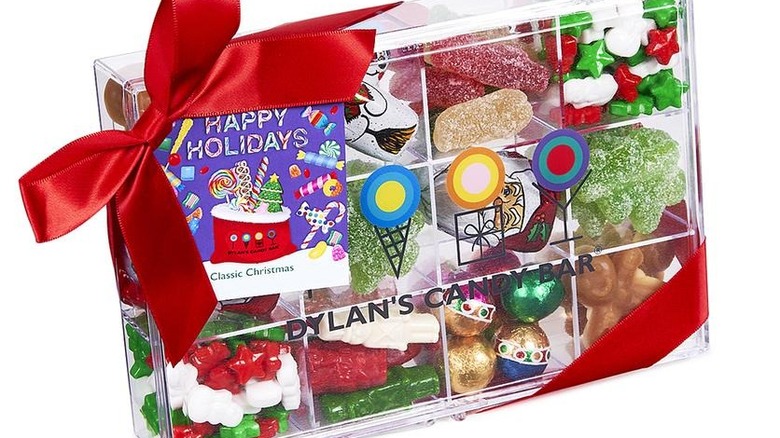 Dylan's Candy Bar
The Classic Christmas Tackle Box from Dylan's Candy Bar is perfect for the sweet tooth on your holiday gift list, but it is also a great gift for a small group who you need to give a little something-something. Because it comes with so many different types of candy — don't worry, we'll cover those — this is a perfect present for sharing among, say, a niece and nephew, a pair of teacher's assistants, or a couple of spouses. 
Included within this tasty and festive candy gift box you'll find gummy gingerbread men, caramel Santas, chocolate snowmen, sour gummy trees, chocolate Christmas balls, Frosty's Forest Dextrose Mix, Stars Dextrose Candy, toy chest-shaped sours, and toy chest-shaped mallowcreams. And when all of that deliciousness has been gobbled up, the little plastic box becomes a gift that keeps on giving, as in the ultimate organizer for loose nuts and nails, screws and tacks, and all sorts of other hardware sundries.
GiftWorld Gourmet Cheese Sampler
Can you order cheese off Amazon, you ask? Yes, you can, and when the cheese in question is this GiftWorld Gourmet Cheese Sampler, you should. Included within the package, your thankful turophile will find more than two pounds of cheese, including a Spanish manchego, aged Gouda from Holland, and a Chatelain Brie from France, to name a few. And okay, before we go on, let's deal with the question we likely just brought up. What is a turophile? Well, it's a cheese-lover. But you don't need to be a connoisseur to enjoy this selection.  
Also included with all the fine cheeses here are a fig spread made in Croatia and mini toast-style crackers from France, plus a fancy six-inch cheese knife your cheese fancier will appreciate along with all of the edibles. The cheeses are vacuum-sealed and shipped with ice packs, so everything will arrive fresh and tasty.
Sugarfina Kosher Candy Bento Box
This gorgeously-packaged candy box contains some truly amazing sweets, and as they are all certified as kosher, the box makes a great Hanukkah gift. Inside the 3-Piece Kosher Candy Chocolate Favorites Bento Box your giftee will be treated to a trio of boxes stuffed with mini chocolate-covered balls of goodness. The three fantastic flavors include Dark Chocolate Sea Salt Caramels, Sugar Cookies "dipped in white chocolate, then sprinkled with superfine sugar," and Chocolate Covered Cookie Dough, which are "chewy chocolate chip cookie dough bites dunked in dark chocolate and rolled in walnuts."
All of which sounds delectable, to be sure. And as with the tackle box that comes with that sampler from Dylan's Candy Bar, the little plastic boxes contained in this gift assortment will make great storage containers for things like paper clips and rubber bands once all of the sweets are, sadly, eaten up and gone.
Eastern Standard Provisions Movie Night Snack Pack
Let's be honest, the best thing about a trip to the mall usually isn't the shopping, it's the big, fresh, warm soft pretzel you buy on impulse. Or that was secretly your whole reason for going to the mall in the first place. Well, with a box of Eastern Standard Provisions "freshly baked" pretzels on hand, no trip to the mall is needed, only a quick jaunt to your own freezer and oven. These bake at home pretzels come out tasting as good as those mall (or stadium or movie theater) pretzels, and as this gift box comes with a packet of pretzel salt and a jar of "Sweet & Zesty" mustard, you can dress them up nicely, too.
But the main feature in the Movie Night Snack Pack, are two large "wheelhouse" pretzels (the classic pretzel shape), a bag of pretzel bites, and six big pretzel sticks, so your recipient will have lots of control over just how much bready goodness to bake up at any one time. 
Ellenos Yogurt Best Sellers Collection
Okay, again, can we 100% confirm that this is the best Greek yogurt to be found on the planet? No. We can just say it's the best Greek yogurt we have ever tried — which helps to explain why it's also just about the priciest, too. The Best Sellers Collection which is a box of eight different Ellenos Greek yogurts, costs $65, which means each container costs $8.12, which means each ounce costs just over one dollar. (They come in eight-ounce cups.) So yeah, pricey. But amazing!
This is almost surely the richest, most flavorful Greek yogurt your giftee will have tried, and it comes in flavors like Vanilla Bean, Marionberry, and Lemon Curd, to name a few. And not only is this stuff big on flavor, but as you'd expect from any good Greek yogurt, it's also big on health benefits, as in 17 or 18 grams of protein per serving, at least a quarter of daily calcium needs, and some potassium to boot.
The Matzo Project Whole Megillah Box
Noshing plays a big part in the celebration of Hanukkah, so why not give the gift of some great food with this sampler package from The Matzo Project? The gift box contains things like a matzo ball soup kit, salted matzo (delicious with everything from lox to peanut butter to hummus), matzo chips, and more. It will be a welcome present for anyone who already holds matzo near and dear to their heart (and stomach) and will be a great introduction to the foodstuff for anyone who is less familiar. And good news, this package makes a great gift for those not celebrating Hanukkah as well, or for enjoying any time of year.
And in other good news, you can choose just how big of a gift to make this. You can order the Whole Megillah for $50 and get eight different products all jammed in there, or the Mini Megillah for $25 and get a smaller selection of eats.
Bachan's Three Pack Sauce Bundle
We challenge you to find any food that this Japanese BBQ sauce bundle (which includes Original, Yuzu, and Hot and Spicy bottles) won't make better — within reason, that is (fresh fruit and milkshakes don't count). But in all seriousness, this is one of the tastiest and most versatile line of sauces you will ever try, and it makes a great gift for the lover of Asian cuisines, the BBQ enthusiast, or really anyone with taste buds. 
Regardless of which specific bottle of Bachan's Japanese Barbecue Sauce your recipient uses, they will be treated to a tangy, subtly sweet, soy-infused sauce that amplifies burgers and dogs, tastes great in soups, can be drizzled over salads, is amazing on dumplings, rice, or noodles, and on the list goes. When used as part of the actual cooking (such as replacing soy sauce called for in a recipe), Bachan's takes any dish up a notch, if not two or three. 
Spoonful of Comfort Classic Holiday Soup Package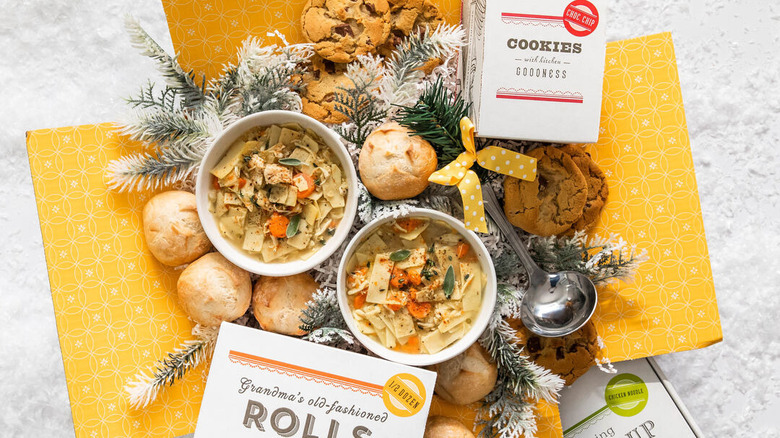 Spoonful of Comfort
There is arguably no better comfort food than soup, which is probably why the company Spoonful of Comfort chose the name of their company. So when you can't be there with a friend or loved one in person, send them the gift of comfort with a gift box of soup. The Classic Holiday Soup Package contains about six servings of a soup of your choosing (including Chicken Noodle, Tomato Basil, Chicken and Wild Rice, Broccoli Cheddar, Garden Vegetable, and Italian Wedding soup varieties), six rolls, six cookies (more choices here: Chocolate Chip, Triple Chocolate Chunk, Oatmeal Raisin, Sugar Cookies, or Snickerdoodles), a charming little ladle, and a note card you can customize.
At $79.99, this is hardly a cheap gift of comfort, but your gift getter is worth it, no? Also, you can chop $10 off the price if you leave out the cookies, and it's not like they'll know you did so — unless they see this article too, in which case good luck with the holiday cheer. But hey, if you need some comfort food after a big argument ...
Pasolivo Classic Olive Oil
A price tag of $48 for a bottle of olive oil seems a bit rich, right? Well, no, not when it's an oil as rich in flavor as Pasolivo's Classic Olive Oil. Made in California using a blend of Spanish and Tuscan varietals of olives, this oil is bursting with bright flavor and helps bring out the best in salads, breads, steaks, roasted potatoes, and so much more. It is a multi-award-winning foodstuff that may be pricey but truly is a cut well above other oils. 
And on the health front, this oil is rated as very high in polyphenols, which is good, FYI. According to HealthLine: "Polyphenols are beneficial plant compounds with antioxidant properties that may help keep you healthy and protect against various diseases." This is an olive oil that will not only make your recipient's food taste so much better, but it will make them feel good as well.  
Simply Organic Saffron
If you really want to wow a friend or loved one, you can't go wrong with giving the gift of saffron, which happens to be the most expensive spice in the world. Simply Organic Spanish Saffron is priced at $15.99 for a mere 0.018 of an ounce, which means that, yep, this is a very expensive spice. It's the kind of ingredient that even the most discerning chefs may not buy for themselves. So give your chef buddy the gift of this fine spice and you can rest assured it will be appreciated.
And hey, it's worth it. Saffron can lend its unique, peerless flavor to meats, baked goods, fish, veggies, and, of course, to certain famous rice dishes from Spain you may know of. (Paella, yes.) Plus a little goes a long way, so you're giftee will be able to take advantage of the jar for multiple recipes. 
Holy Grail Steak Tasters Ribeye Flight
Got about $300 in the budget for a very special gift for a very special someone (like a father-in-law, boss, or ... yourself)? Then these excellent steaks might just make a perfect fit. Yes, as there are six ribeyes in this Holy Grail Tasters Flight, that means you are paying $50 per steak. But said steaks include a pair of Tajima American Wagyu Ribeyes, a couple of Upper Prime Black Angus Ribeyes, and two Santa Carota Carrot Finished Ribeyes. They will almost surely be the best steaks your lucky gift getter will ever have the pleasure of preparing at home. In other words, these streaks aren't simply an entrée, they're an experience.
And when the person who receives these steaks realizes just how much you paid, you are also going to be buying yourself some well-deserved appreciation. Maybe they'll even invite you over for dinner. Here's an idea: drizzle on a bit of Pasolivo olive oil as you carefully cook these divine slabs of meat for the ultimate in decadence.