Krispy Kreme's Let It Snow Collection Features 3 Festive New Donuts
Ever since Krispy Kreme opened its first shop back in 1937 in Winston-Salem, North Carolina, people have been obsessed with the hot fluffy donuts (via Delish). While Krispy Kreme offers a variety of flavors — from chocolate glazed with sprinkles to cinnamon sugar — the original glazed donut is by far its top seller. According to a Mashed poll, almost half of people believe the OG glazed Krispy Kreme is the best, and the national chain makes 16 million donuts every year (via Love Food). 
Krispy Kreme also releases seasonal donuts throughout the year. The limited-edition treats are always a hit among shoppers — and for good reason. There's the bunny and flower donuts in the spring and, more recently, the turkey-shaped Gobbler and pecan pie around Thanksgiving. Now, just in time for the holiday season, Krispy Kreme is coming out with the "Let It Snow" collection, which stars five holiday donuts. Here's what you need to know about the drool-worthy donuts, and how you can get your hands (and mouth!) on some ASAP.
Available starting on Black Friday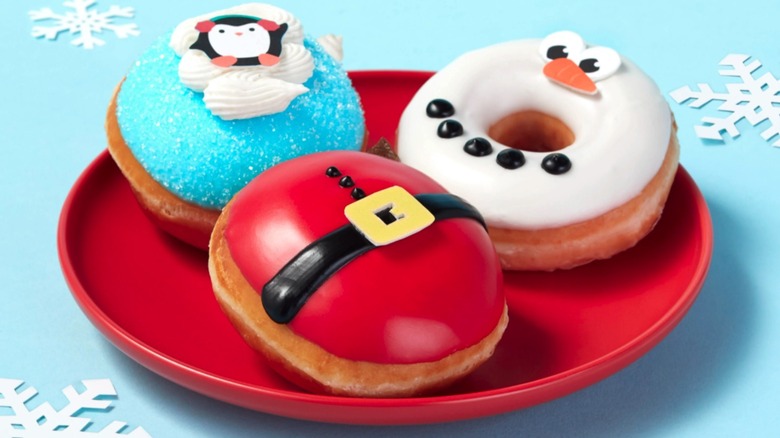 Krispy Kreme
If you're a Krispy Kreme fan (and who isn't?), you don't have to wait long to snag the new seasonal donuts. According to a press release, the "Let It Snow" donuts will be available at select locations across the country starting on November 26, which is Black Friday (via Business Wire). The limited-edition collection includes five donuts — three new ones and two returning flavors — in a holiday-themed box. "This year, we're tapping into the anticipation of wintry, holiday fun with our snowy holiday collection," said Dave Skena, Krispy Kreme's Chief Marketing Officer, explaining the inspiration behind the festive donuts.
The new "Let It Snow" release brings back last year's beloved chocolate iced donut with holiday sprinkles, along with the Santa belly donut (via Food Sided). But it also features three completely new donuts: the Poppy Penguin donut, the Snowman Smile donut, and the Snowy Sprinkle donut. Both the Snowman Smile and Snowy Sprinkle donuts start with the original glazed donut, while the Poppy Penguin donut is stuffed with the shop's Original Kreme. Sounds like just the fuel you need for all of your Black Friday shopping!