TikTok Can't Wait To Try Costco's Kirkland French Brie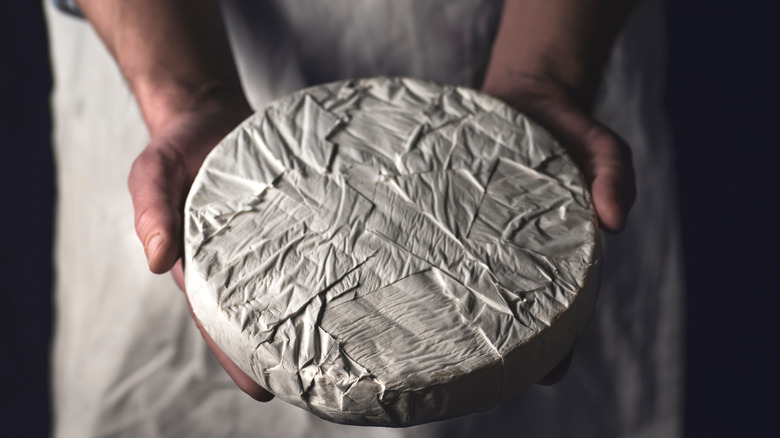 UliAb/Shutterstock
How delicious is brie? This mild, soft cheese is traditionally made in France from unpasteurized cow's milk and is delicious at any time of year, whether spread on a baguette, layered into a sandwich, or just eaten by the creamy, milky wedge. But brie seems to show up even more around the holidays when it makes its appearance in the festive appetizer we all know and love: baked brie. 
Ever the crowd-pleaser, baked brie usually features the soft cheese wrapped up in pastry dough and a sweet element such as jam, then baked until that crust is golden brown and flaky. The TikTok account @costcohotfinds often features fun ways to use Costco products at home, and Laura, the woman behind the account, took Costco's Kirkland Signature French Brie in this very direction. In a video she shared, she made little puff pastry bites with raspberry jam and roasted pineapple-habañero sauce. And from the looks of the comments, she's gotten Costco fans pretty psyched to try this brie at home.
Costco shoppers are all about this baked brie
Fans of Costco — the wholesale retailer with more than 570 stores across 48 states (via ScrapeHero) — know that the chain takes its cheese selection seriously, offering a wide range of dairy goodness from Spanish-style products to Irish Kerrygold Dubliner. Another perennial favorite among shoppers is its Kirkland Signature Isigny French Brie, which the TikTok account @costcohotfinds recently used to make some delicious-looking individual puff pastry bites. In the video, Laura cuts some puff pastry into small squares, stuffs them into a mini muffin tin, plops squares of the brie into the pastry, then tops them with either raspberry jam or a roasted pineapple-habañero sauce also available at Costco. Baked at 400 degrees F for about 15 minutes, the bites emerge looking golden brown and tasty.
Commenters were psyched to use Costco's brie in the recipe. "This is my go-to for every party I host!" wrote @joliemarie. "I used it whole and wrapped with fig preserves. Delicious," commented @fitchy13. "I'll try your recipe. They look better." Meanwhile, other commenters — perhaps looking to avoid a DIY project — referenced the store's pre-made, ready-to-bake Baked Brie with Fig Jam & Chopped Walnuts. "They have the brie in puff pastry with walnuts and figs by me," wrote @cc.cc.cc.cc. Either way, it sounds like Costco brie will be on the menu for lots of folks this holiday season.