Twitter Can't Stop Talking About Popeyes' New Cookies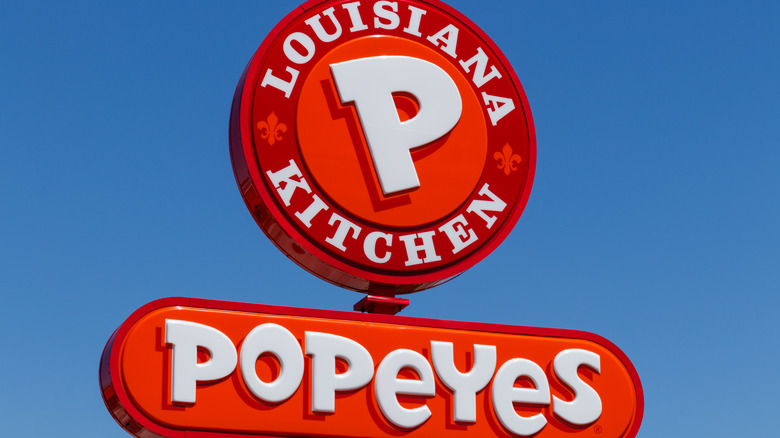 Jonathan Weiss/Shutterstock
Popeyes Louisiana Kitchen offers all kinds of fried chicken goodness. Who doesn't love this iconic chain? Even the Queen Bey herself has admitted a fondness for this fast food. Per Billboard, back in 2003, Beyoncé told Oprah, "I really love Popeyes. I can't really eat it anymore, but at one point everywhere I went, people would buy me Popeyes, like the fans! And Popeyes heard, so they gave me a lifetime membership and every time I go, I can pull out the card and get as much [as I want]." Of course, Beyoncé also concedes that she has never used the membership, but she may want to break it out because the quick service restaurant has just added a new sweet treat that may even tempt the music icon to make a drive-thru run.
That's right, Popeyes has added a new cookie to its dessert menu, and word on social media is you are going to want to sink your teeth into it. And of course, whenever the internet gets wind of a new fast food offering, there is lots of chatter and excitement. And so it goes, with the release of Popeyes new chocolate chip cookie, Twitter is chirping up a storm.
Twitter gives its approval of Popeyes' new cookies
According to Chew Boom, Popeyes is now offering chocolate chip cookies that they describe as "soft and chewy." They are individually wrapped and, per the Popeyes website, if you just want to try one, it'll add an extra 190 calories to your daily calorie intake — though it may be worth it. They also sell these new cookies by the half-dozen if you are in need of a sugar rush or want to share with friends. Of course, if they are as good as Twitter says they are, you probably won't want to share.
One Twitter user wrote, "Popeyes done started selling cookies. The world is healing."  And another chimed in with approval and praise, stating, "Best cookies in the game belong to Popeyes." While another voice from the Twitterverse humorously admitted, "It's 2:24 in the morning and I just finished a chocolate chip cookie from Popeyes. I ain't going to lie, it was good." We also love this Tweet recommending to heat the cookie up and have it with ice cream: "Baybayyyyyy that was just so good," they said. These cookies definitely sound like a must try item — and could start up a new fast food war.