38% Believe This Brand Has The Worst Frozen Chicken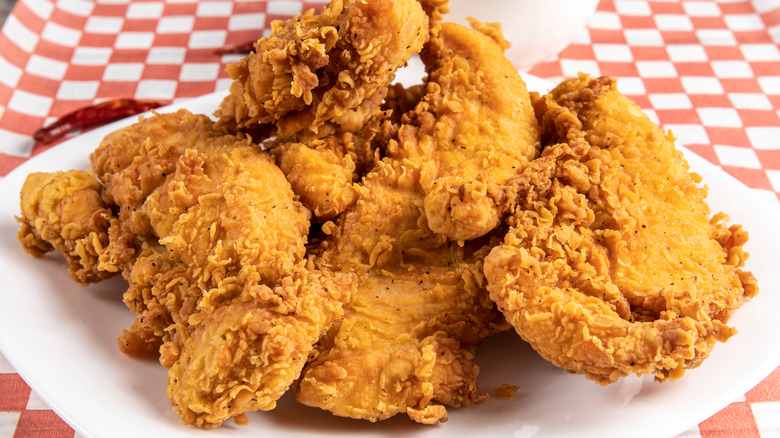 sockagphoto/Shutterstock
Chicken is an incredibly versatile — and nutritious — meat. It's packed with protein, with 100 grams of breast meat containing 31 grams of the good stuff, and it's fairly low in fat and calories (via Healthline). There are tons of ways you can prepare chicken for every meal. Fold it into an omelet or layer it on an egg sandwich for breakfast. Toss it in a garden salad or mix it with mayo to make chicken salad for lunch. Grill it, fry it, or whip up chicken Parmesan for dinner — the options are endless.
If chicken is part of your weekly menu, you can buy it in almost any form. While fresh is always a great choice, frozen chicken is sometimes a more convenient alternative, and one that Glad shares can last in the freezer for months. But which brand is worth buying and which are you better off skipping? Mashed polled more than 600 people across the U.S. on what they believe is the worst brand of frozen chicken. Of some of the most popular brands you'll find at the grocery store, here's which one more than ⅓ of respondents said is their least favorite.
People don't love Banquet frozen chicken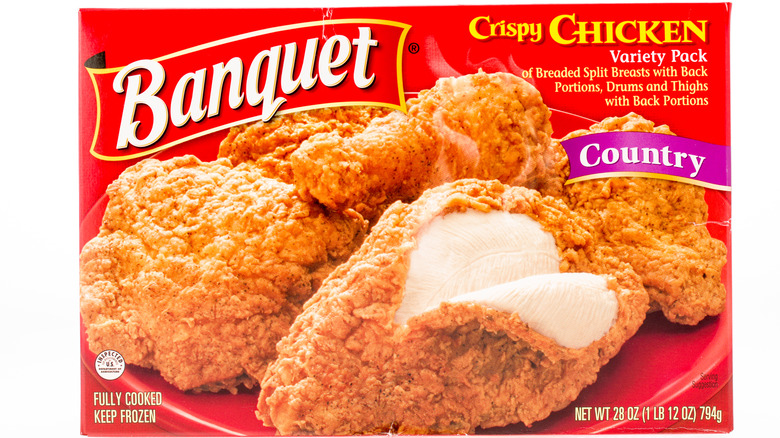 Keith Homan/Shutterstock
There are a lot of choices when you're looking for frozen chicken, but you might want to avoid buying Banquet. According to Mashed's poll results, it's the worst brand of frozen chicken available, with 38.08% of people agreeing it's their last choice. The brand offers fried chicken, wings, patties, chicken nuggets, and more (via Banquet). Banquet's frozen original crispy fried chicken has a low 2-star rating from shoppers at Walmart and an even lower rating on Banquet's own website. "The breading was disgusting, soggy and unappetizing," one reviewer wrote. "The chicken, if I could find it just didn't taste good."
How did the other popular brands of frozen chicken compare to Banquet in our survey? Target's Good & Gather brand was the second worst, receiving over 18% of the votes, followed by Perdue, with almost 12%. Tyson and Applegate Naturals tied with around 10% of respondents' votes, while Foster Farms was dubbed the best of the list, with only 9% of people choosing it as their least favorite.