The Untold Truth Of Nutter Butter Cookies
We may receive a commission on purchases made from links.
"Would you like another Nutter Butter peanut butter sandwich cookie?" is a question that's fun to ask but even more fun to answer. Because if you're lucky enough, responding with "yes" will result in you getting to devour one of the tastiest snacks ever invented on U.S. soil. First introduced in 1969, per a Mondelez International press release, Nutter Butter has spent the past five decades as one of the world's most prominent grocery store cookies. With its one-of-a-kind peanut-shape, peanut butter biscuit base, creamy and real peanut butter filling, and dual-sided waffle pattern, it's an iconic piece of design and cookie history. Unless you have a peanut allergy, there's a good chance you agree it's the pinnacle of all PB treats.
Today, Nutter Butter is the top-selling peanut butter sandwich cookie in the country, and it seems that the brand doesn't plan on slowing down any time soon. In addition to the original sandwich cookies, the company currently produces a variety of Nutter Butter products, including Double Nutty cookies, Nutter Butter bites, and Nutter Butter wafers (via Snackworks). However, despite its near omnipresence, surprisingly little information about Nutter Butter is out there in the open. 
No one knows who actually invented the Nutter Butter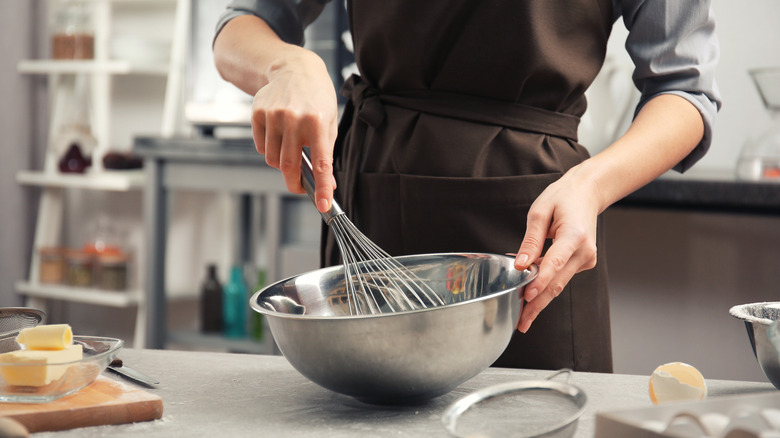 Africa Studio/Shutterstock
According to ABC News, Americans have been enjoying peanut butter cookies since at least the 1910s. Nutter Butter, however, didn't come around until half a century later in 1969, thanks to the likes of cookie giant Nabisco. The details of the story, however, remain a bit muddled to this day. In fact, according to AdWeek, not even Nabisco is clear on who actually came up with the famous peanut-shaped design, let alone the recipe for it. Former Nabisco design engineer William Turnier is in part responsible for creating the cookies, since he is widely credited with developing the unforgettable waffle pattern that gives Nutter Butters their signature look (via USA Today). 
However, Nabisco says the design was more of a team effort, telling Indy Week in 2011 that the idea that any one individual is solely responsible for its cookie designs is purely fictitious. "We have no way of knowing who came up with the actual visual concept of what each new cookie would look like," an anonymous staffer said. The lack of information about Nutter Butters' origin doesn't seem to bother the company, though. "Even those of us working on the brand don't have all the answers," Tracey Benitz, Nutter Butter's associate director, told AdWeek. As for who developed the actual recipe, it looks like that's going to remain an utter Nutter Butter mystery. 
Some people thought the Nutter Butter mascot was creepy
Those who are old enough to remember Nutter Butter ads on television might recall Nabisco's infamous Nutter Butter cartoon commercials from the 1970s, which featured an appearance by the brand's mascot, the Nutter Butter Man, who offered the cookies to kids on the playground (via YouTube). Though Nabisco never released an official statement on the matter, it may be clear to many people from his image that The Nutter Butter Man was inspired by Willy Wonka, a character played by actor Gene Wilder in a film released in 1971 (via IMDB). With his fiery red hair, oversized top hat, and bowtie, he looks like a dead ringer for the famous candy factory leader. 
However, while many folks think fondly of Wilder's Wonka, the same can't be said for the Nutter Butter Man. Some commenters on the video of the old ad pointed out how bizarre it was that it freely depicted an unsupervised child taking treats from a total stranger, calling it "creepy." Eventually, Nabisco abandoned the mascot, as well as cartoon ads entirely. This may have been because the cookie sold so well that it didn't actually need additional advertising, at least in Serious Eats' opinion. In any case, it was probably for the best. As blogger Michael's TV Tray bluntly put it, the Nutter Butter Man was a representation of "why today's parents don't allow their children to go to the park unaccompanied." 
The real ingredients in Nutter Butters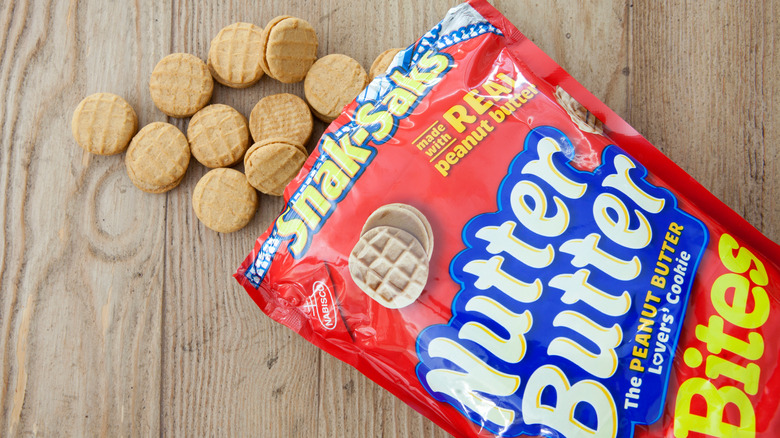 JJava Designs/Shutterstock
Part of Nutter Butters' appeal has always been that they're made with real peanut butter, which might make them sound like a healthier snack option for their children's lunches or an afternoon snack. On top of that, original Nutter Butters do not contain any animal products, per the ingredients listed on SmartLabel, so they're a safe bet for those looking for a vegan treat.
However, even though Nutter Butters are made with real peanuts and are vegan, they do still contain some ingredients that shoppers might want to know about. The peanut butter mixture contains hydrogenated vegetable oil, and high fructose corn syrup — a sweetener linked to fatty liver, heart disease, and diabetes, among other conditions, per Healthline — is also part of the recipe. The other ingredients are flour, leavening, and sugar (9 grams per two-cookie serving). At the end of the day, these are a processed snack food, so their ingredients aren't as simple as those you'd use in homemade peanut butter cookies.
Nutter Butters have strong ties to blood donors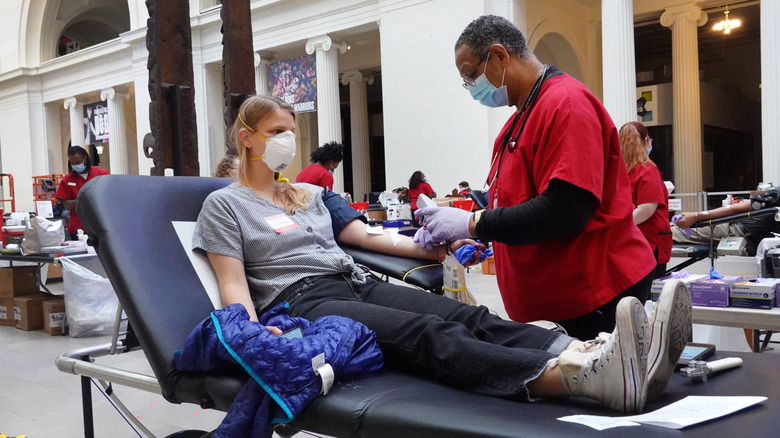 Scott Olson/Getty Images
Besides break room vending machines, if there's one place you're sure to find a package of Nutter Butters, it's anywhere there's a blood donation site. According to AP News, the cookie brand has been associated with the American Red Cross since the 1970s, with the non-profit offering the sandwich cookie to donors as a complimentary reward for their act of generosity (and a way to boost their blood sugar). Folks even began expecting Nutter Butters to be a part of their donation experience. Give a pint of blood, get your peanut butter sandwich cookie. That's the way it was for years.
That is, until the free cookie guarantee came to an end in the 1990s, when the Red Cross declared it could no longer afford to buy them. As a result, Nabisco stopped providing the Nutter Butters to donation sites, provoking a widespread backlash that led to complaints from donors and 20,000 fewer pints of blood being donated in 1998. Even though the non-profit offered volunteers alternative treats for their donation, it wasn't enough. "I'd give more [blood] if they had Nutter Butters," admitted one donor to AP News. Thankfully, Nabisco took note of the negative PR from the decision and agreed to offer the cookies to donation centers for free, thus preserving their reputation as not only the favorite of peanut butter lovers, but of blood donors, too.
Nutter Butter's social media presence is hilarious
Though you might think of Nutter Butter as an old-school snack, the cookie's social media presence would probably have you fooled thinking it is a hot new product. Between its cheeky, self-referential posts, fearless intra-brand banter on Twitter, and occasional NSFW joke shared on Instagram, it's clear that Nutter Butter has rebranded from just another packaged cookie to something much cooler. To date, it has accumulated more than 1.7 million likes on its TikTok channel, which is filled with videos of the Nutter Butter cookie living its best life, dropping pop culture references, and dunking on its enemy, jelly.
That newfound popularity online seems to be reflected in real-life sales. Research by Phoenix Creative into sales at 7-Eleven found the sandwich cookie is most popular with teenage and Millennial male buyers (via Path to Purchase). On top of that, last year, the company saw a notable spike in sales thanks to many first-time buyers stocking up on the treat to prepare for COVID-19 mandated lockdowns, reported The New York Times. 
They're a common ingredient in other desserts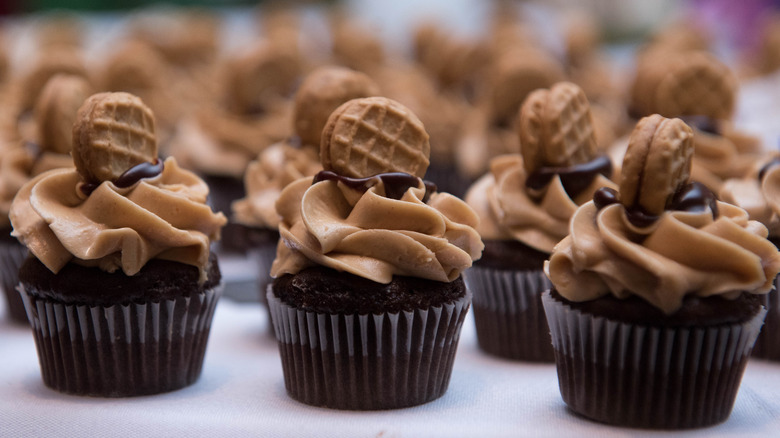 LeShayne/Shutterstock
While Nutter Butters are undeniably delicious straight out the box, anyone who's done any baking knows they're also great for amping up a dessert with their tasty peanut butter flavor. Run a quick search for the dessert on any cooking website, and you'll find recipes for dishes like Nutter Butter pie or icebox cake — with the crushed cookies as a stand-in for graham cracker crust (via Taste of Home) — and even Nutter Butter truffles. 
Of course, homemade baked goods aren't the only place you'll find Nutter Butter cookies: You can often taste them in other products for purchase. Dairy Queen released the Nutter Butter Blizzard in 2011, per Foodbeast, which was well received by fans even though it was short-lived. The brand has also teamed up with Post to make Nutter Butter flavored cereal, reports Fast Company. And for those looking for a gym-friendly way to get their cookie fix, there's even Nutter Butter protein powder on Amazon.
Fans were outraged when Nutter Butter changed its signature shape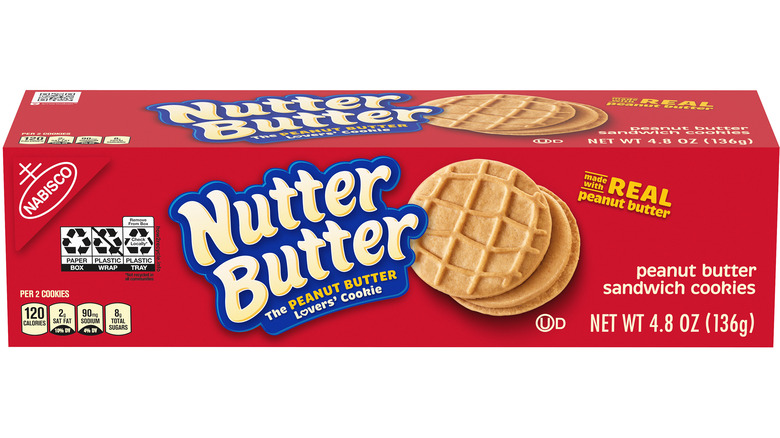 Snackworks
Oreos might be the more famous cookie, but peanut-shaped Nutter Butters still have a passionate fanbase. This is perhaps best evidenced by the fury that some enthusiasts unleashed on Nabisco when it decided to release a round version of Nutter Butters in 2009, with some calling the new creation straight-up "awful" (via Twitter). Even though someone with a direct link to Nabisco pointed out on Reddit that the circular Nutter Butters were merely an addition to the product line, rather than a replacement for the peanut-shaped cookies, fans of the treat were still less than pleased with the innovation. Others took to the Nutter Butter Facebook page to vocalize their disappointment. One commenter explained that the frustration was about more than just aesthetics; the new shape "throws the whole milk-dunking process off." 
Of course, some fans of the cookie didn't mind the change. Notably, the rock band The All American-Rejects tweeted their compliments about the new design back in 2009, 10 years before Nutter Butter even had a Twitter account. In the end, the outrage didn't seem to have much of an effect since round Nutter Butters are still available today, per Snackworks. Plus, people seem to be really excited about the upcoming Oreo and Nutter Butter Cakesters, which are both round. But rest assured, the traditional peanut-shaped cookies are still widely sold.
There may one day be Nutter Butters that contain CBD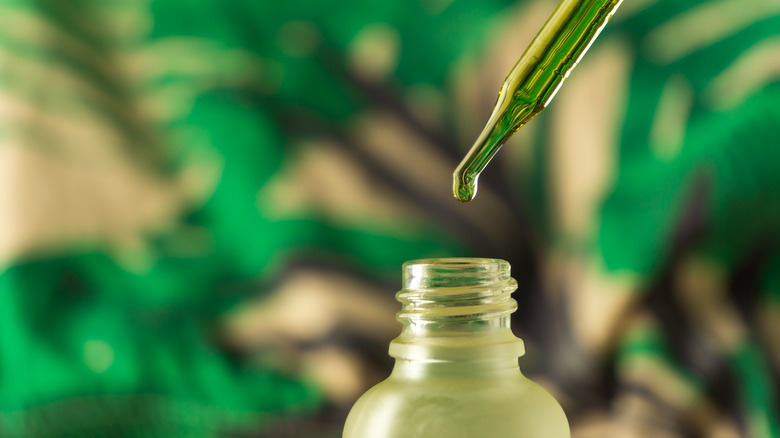 Semyon Nazarov/Shutterstock
Nutter Butters may already be a comfort food for many people, but they may one day become a source of other relaxing benefits. Back in early May of 2019, Mondelez told NBC News that it had considered experimenting with CBD in its products, namely, Nilla Wafers, Chips Ahoy, and Nutter Butter. With CBD-infused products becoming all the rage in recent years (and cannabis being a major growth industry in the U.S., per Forbes), it makes sense that a food company as big as Mondelez, obviously interested in maintaining relevancy, would want in on the market. 
However, the plan never came to fruition, as the FDA declared cannabis-derived compounds should not be added to food or beverages, citing concerns about the lack of research into side effects, as well as the possibility that children might have access to the products. As of this writing, there have been no updates from Mondelez on whether there really will be a cannabis-infused cookie any time soon, let alone a Nutter Butter. But if you live in a state where marijuana is legal, that doesn't mean you still can't enjoy the two together!