Pet Owners Are Unhappy With Aldi's Advent Calendars For Cats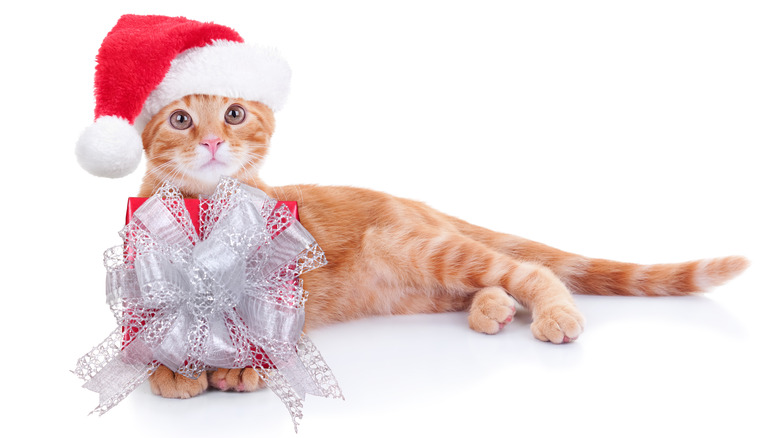 Stephanie Zieber/Shutterstock
From adorable melting snowmen to sweet gelato flights, Aldi's seasonal releases have been largely receiving positive reviews from customers. However, there is one holiday item that has been generating quite a few negative reviews online. This year, Aldi released several creative adult Advent calendars, featuring products like wine, cheese, premium chocolate, and beer, that are sure to delight just about every palette. But the affordable grocery chain didn't want people to have all the fun. In addition to releasing calendars with treats for humans, they also released a Pure Being Advent Calendar for cats. Featuring 25 all-natural salmon cat treats for each day of December, the calendar is designed to help get every member of the family, even the furry ones, involved in the holiday fun, according to Aldi.
However, pet owners are far from satisfied with this calendar. Shoppers who purchased this item for their cats were disappointed and worried to find that the treats potentially posed a dangerous choking hazard to their pets. One shopper was so upset by their experience with the calendar they decided to take to Reddit to warn other cat owners not to purchase the product. "Cats have been choking on the treats from the advent calendar," u/1chucksoup posted, adding "The calendar was gifted to me, so I figure I should warn others in case they want to buy it as a gift as well or were thinking about buying it themselves."
Cat owners fear the calendar poses a potential choking hazard
Many concerned cat owners were alarmed to hear that the Aldi cat calendars could potentially be dangerous, with a "hard plasticky texture" that the Reddit user worried could be a choking hazard. "We tried to soak the treats in water to soften them up before we gave them to our cat and they were still rock hard. Decided to just throw them all away instead of risk it with our little guy as he tends to inhale all treats," shared one frustrated shopper, while others remarked that their pets simply had no interest in the Aldi calendar's treats. One cat owner called the calendar "Just a horrible product, " and others urged frustrated pet owners to return the item to the store.
Based on the social media responses, it seems like tossing or returning Aldi's cat Advent calendar might be the safest choice for your pet. And if your cat ever does appear to be choking, don't panic. There are important steps you can take to help clear your animal's airway. First, restrain the cat and open its mouth to see if there are any foreign objects that can be removed from their throat with your fingers or a pair of tweezers, advises Better Homes and Gardens. The Heimlich maneuver can also be performed on cats, and of course, call a vet in any serious cases to help keep your pet safe.