Duff Goldman's Cookie Tin Is A Perfect Holiday Gift, But There's A Catch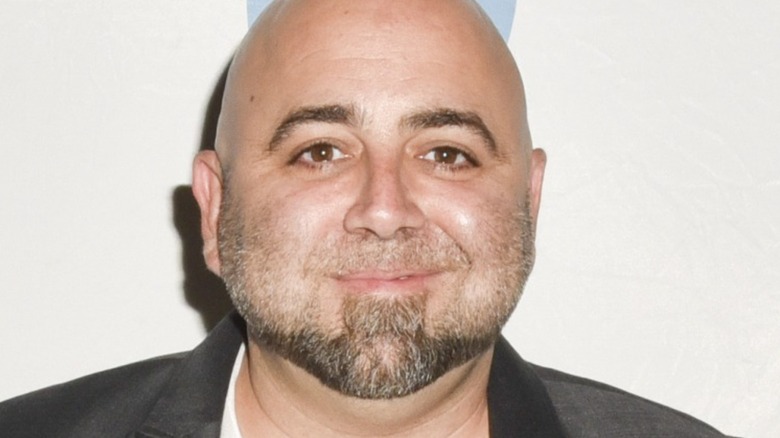 Rodin Eckenroth/Getty
It seems like the world was just dressing up for Halloween last week and then, just like that, Thanksgiving came and went by in a flash. While some may be one step ahead of the busy holiday season with Christmas trees already trimmed and glittering majestically, the rest of us are still drooling over dreams of the roast turkey that was seemingly dinner just the other day.
For those still recovering from the holidays that just went by, the days until Christmas aren't too many. That means it's time to get up and go about sorting out your Christmas shopping. If you're scratching your head for just what to give to everyone on your list, Duff Goldman has an easy present that everybody is bound to love: A cookie tin filled with Christmas goodies (via Instagram).
Prepared and sold by Goldman's bakery Charm City Cakes, the cookie tin contains four types of treats that happen to be Goldman's favorites, and the tin comes with a holiday greeting card from Goldman and his family. The only catch to this perfect holiday present is that the cookie tins are only sold at Charm City Cake's outlet in Baltimore — and are only available for pickup orders.
What is in Duff Goldman's cookie tin gift?
If you live in Baltimore, Duff Goldman's cookie tin might be just the perfect gift to give to your loved ones this holiday season. If you don't live in Baltimore, the contents inside might be enough to make you want to plan a trip to Baltimore right now.
Per Goldman's Instagram post, each cookie tin contains four kinds of treats that are baked in small batches and can keep fresh for up to a week. The classic baked goods include spritz cookies, which are sweet buttery cookies in the shape of little Christmas trees topped with colorful sprinkles; chocolate crinkle cookies with a crisp dusting of powdered sugar; white chocolate gingersnaps with a white chocolate drizzle and candied ginger topping; as well as little balls of polvorones.
As noted on the Charm City Cakes website, the cookie tins are priced at $25 each and can be bought via the website and then picked up at the Baltimore-based store. While the tins seem like the perfect holiday present, Goldman's fans have one complaint to make: They wish that they could be delivered nationwide. "I'm so sad these are not available to be shipped!" wrote one person on the post while others admitted that the cookie tins were enough to make them wish that they lived in the East Coast city.
If a trip to Goldman's bakery is out of the cards for now, Mashed has a ton of healthy Christmas cookie recipes for you to make for your own Christmas cookie tin.