The Brand With The Best Frozen Chicken According To 46% Of People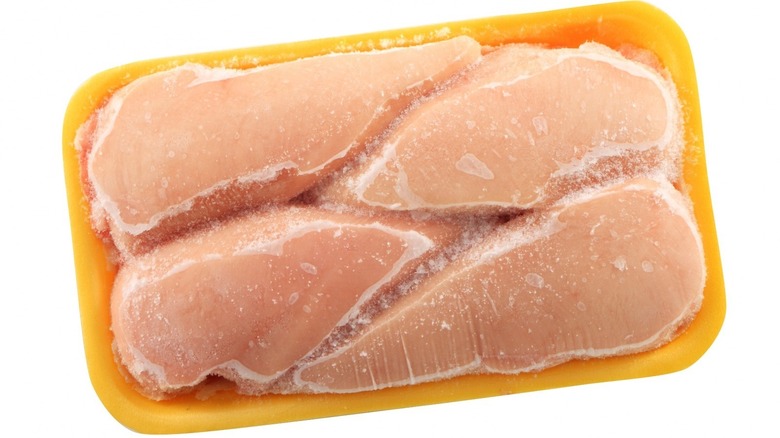 Nail Bikbaev/Shutterstock
Frozen foods have become a hot commodity. According to Supermarket News, 2020 saw sales rise by double digits for most categories of frozen foods. Among the three biggest draws was poultry, which brought in nearly 35% more money than in 2019. So there's a good chance a lot of people out there – maybe even you – are buying a lot of frozen chicken.
Maybe you love juicy chicken nuggets dipped in ketchup. Maybe you're a fan of crispy fried chicken with a side of mac and cheese. Maybe you're more into chicken tenders as a quick lunch. Or maybe you can't get enough of chicken wings slathered in buffalo sauce while you watch football on Sunday. Whatever your preference, you can find a frozen version or prepare your desired meal using frozen chicken.
There are plenty of frozen chicken options that simply require popping in the oven, microwave, or air fryer. But of all the brands out there, which one is the best? Mashed polled 604 people across the U.S. to find out what they think. Nearly half of respondents dubbed one of them their top pick for satisfying their chicken cravings.
Tyson frozen chicken is a crowd favorite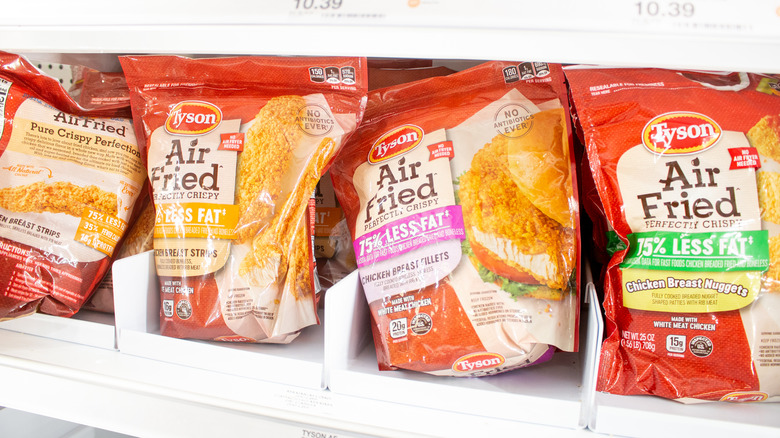 TonelsonProductions/Shutterstock
The best frozen chicken brand, according to Mashed's poll results, is Tyson. Just under half (46.52%) of survey respondents chose it as their favorite brand, far outperforming the others. The Arkansas-based poultry brand offers a variety of types of frozen chicken, including chicken nuggets, breaded chicken patties, chicken breasts, buffalo chicken bites, and wings, to name a few (via the Tyson website). Tyson is beloved by a lot of shoppers. "The breading on these chicken strips was perfectly crunchy and golden with the crispy (but not too crispy) texture our team was looking for," a reviewer at Taste of Home raved. "In fact, these reminded many testers of their favorite fast-food chicken strips with moist, tender white meat inside."
Where did the other well-known frozen chicken brands fall on the list? Perdue took the title of second-best, with 20.86% of the votes, followed by Applegate Naturals with 11.75%. Foster Farms received just 9.44% of the votes, and Banquet wasn't far behind, with 7.62%. Last place went to Target's Good & Gather brand, which only 3.81% of respondents said was their go-to choice in the frozen chicken aisle.