Oreo Fans Won't Want To Miss This Barefoot Wine Collab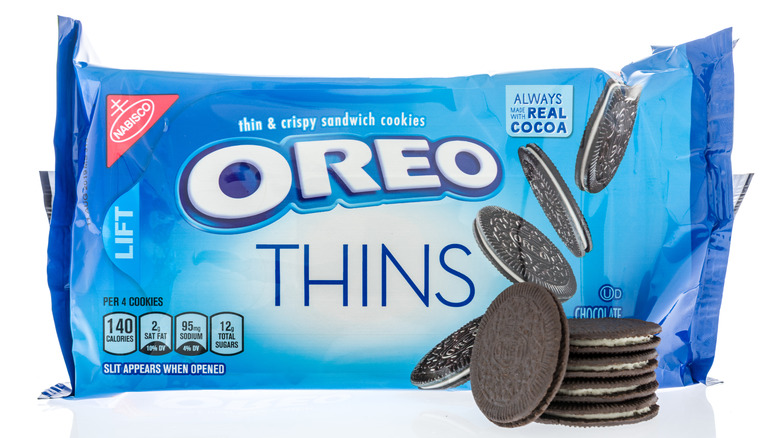 Keith Homan/Shutterstock
If the holiday season didn't already offer enough reasons to indulge in extra wine and chocolate, a new limited-edition variety of vino promises to get you in the mood for some celebratory sipping — and cookie dunking.
Barefoot Wine, which was the best-selling wine brand in the world in 2019 according to Wine News, has teamed up with another big-name brand for a collaborative boozy beverage guaranteed to excite anyone with a sweet tooth. In a press release shared with Mashed, Barefoot announced the debut of Barefoot x Oreo Thins Red Blend Wine, created in collaboration with the iconic cookie company.
The slimmer, crisper version of the classic cookie — which, as the name suggests, features two thinner chocolate cookies filled with a smaller portion of Oreo filling — first made its debut in 2015, geared towards "adults looking for a more grown up take on their favorite childhood cookie," according to a press release announcing the cookie. 
Now, those same adults will have the chance to sip on the most grown-up approved Oreo product ever. The Oreo Thins-inspired wine, which aims to take the classic chocolate-and-red wine pairing to the next level, features a blend of red wines with notes of chocolate, cookies and cream, and oak.
The Oreo Thins-inspired wine has notes of chocolate and red berries
"With their light texture, delicate crunch, and touch of creme filling, Oreo Thins cookies have always been the perfect Oreo cookie for adults — so we are excited to showcase a new grown-up pairing with Barefoot Wine," said Sydney Kranzmann, Brand Manager of Oreo Thins.
The Barefoot red blend, which has natural flavors of dark cherries and blackberry, was designed to be the perfect pairing for Oreo Thins cookies. While Barefoot has produced a wide array of bottled and boxed wines over the years — from classics like Merlot and Chardonnay to more outside-the-wine-box options like a variety of 'Fruitscatos' and even a line of wine-flavored hard seltzers — the collaboration with Oreo marks the wine maker's first ever cookie-inspired wine.
"We had such a great time exploring the different flavor combinations, ultimately pairing the signature flavors of Oreo Thins cookies with a blend of our bright, berry-flavored red wine," said Barefoot's longtime wine maker, Jen Wall.
Each limited-edition Barefoot x Oreo Thins wine pack will retail for $24.99 and includes two 750ml bottles of wine and a package of Oreo Thins for pairing. The small-batch collaboration will be available exclusively on the Barefoot website, while supplies last, beginning on December 9. Or, if you'd rather DIY your cookie and wine pairings, check out our guide to the best cookies to pair with merlot.