Is Five Guys Open On Christmas 2021?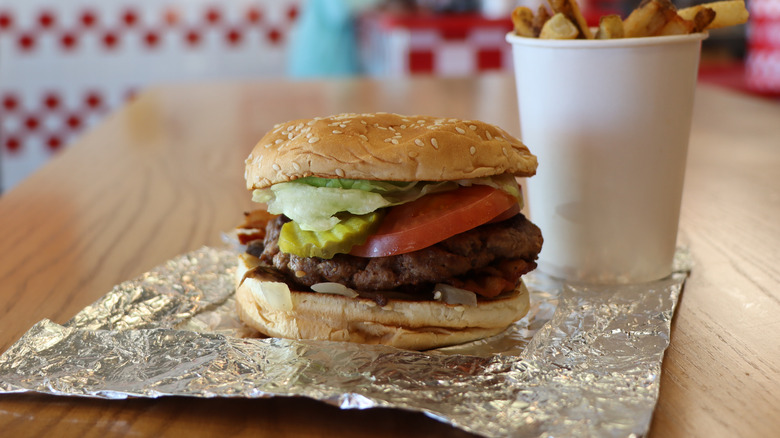 Deutschlandreform/Shutterstock
You can find burgers on the menu at plenty of fast food restaurants. But sometimes, when you're in the mood for a juicy, beefy patty, McDonald's just won't cut it. Enter Five Guys, the chain that started as a one-shop venture in Arlington, Virginia just outside of Washington D.C. but has since grown to include more than 1,700 locations across the country and around the world (via Five Guys). The fast casual joint is famous for its tasty burgers, which are made with fresh ground beef, and its equally delicious fries, which are fried in 100% peanut oil (via Taste of Home). Each burger even comes with two patties, giving you a hearty half pound of ground beef on your bun.
Typically, you can satisfy your hankering for a Five Guys burger and fries — and possibly even a milkshake if you're feeling extra indulgent — seven days a week, but the upcoming Christmas holiday could throw a wrench in your meat-eating plans. Here's what you need to know about Five Guys' holiday hours and whether or not the national chain will be open on December 25 this year.
Five Guys is closed on Christmas Day but open on Christmas Eve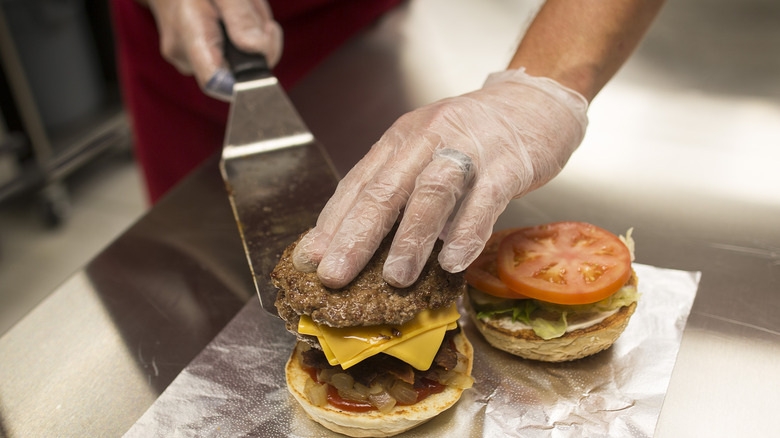 Bloomberg/Getty Images
If all you want for Christmas is a Five Guys burger with all the fixin's on it, you'll have to wait until December 26 to get it. Unfortunately for anyone planning a Five Guys Christmas dinner, according to The Holiday Schedule, all Five Guys locations nationwide will be closed on Christmas Day. However, the fast food restaurant will be open on Christmas Eve, so you can always grab a few patties and a few cartons of fries for a not-so-traditional pre-holiday feast. 
Note that, like many places, the holiday may affect normal operating hours. So while Five Guys restaurants are often open from anywhere from 11 a.m. to 10 p.m. — depending on the location — they may have limited hours on Christmas Eve. Your best bet is to call your local joint before you drive over there to make sure you don't return empty-handed and hungry.
Feel like you can't make it through Christmas Day without a burger? You can settle for one from the Golden Arches. Country Living reports that select McDonald's locations (but not all!) will be open on December 25.