Instagram Is Raining Hearts On Trisha Yearwood's 16th Wedding Anniversary Post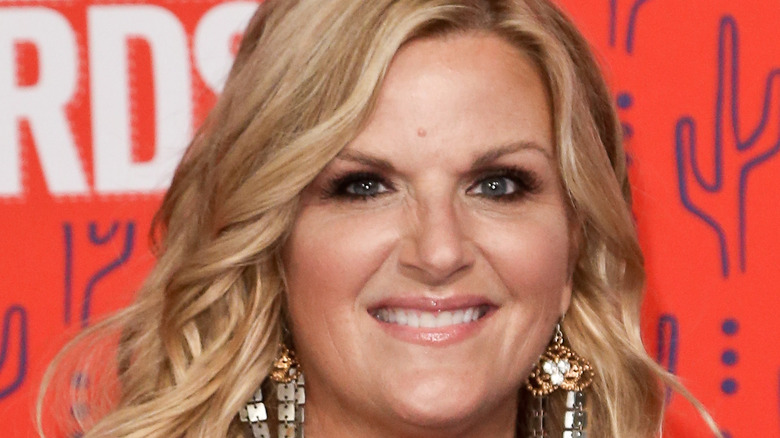 Debby Wong/Shutterstock
Trisha Yearwood is the host of the Food Network show "Trisha's Southern Kitchen," where she makes her favorite cozy, home-cooked dishes, and she's a cookbook author, too. But Yearwood isn't just famous for her culinary chops. She's a mega-famous country music star, as is her husband Garth Brooks. The duo have been together for 16 years, and Yearwood just posted an anniversary tribute to Brooks on Instagram that is melting fans' hearts.
Yearwood and Brooks met all the way back in 1987, but at the time, Brooks was married. In 2001, though, Brooks and his now-ex divorced, and he and Yearwood married in 2005. These days, you can hear about Brooks on Yearwood's cooking show, and she even shared Brooks' favorite recipes with Mashed in an exclusive interview. The couple has been together through thick and thin, and their relationship is on display on television and in the music world, so the anniversary photo Yearwood posted made fans emotional.
Fans wished the couple well on their anniversary
Yearwood posted a photo to Instagram of herself giving Brooks a smooch on the stage at Ryman Auditorium in Nashville, home to Nashville hot chicken and the Grand Ole Opry, as he holds his guitar and an audience of fans looks on. In her caption, she said "Happy Sweet Sixteen, Mr. Yearwood," and fans seemed eager to jump in with their congratulations.
"Happy Sweet 16 to you & the cowboy! So happy you have the love you deserve," gushed one fan, followed by a flurry of heart emojis. "Sweet 16 and a lifetime to go. Love you love," commented another. "Thank you for showing us what true love is about" said yet another, and that seems to be the sentiment from most of the fans commenting on the post. It's sweet to see how many people support Yearwood and Brooks and their love after all these years.