31% Think This Company's Holiday Baskets Make The Best Gifts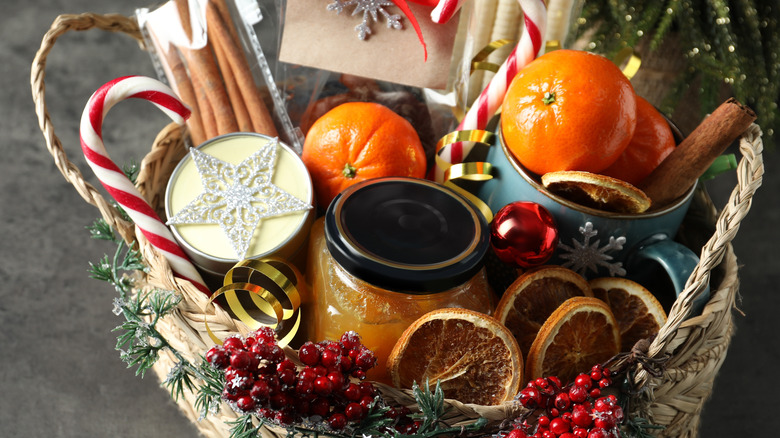 New Africa/Shutterstock
If you have a foodie on your Christmas list this year, you have a lot of options when it comes to food gifts. There are fancy samplers, with everything from chocolate to tea to cheese. There are meal delivery services like Home Chef and Blue Apron that will encourage them to try new recipes (and cook more in general) come 2022. And of course, there are food gift baskets galore from companies like Williams Sonoma and Harry & David that almost anyone would like to receive.
Whether you're sending a present to long-distance friends and family or looking for the perfect gift for your boss, a gift basket packed with desserts, charcuterie, and other gourmet goodies is a great option. A recent survey found that gift baskets are one of the most universally enjoyed presents (via Martha Stewart). But where should you order it from? 
To find out what's worth buying, Mashed polled more than 600 people across the country, asking them which popular brands make the best gift baskets for the holidays. Here's the company almost a third of respondents chose as their go-to for presents this time of year.
People love giving Hickory Farms gift baskets for Christmas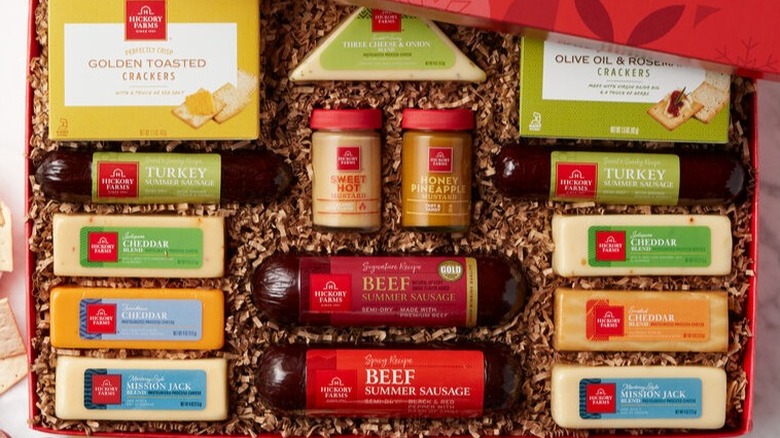 Hickory Farms
Once you decide that you want to order a gift basket, you then have to choose where you want to order it from. While you have plenty of choices, you're best off getting a Hickory Farms gift basket. According to Mashed's poll results, it's the number one basket out there, with more than 31% of people dubbing it their favorite. 
Hickory Farms offers a variety of themed gift baskets, many of which are stuffed with the brand's famously delicious meats and cheeses (along with a few bottles of wine here and there). The most popular basket from the company is the Season's Eatings Hearty Party Gift Box, which includes summer sausage, a blend of cheeses, crackers, and mustards for pairing. Note that there's one potential con of ordering Hickory Farms: Honest Brand Reviews reports that there are no build-your-own basket options.
As for how the other companies famous for their gift baskets stacked up? Harry & David came in a close second, receiving 27% of the votes, followed by The Popcorn Factory, with 20%. Luxury kitchen retailer Williams Sonoma also wasn't far behind, with 17% of people choosing it as their favorite. Last place went to Goldbelly, which received a mere 3% of respondents' votes.